On August 9th, Sweet Maria's was one of a number of sponsors of Cupping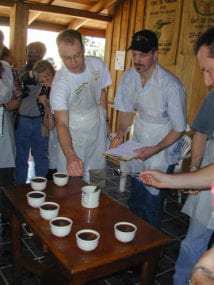 Cupping is a method of tasting coffee by steeping grounds in separate cups for discrete amounts of ground coffee, to reveal good flavors and defects to their fullest. It has formal elements and methodology in California, an event organized by Sprudge.com in the cafe/outdoor sculture garden of San Francisco's Museum of Modern Art. Although it was aimed at the local coffee community, the event was open to anyone that had a ticket to the museum that day so it was a mix of the usual coffee folks and other random people. We helped set up before the event and contributed two roasts that were sampled next to some of California's best roasted coffees. 42 coffees, 17 roasters, 175 people…that's a lot of coffee and people in the same room.
It seemed a bit crazy at times, more like performance art than coffee really. What's it like to swap spit with 175 people? A bit weird.
It was lovely though – the setting was exquisite, perched next to a beautiful cityscape, with great artwork just steps away to escape to. I did not taste the coffees myself: there was a big line and it felt weird to follow in so many assorted people and share the same cups. One of our staff overhead the best comment though in the elevator on the way down: "I didn't want to wait 20 minutes for a cup of coffee."