Tasting incoming Colombia lots from Narino, Buesaco and Inza regions. And Talking… and talking … and ….
Long: That's the first word to describe this video! It is 1 hour 5 minutes!
Dan and Thompson taste 4 Colombian coffees that are en route to Sweet Maria's from ColombiaColombian coffee is highly marketed and widely available in the US. They have been largely successful at equating the name Colombian Coffee with "Good" Coffee. This is half-true.... right now, then we are joined from Medellin by Pedro and Leo, the folks we work with to source coffee there.
We are trying out this format and need to improve for sure (Thompson- turn your phone horizontal!). Anyway there is a lot of detail in this 1 hour conversation, if you have interest.
For the first part, Dan and I are checking out the dry fragrance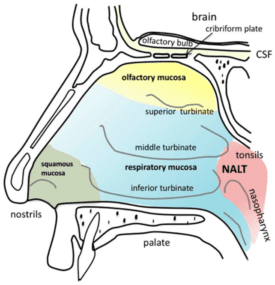 In the cupping procedure for tasting and scoring coffee, this is the smell of the dry, ground coffee before hot water is added. The term fragrance is used... of the 4 coffees and discussing cupping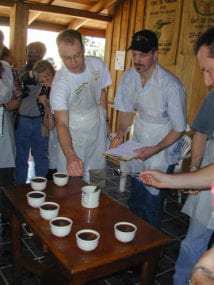 Cupping is a method of tasting coffee by steeping grounds in separate cups for discrete amounts of ground coffee, to reveal good flavors and defects to their fullest.... in general. The coffees are part of our incoming shipment due around Oct 22 . The coffees we will taste are 4 we are all familiar with from multiple visits, and have offered for some time now:
Colombia Inza Cauca – Vereda San Antonio
Colombia Buesaco -Alianza Granjeros
Colombia Caicedo -Don Ruben
Colombia Narino Aponte -Honey Process

Pedro and Leo work under the name Pergamino based in Medellin, and what's so unique about them is they also have a local roasting and cafe business. So often our discussion isn't simply about them in the role as exporter / supplier and us as importer / client. They understand the challenges of roasting, of training staff, of how to represent the coffees.
We might think of people who live in Colombia as living at "origin" in terms of coffee. This is quite mistaken. For someone living in one of Colombia's urban centers, working in coffee, originIn coffee talk, it refers to a coffee-producing region or country; such as, "I was just at origin." Of course "Origin" for most product we use is not... is still a distant place … it's just not quite as distant. But that does not mean a barista in Medellin necessarily understands anything of the experience of a farmer in Narino, as much as I understand what is involved in farming corn in Iowa. I don't.
So we all talk and learn together, try to share what we know, and make a few jokes too. I wish Leo would speak up more because he, as a trained agronomist, a coffee farmer, and the person who visits the coffee regions more than any of us, really has amazing insight. (Check out my podcasts on microorganisms with Leo, as well as one on fermentation in Colombia!)