A closer look at the four amazing coffees in our Holiday Single Origin Espresso Set
(or hop on over and grab yourself a Holiday Single Origin Espresso Set first)
This holiday season, we've compiled a few of our favorite single originSingle Origin refers to coffee from one location, in contrast to blended coffee. This term is particularly useful in discussing espresso, since most commercial espressos are made from blends. This is what the term "SO espressos into this 4 lb. holiday set! Single originIn coffee talk, it refers to a coffee-producing region or country; such as, "I was just at origin." Of course "Origin" for most product we use is not a beautiful farm in a temperate climate, espressoA small coffee beverage, about 20 ml, prepared on an espresso machine where pressurized hot water extracted through compressed coffee.: In its most stripped-down, basic form, this is a working definition for espresso: A small ("SOE") are simply coffees that taste great as espresso on their own, unblended. In fact, they deserve to be tasted independently as they have all the tenets of a delicious espresso shot without needing to be mixed with other coffees.
We only give SO espressoShort for Single Origin espresso, meaning using one origin specific coffee to make espresso, as opposed to using a blended coffee. recommendations to coffees that excel in bodyAssociated with and sensed by mouthfeel, body is sense of weight and thickness of the brew, caused by the percentage of soluble solids in the cup, including all organic compounds that are extracted from brewing, and bittersweetness at the very least. These two attributes alone are the 1-2-punch for a classic-toned milk drink, and bittersweetBittersweet is from the language of chocolate, and describes the co-presence of positive bittering compounds balanced by sweetness. It is directly related to caramelization, but has inputs from other roast reactions, as well as bittering 'solo'. And coffees with flavors beyond that crucial, necessary base make for some of the more complexThe co-presence of many aroma and flavor attributes, with multiple layers. A general impression of a coffee, similar to judgments such as "balanced" or "structured" shots on our list.

This selection of SO espresso fall all along that flavor range. None are "basic", and even the chocolate-forward offerings yield a complex compound of flavor types wrapped up in syrupy tactile mouthfeelHow a coffee feels in the mouth or its apparent texture, a tactile sensation : A major component in the flavor profile of a coffee, it is a tactile sensation in the mouth used in. We steer clear of espresso that's too 'wild' as well, discovering that just because we enjoy a fruit bomb, it doesn't mean everyone will!
I revisited each coffee in both a Quick Mill Andreja, and the Flair Classic portable espresso brewer, in order to get a fresh take on how they stack up under espresso extractionRefers to the process of infusing coffee with hot water. Hot water releases or "extracts" the flavor from the roasted, ground coffee. The term is used mostly with espresso, adding pressure to the mix as. I prefer the intensityWe have a simple scale to rate intensity in our coffee reviews, from Mild to Bold. Low intensity does not mean low quality!: We have a simple scale to rate intensity, from Mild to Bold. and creamyCreamy is a mouthfeel description indicating thickness and soft, rounded texture. See also buttery. mouthfeel of short ristrettoA smaller version of espresso where extraction is restricted is called a Ristretto. While espresso averages 20 ml, a ristretto is 15 ml. shots, and most of my ground coffee-to-water ratios were around 1:1, 1:1.25. The intensity of the distilled espresso extraction will still come through in the longer "lungo" extractions (1:2ish), or when brewed as Americano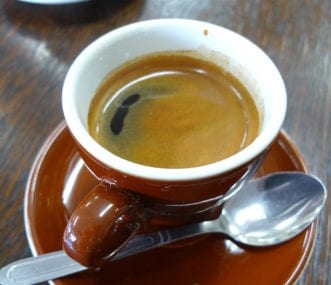 A coffee beverage made by combining espresso with hot water. It is the closest thing to "American-style" brewed coffee that can be made with an espresso machine, hence the name. Because espresso has a different.
Beyond mentioning the roast level in the text below, I'll say that sticking to Full City to Full City+City+ roast is an ideal roast level that occurs roughly between 425 and 435 degrees Fahrenheit in many coffee roasters with a responsive bean probe where First Crack starts in the 395 to 405 degree is recommended for all of these coffees; that is to say, roughly 30-45F roast development beyond the beginnings of 1st CrackAn audible popping sound heard during roasting. In coffee, one refers to "first crack" and "second crack," which come from two different classes of chemical reactions.: An audible popping sound heard during roasting. In coffee,. My darkest roasts hit 2nd snaps seconds before cooling. Going too deep into 2nd Crack risks bringing out bitter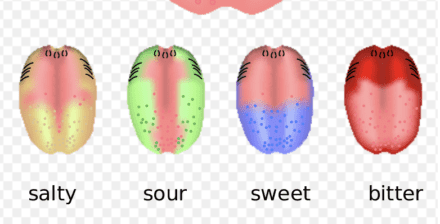 Bitterness is one of 5 basic tastes: Sour, Sweet, Salty, Bitter and Umami (savory flavors). There are many types of bitterness, hence not one avenue to tracking down its source. Bitterness as a positive quality roast without the balancing sweetnessSweetness is an important positive quality in fine coffees, and is one of five basic tastes: Sour, Sweet, Salty, Bitter, Savory (Umami). In coffee, sweetness is a highly desirable quality, and the green bean has, and sacrifices the inherent flavors that make these four coffees unique.
Here's what you can expect in the Holiday Single Origin Espresso Set while supplies last: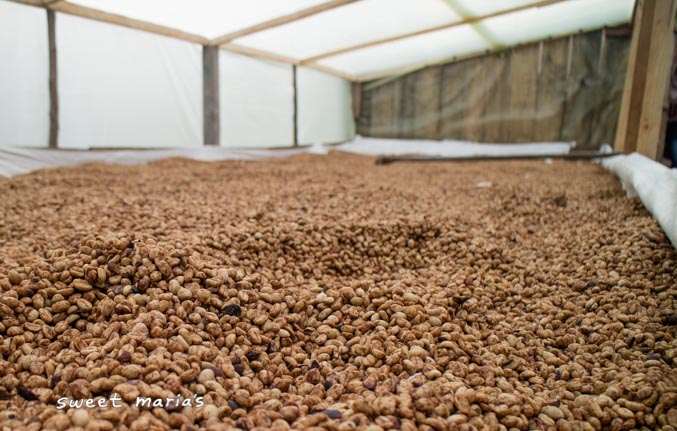 Colombia Honey Process El Paramo: The honey process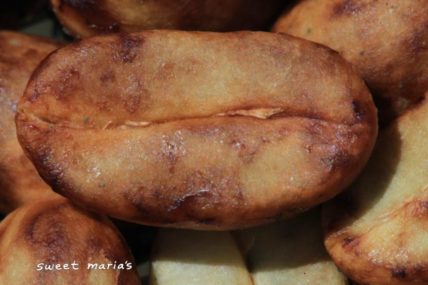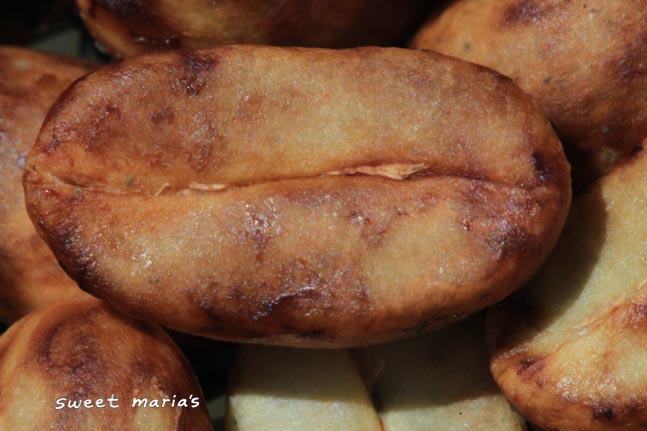 "Red honey" process gesha at a coffee farm in Costa Rica's Central Valley growing region. The honey process has nothing to do with honey other than the fact that they're both sticky! It's a term method is favorable to big body, and they tend to work incredibly well as espresso. The bittersweetness in the shot at Full City roastA coffee that has been roasted to the brink of second crack.: A coffee that has been roasted to the brink of second crack. The internal bean temperature that second crack normally occurs at is level is wrapped around a plump red fruit note, and lends to a flavor profileFlavor Profile implies a graphical impression of a particular coffee, whether it be an artistic portrait or data graph of the perception of flavor compounds. In the case of our spider graph charts in each of a dark chocolate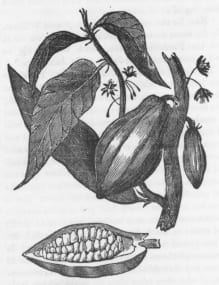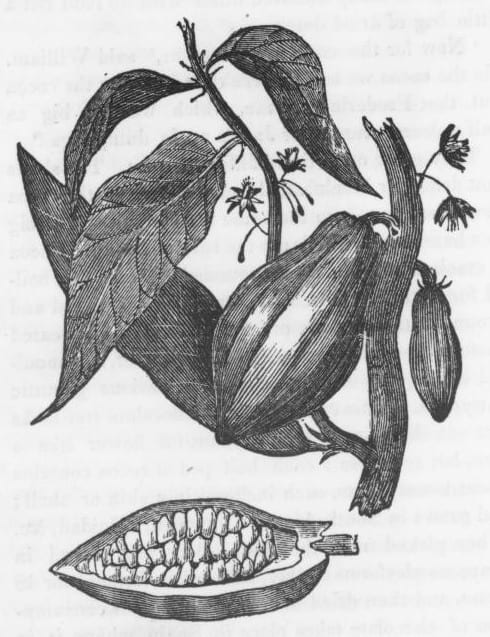 A general flavor or aroma term reminiscent of chocolate. But what type? Usually described with more specifics.: Chocolate is a broad, general flavor or aroma term reminiscent of chocolate. But what type? There are so cherry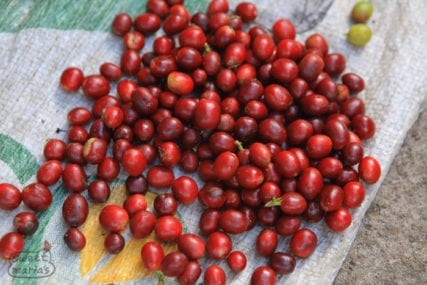 Either a flavor in the coffee, or referring to the fruit of the coffee tree, which somewhat resembles a red cherry.: Either a flavor in the coffee, or referring to the fruit of the coffee cordial. There's some brightnessA euphemistic term we use often to describe acidity in coffee. A bright coffee has more high, acidic notes. : A euphemistic term to describe acidity in coffee. A bright coffee has more high, acidic up front that is a little intense at this roast level, but could be dulled significantly with another 30-45 seconds in the roaster, as well as more rest (I'm drinking this at 48 hours rest). But I personally love the contrasting flavors offered here, and find the bright/bittersweet aspect a big part of what makes this honeyIn coffee, honey-like sweetness is often found, but we use terms such as refined honey (highly filtered and processed) as opposed to raw honey rustic honey sweetness. This form of sweetness is largely a dynamic coffee from ColombiaColombian coffee is highly marketed and widely available in the US. They have been largely successful at equating the name Colombian Coffee with "Good" Coffee. This is half-true. Colombian can be very balanced, with good special.
Guatemala San Martin Jilotepeque: Wow, San Martin's mouthfeel scores a perfect 10 for me. The shots produce a velvetyA mouthfeel description indicating elegant softness, refined smoothness: A mouthfeel description indicating elegant softness, refined smoothness. See Silky as well. liquor on your tongue, which pairs perfectly with the classic bittersweet espresso flavors that come through at Full City+ (just the beginnings of 2nd snaps). Straight shots have robust cocoa roast flavors distilled down with a creamy macadamia nut note, and something like hazelnut creamer in sweetness. And boy what a bittersweetness this coffee packs, and lingers for a very long time. Seriously, 5 minutes on and I'm still getting hit with waves of ultra dark cacao bar on my palate and in the 'nose' (think 80%+). If you're looking for an espresso to elevate your steamed milk drinks, THIS IS DEFINITELY THE ONE!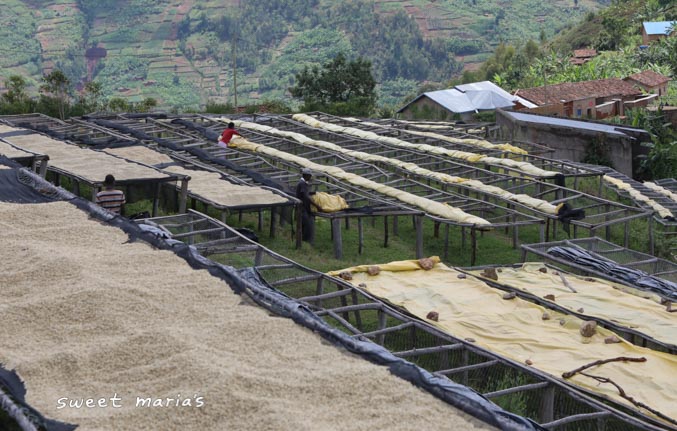 Rwanda Nyamasheke Kageyo: East African coffees are known for their bright acidity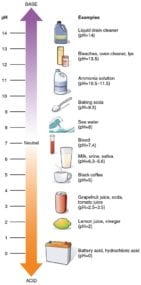 Acidity is a positive flavor attribute in coffee, also referred to as brightness or liveliness. It adds a brilliance to the cup, whereas low acid coffees can seem flat. Acidity can sound unattractive. People may, which doesn't always bode well for espresso. We found Kanyege's acidity to be a bit tamer than the other Rwanda's, though still carries a shimmering, yet enjoyable, citrus aspect when roasted dark. I personally really enjoy that bright spot, and my Full City+ shots extracted juxtaposing flavors of rich, dark chocolate syrup, and lemon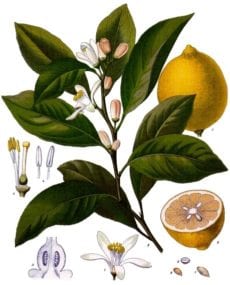 Lemon notes, as well as other related citrusy flavors or acidities, are prized in coffee. These usually express themselves as a bright accent in the cup, or aromatic citrus aspects, but not as blunt sourness. tart note that's most present up front, then dissipates in the aftertasteAftertaste refers to lingering residual sensations in the mouth after coffee has swallowed. It might be distinguished from "finish" which is the final sensations of the coffee while it leaves the mouth. Also see Afternose. (the chocolate does not). Other flavor notes included orange-infused dark chocolate, roasted cacao nibs, Tootsie Roll/chocolate taffy, and candied citrus peel. Full City+ roasts will work well in milk drinks, though the acidity at even a shade lighter Full City may be too distracting for that application.
Ethiopia Agaro Duromina: Duromina has always been exemplary as espresso, and this year's coffee is no exception. Western Ethiopian coffees tend to be our go-to for Ethiopian espresso The balanceSuggests a harmony and proportion of qualities, and implies mildness since no one quality dominates.: Balance is both an obvious and slippery taste term. It implies a harmony and proportion of qualities, and perhaps a and body that we find in many of the Western coop coffees stands out from those of the southern regions. Full City roasts significantly tone down Duromina's acidity level, while retaining some of the fleshy stone fruits, like plum, and ripe peach, that are tasted in lighter roasts. My first roast attempt was much too light, and came off thin and puckering. Keeping your roast south of Full City helps boost body to a much more moderate level, quiets the fruitedIn some coffee taster's lexicon, "fruity" means the coffee is tainted with fruit, and "fruited" means a coffee is graced by positive fruit notes. We don't exactly see the difference in terms of these two vibrance, and brings out the the booming bass notes underneath. Deep chocolate roast tones, and dark fruit flavors are integral to the shot, and point to flavor aspects of bittersweet chocolate ganache frosting, semi-sweet chips, stewed plum, and an aroma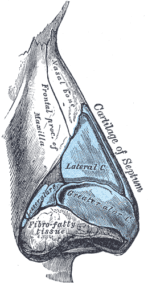 Aroma refers to sensations perceived by the olfactory bulb and conveyed to the brain; whether through the nose or "retro-nasally": The aromatics of a coffee greatly influence its flavor profile and come from the perception of chocolate-covered dried berry. Duromina has lighter body than the others (still far from thin!), and overt fruited notes make it less suitable option for milk drinks. That's quite alright by me, as I wouldn't dream of covering up the complex flavor profile.
Pick up your Holiday Single Origin Espresso Set HERE while coffee stocks last