We have a lot more Ethiopia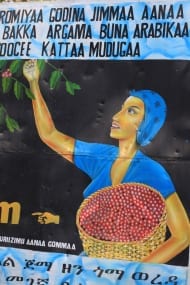 Ethiopia is the birthplace of coffee: it is in the forests of the Kaffa region that coffee arabica grew wild. Coffee is "Bun" or "Buna" in Ethiopia, so Coffee Bean is quite possibly a poor coffee hitting the list very soon…like next week. We want to make sure our customers know that there are some really fantastic lots of coffee that will be added over the coming weeks. Our current Ethiopia offerings are selling fast and are only the tip of the coffee iceberg.
Pretty exciting stuff. Add to this a container of our first Antigua and Huehuetenango coffees arriving from GuatemalaGuatemalan coffee is considered a top quality coffee producer in Central America. Due to our proximity to Guatemala, some of the nicest coffees from this origin come to the United States. : Guatemalan growing regions and a mixed container of KenyaKenya is the East African powerhouse of the coffee world. Both in the cup, and the way they run their trade, everything is topnotch.: Kenya is the East African powerhouse of the coffee world. Both lots and we have doubled our inventory. So if you are anything like us, kick back and relax over the holiday weekend and get ready for an exciting, if not hectic, start to the month of June.
Here's what's coming next week…
-A washed Sidama from Aleta Wondo with peach, bergamotBergamot Orange is the size of an orange, with a yellow color similar to a lemon, and has a pleasant fragrance. The juice tastes less sour than lemon, but more bitter than grapefruit.: Bergamot orange and Earl Grey tea notes. It's very elegant and a real stunner.
-A washing station-specific dry processDry process coffee is a method for taking the fruit from the tree to an exportable green bean. The whole intact coffee cherry is dried in the sun with the green bean inside. Later it lot from Dumerso that cups with flavors of fresh berries, dark sugar sweetnessSweetness is an important positive quality in fine coffees, and is one of five basic tastes: Sour, Sweet, Salty, Bitter, Savory (Umami). In coffee, sweetness is a highly desirable quality, and the green bean has and juicy citrus notes.
Also…our first Antigua and Huehuetenango coffees will hit the list in 2 weeks.