A portable coffee brewer that makes a unique dense brew, somewhat similar to an Americano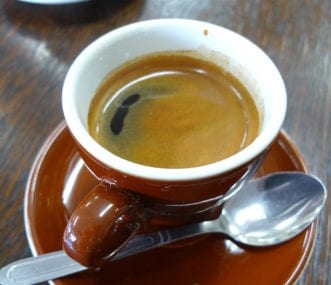 A coffee beverage made by combining espresso with hot water. It is the closest thing to "American-style" brewed coffee that can be made with an espresso machine, hence the name. Because espresso has a different More.: The Aeropress looks like a giant syringe: coffee grounds are in the bottom, and when you depress the syringe it pushes water through the grounds and into a cup. Since the brew happens under pressure, some of the chemicals found in espressoA small coffee beverage, about 20 ml, prepared on an espresso machine where pressurized hot water extracted through compressed coffee.: In its most stripped-down, basic form, this is a working definition for espresso: A small More (but not in brewed coffeeBrewed Coffee refers to all coffee preparations produced by adding non-pressurized water to coffee grounds. Contrasted with espresso coffee, which is produced under pressure, brewed coffee is primarily an extraction, and contains a lower amount More) end up in the cup, resulting in a high-body cup reminiscent of an Americano.
Aeropresses are extremely easy to clean, portable, and brew directly into a cup, making them a good choice for a brewer while traveling.