A type of thermolytic reaction of organicGrown without the use of artificial fertilizers, herbicides, etc.: Organic coffee has been grown according to organic farming techniques, typically without the use of artificial fertilizers. Some farms have more local Organic Certification than the More materials. In coffee roasting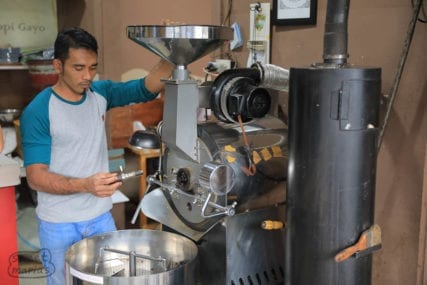 The application of heat to green coffee seeds (beans) to create palatable material for brewing a great cup!: Coffee roasting is a chemical process induced by heat, by which aromatics, acids, and other flavor components More it results in caramelizationA reaction involving sugars that occurs during coffee roasting. A caramelized sugar is less sweet, but has greater complexity of flavor and aroma. Caramelization is slower than Maillard reactions, and requires higher temperatures. These reactions More, and a host of other chemical and physical changes in the coffee.: Pyrolysis is the chemical decomposition of a condensed substance by heating. It is a special case of thermolysis, and is most commonly used for organic materials. At lighter levels, caramelization of sugars is an important result of the pyrolysis of coffee, the release of CO-2, and a host of other chemical and physical changes in the coffee. There are two stages of pyrolysis in coffee which we call "First Crack" and "Second CrackAfter First Crack, a roast reaction around 440 to 450 degrees that is distinguished by a snapping sound. Second Crack is the second audible clue the roaster-operator receives about the degree-of-roast, following First Crack. Whereas More." Extreme pyrolysis, which leaves only carbon as the residue, is called carbonization and leads to charred flavors in very dark coffee roasts.
Pyrolysis often occurs spontaneously at high temperatures, for example in fires and when organic materials come into contact with lava in volcanic eruptions, and has been assumed to take place during catagenesis, the conversion of buried organic matter to fossil fuels. It is an important chemical processA decaffeination method where beans are soaked in hot water, which is then treated with a chemical that bonds to caffeine (either methylene chloride or ethyl acetate).: A decaffeination method where beans are soaked in More in several cooking procedures such as baking, frying, grilling, and caramelizing. It's important to note that chiefly involves the conversion of carbohydrates (including sugars, starch, and fiber) and proteins.