Ecotact Zip Bags are a great way to protect your green coffee quality
We ship our green coffee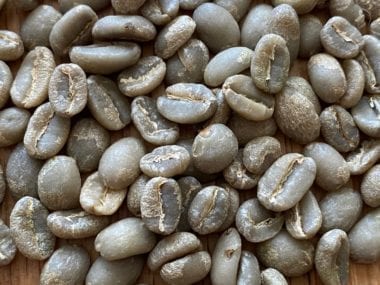 Green coffee refers to the processed seed of the coffee tree fruit. Coffee is a flowering shrub that produces fruit. The seeds of the fruit are processed, roasted,... in basic zip bags, which are fine to protect green coffee, especially if you will be roasting it within a few weeks. But what about longer term storage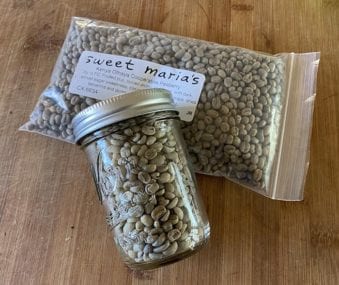 Green coffee can be stored much longer than roasted coffee: Roasted coffee starts to lose its aromatics in 10 days after roasting. Green coffee can be stored months...? And what about storing coffee in places where humidity and temperatures change a lot … is that okay for green coffee?
Green beans are a dried seed. They are made to be stored until ready to roast. But in recent years our understanding about preserving the high cup quality of top shelf green coffee has really changed.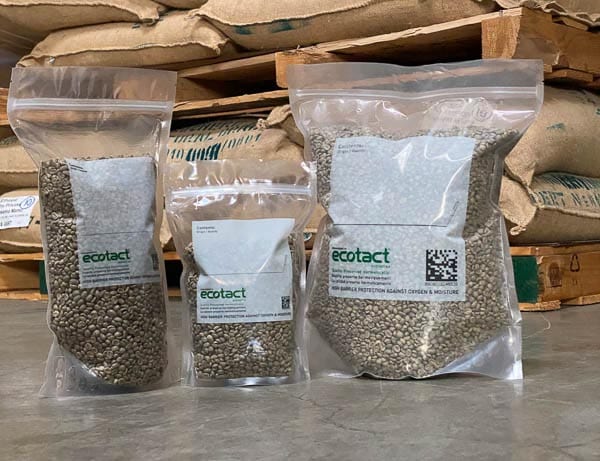 What we have found is that the potential cup quality that the green coffee bean possess can be degraded by environmental changes, especially in moisture levels. If you think of green coffee as a dried sponge, it's going to absorb moisture when exposed to a humid environment, and lose moisture in an arid environment. It itself, green coffee is dried to around 10% to 11% internal moisture level. If that is maintained, the water in the bean remains bonded, and the coffee is in an optimal state of equilibrium.
A barrier package around green coffee in this state helps to lock in the bonded humidity in the coffee, preventing it to equalize with the ambient climate. Without the barrier, the coffee bean moisture level shifts, and the corresponding rise in water activity (aw) will result in loss of coffee quality.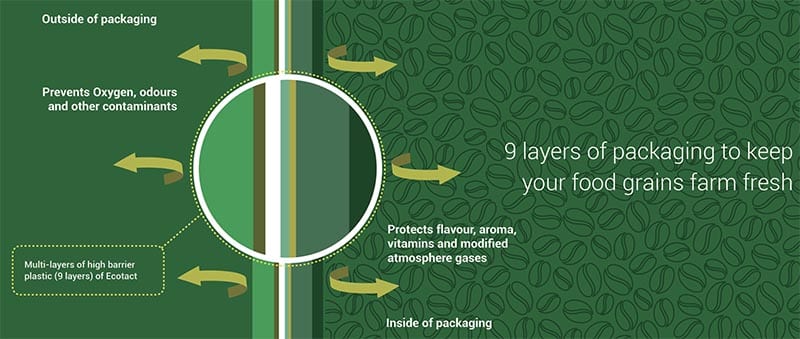 It's also important to store green coffee in a temperature-stable environment too, and away from direct sunlight. Good storage conditions in combination with an effective barrier will preserve coffee cup quality much longer. You might also already have good barrier packaging, especially if you have glass jars that fit the amount of green coffee you need to store (minimizing air in the jar) or a vacuum sealer with high barrier bags. But note standard storage bags do not have the barrier properties to prevent exchange with the ambient environment. That's why the nine-layered Ecotact material is different.
We have the Ecotact bags in 1, 2 and 5 Kgs at Sweet Maria's now, as an add-on item.
Here's my short 2 minute version explaining the basics of green coffee storage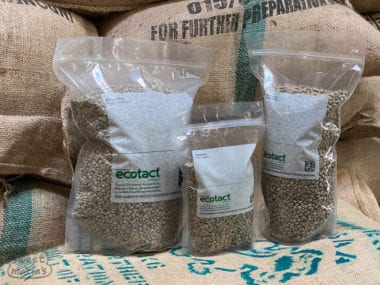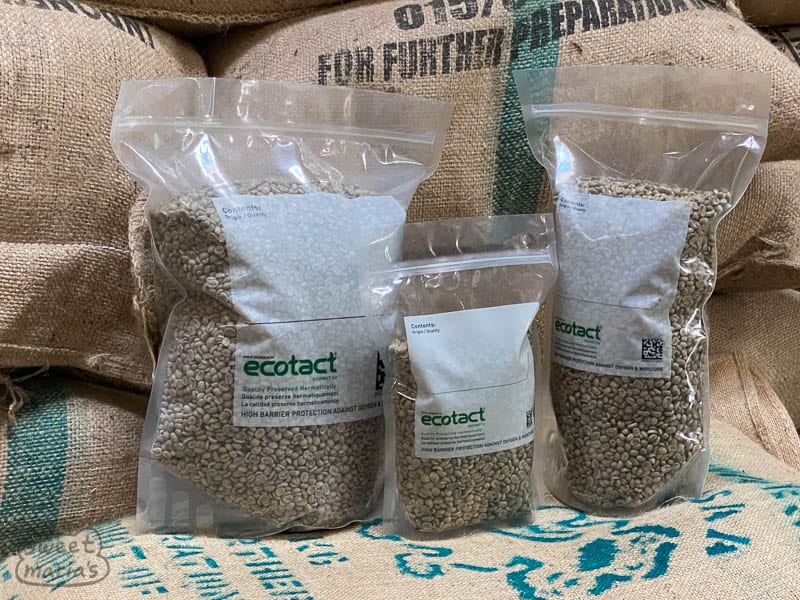 Green coffee is the dried seed from the fruit of a tree. In the past it was shipped in jute or sisal bags, which prevented coffee from becoming... and Ecotact bags:
Here is a somewhat longer video I made explaining why I think these special barrier bags are such a good thing:
The Ecotact Troiseal Barrier Bag for 20+ Lbs of Green Coffee
Note: If you order 20 Lbs and do not want the order shipped in the Troiseal bag, please email us at [email protected] right away and we can send it in our woven poly bag (with an inner liner zip bag).
Ecotact found that the larger size targeted for the Troiseal made a zip-lock closure unworkable. It's too wide and the weight of coffee will compromise it in handling and shipping. So the solution was an adhesive seal … well, not one but 3. This allows a resealing of the bag 2x in addition to the one we make when shipping it to you (or 3x of course if you buy the unfilled new bag from us).
In fact, I have found the ample amount of spare material in this bag allows for it also to be rolled and clipped shut too, giving it extended usefulness beyond 3 times. it also makes sense to me that a home roaster with many small "odds and ends" bags of green coffee could fit their whole stash in a Troiseal. In one step, and for a couple bucks, they could enhance the quality of their green coffee storage.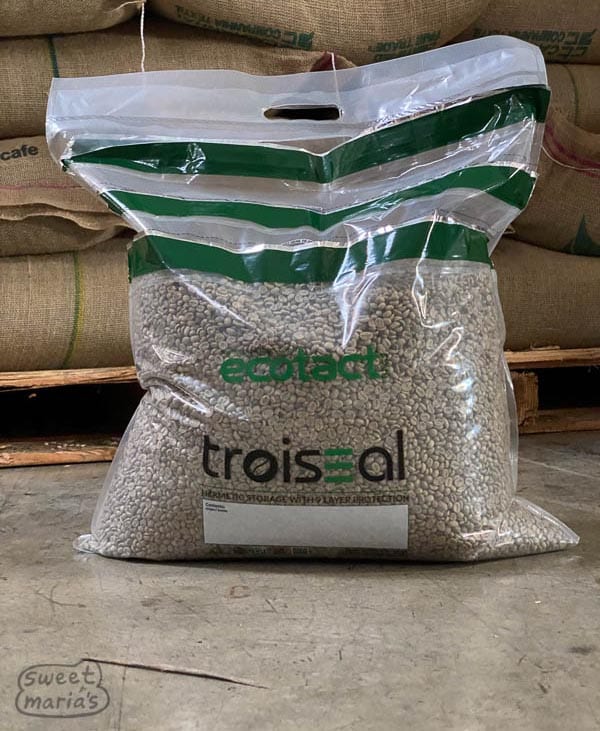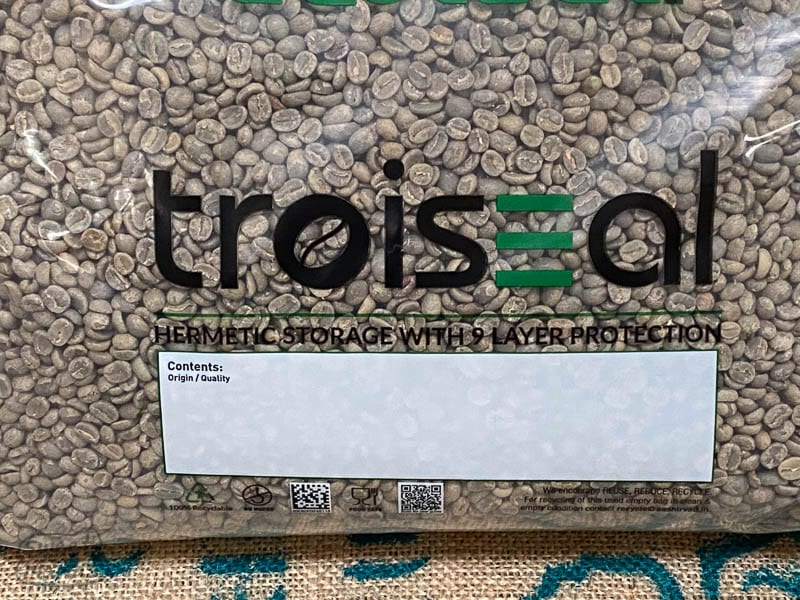 Plastics Plastics Plastics: We want to minimize our usage, but ….
We had to think long and hard about adding new plastics to our total usage. It's something we are actively trying to minimize. But offering something reusable, that enhances and extends the quality of the product we ship, felt to us like it justifies using the Troiseal green coffee bag.
We value your thoughts on this – please comment below if you have some input! -Tom
Here is the link again to purchase the Ecotact bags in 1, 2 and 5 Kgs at Sweet Maria's now, as an add-on item.