This was a quick trip with a lot of cupping in Guatemala City of new crop lots, at various exporters offices.
GuatemalaGuatemalan coffee is considered a top quality coffee producer in Central America. Due to our proximity to Guatemala, some of the nicest coffees from this origin come to the United States. : Guatemalan growing regions February 2008 – This isn't that exciting. It's a little weird in fact. I made some notes in my little booklet to introduce a travelogue. I called Guatemala "scarey", but that wasn't because I am a gringo: It's because all the guns here. It's because as soon as you leave the tourist trail, things can get a little sketchy. At least at this point in time.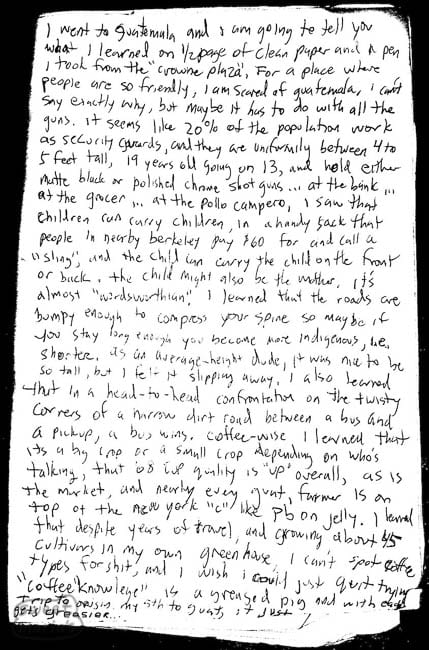 But there are some cool images here too and we spent time at farms in Acatenango, Antigua, San Jose Pinula and Fraijanes.
I was with Ian Kluse from Volcafe, and for some time Darren Daniel of Allegro. Alan Nietlisbach was there for a while, but I swore it was actually Agent Cooper. (I am sure I am not the first person to confuse him with the FBI agent from Twin Peaks).
I didn't spend a lot of time on captions and all that Plus there are repeat images, and like 20 or so when the Volcan Fuego decided to puff out some steam, since I was so surprised. Okay, here's another lengthy photo travelogue…. Thompson , 2008
Photos Part One, Fraijanes Coffee Farms, and Antigua Finca Retana
---
Coffee Processing Mill Los Pastores, Near Antigua, and Acatenango
---
Acatenango, San Diego Coffee Farm, and San Jose Pinula Coffee Farm
---
Paul Stauder, Rest in Peace
Paul Stauder from Volcafe Guatemala was tragically killed some months after this trip. He was a guy who loved to get out of the office in Guatemala City and travel to the farms. I really appreciated all of his coffee knowledge, and I think the reason we were getting such good coffee from Guatemala was because of Paul. He is missed. -Thompson