[UPDATE] The Hearthware Home Innovations Gourmet is no longer made though you might find one on Ebay from time to time.
The new Hearthware I-Roast is in stock as of 5/25/04 – you can find more information on this page.
The Hearthware Gourmet model home coffee roaster

A machine for roasting coffee. Or the person operating it! The basic requirements for a coffee roaster are a heating element that gets suitably hot and a mechanism for agitating the beans.: A mechanism for

was a straight-forward roasting appliance, similar to the old Sirocco roasters made by Siemens in the '70s and '80s–coffee roasts in a hot air stream and in a glass orb, and chaff

Chaff is paper-like skin that comes off the coffee in the roasting process. Chaff from roasting is part of the innermost skin (the silverskin) of the coffee fruit that still cling to the beans after

is neatly collected in the lid.Like a hot air corn popper, this is a "fluid bed" roaster. The roast profile

Roast Profile refers to the relationship between time and temperature in coffee roasting, with the endpoint being the "degree of roast". Roast profiling is the active manipulation of the "roast curve" or graphed plot of

seems more like a convective process to me than a hot air popcorn popper based on the results. Bean agitation has been orchestrated by dissimilar vent sizes and an eccentricly centered rotation in the bottom plate of the roast chamber.

The capacity is 1/2 cup (measurer provided) or 3 oz. by weight. You can get a way with roasting a bit more because Hearthware has apparantly upped the fan speed on these newer batches of roasters. But I would not go over a rounded 1/2 cup scoop, or 4 oz., whichever comes first.

Roasts are even and consistent, from bean to bean and roast to roast. Air flow is important for consistency between roasts, so you need to keep the batch sizes the same (with the handy measuring scoop provided) and the chaff screen clean (takes a few seconds to clean with the handy brush included).

Be aware that this model does not vary the airflow like the Precision model, so it is more like an electric air popcorn popper, with the addition of a timer and a cool cycle. We have found that the Gourmet has a more rapid air flow and can roast a little more than the level 1/2 cup measure (included with roaster).

The Gourmet is also quite a howler … it is loud. You might drive your spouse or roomates nuts if you roast in your kitchen every night and they will banish you to the basement. If loudness is a big problem, check out theFreshroast Plus.
It's easy to operate and clean. You can alter roast times by simply turning the timing dial mid-roast. There's a 2 minute cooling cycle built in. Total full city roastA coffee that has been roasted to the brink of second crack.: A coffee that has been roasted to the brink of second crack. The internal bean temperature that second crack normally occurs at is time including cooling seems to be 8 minutes. Chaff collection is excellent. A few fine chaff particles seem to pass through the lid collector early in the roast but otherwise it's very effective. Here's an exploded diagram of the roast chamber. Why the heck would someone buy the more basic Gourmet? Well, it is straightforward. The Precision is the right machine for 90% of you, but the Gourmet is fast, quicker to dump a batch and start a new one, and its simplicity means all coffee is being treated the same by the roaster –important for cupping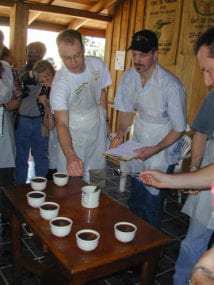 Cupping is a method of tasting coffee by steeping grounds in separate cups for discrete amounts of ground coffee, to reveal good flavors and defects to their fullest. It has formal elements and methodology in.
One last thing …parts are available for this roaster as they are for the other Hearthware model. The entire top end –the whole roast chamber assembly, handle, chaff collector, etc. is available from Hearthware. Hearthware offers a one-year warranty and is excellent in their support for the roaster. Here is the Sweet Maria's Hearthware Gourmet Model adjustments and tips information page. We are re-stocking the Gourmet model again due to the absence of the Precision model (which is permanently out of stock from Hearthware!) This time around, the price is much lower though: the Gourmet with coffee selection was $111, now $72.50. Gourmet without coffee was $101, now $62.50! These are the same prices as the Freshroast Plus model.
---
Hearthware Gourmet Roaster: $72.50 (+ 11 lbs. shipping), and that includes the 8-Pack Sampler: our selection of 4 lbs. of coffee (8 different 1/2 lb. types) from Sweet Maria's excellent stocks. You also get to chose the type of coffee included, for Brewed CoffeeBrewed Coffee refers to all coffee preparations produced by adding non-pressurized water to coffee grounds. Contrasted with espresso coffee, which is produced under pressure, brewed coffee is primarily an extraction, and contains a lower amount, EspressoA small coffee beverage, about 20 ml, prepared on an espresso machine where pressurized hot water extracted through compressed coffee.: In its most stripped-down, basic form, this is a working definition for espresso: A small, or Decaf
---
…or Hearthware Gourmet without the 8-Pack Green Coffee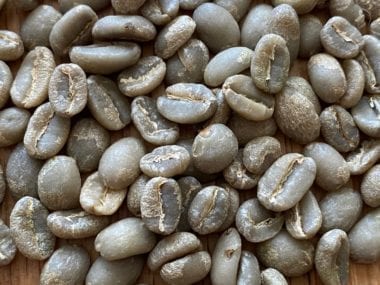 Green coffee refers to the processed seed of the coffee tree fruit. Coffee is a flowering shrub that produces fruit. The seeds of the fruit are processed, roasted, ground and prepared as an infusion.: Coffee Sampler $62.50 (+7 lbs shipping).
---
Here is the Sweet Maria's Hearthware Gourmet Model adjustments and tips information page!
---
For Information on the Hearthware Home Innovations Precision Model (now out of stock from Hearthware) Click Here
---
We only stock parts for the Hearthware Gourmet.
We are completely out of stock on the Hearthware roast chambers and chaff collectors. Hearthwar e may  still have stock – they definitely have parts for warranty repairs. You should contact them directly at <[email protected]> or 888-287-0763 . Or you can look at their web site <www.hearthware.com>. – Maria 2/17/03

SOLD OUT!

Check with Hearthware for replcement parts availability



Limit 1 $32 shipping wt. = 1.75 lbs

SOLD OUT! Check with Hearthware for replcement parts availability.
Chaff Collector Assembly:
Limit 1   $18 shipping wt. = .75 lb
SOLD OUT!Check with Hearthware for replcement parts availability.
SOLD OUT! Roast Chamber Assembly (glass roast pot, handle):
Limit 1   $18 shipping wt. = 1 lb