In late 2009 I took a trip to UgandaWhile Arabica was introduced at the beginning of the 1900's, Robusta coffee is indigenous to the country, and has been a part of Ugandan life for centuries. The variety of Wild Robusta Coffee still growing, KenyaKenya is the East African powerhouse of the coffee world. Both in the cup, and the way they run their trade, everything is topnotch.: Kenya is the East African powerhouse of the coffee world. Both and Ethiopia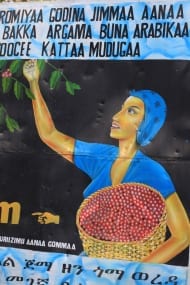 Ethiopia is the birthplace of coffee: it is in the forests of the Kaffa region that coffee arabica grew wild. Coffee is "Bun" or "Buna" in Ethiopia, so Coffee Bean is quite possibly a poor. Uganda has potential, but there is much quality work to do in harvesting and drying of coffee. Most farmers never drink coffee here … in fact many don't know exactly what coffee is used for. Because it is ground into powder, and because the government long ago would trade coffee for guns when they lacked money to pay for it, some farmers actually believe coffee is ground and made into gunpowder! I really hope the coffee from the co-op we visited pans out, and we can elevate the quality as well as introduce small lot, farmer-specific Uganda coffee in this next harvest season
Kenya was amazing again – there is no other coffee originIn coffee talk, it refers to a coffee-producing region or country; such as, "I was just at origin." Of course "Origin" for most product we use is not a beautiful farm in a temperate climate, with a system like this, including the Nairobi Coffee Auction that markets small lots based on cup quality, where the best coffees get the best price. Add to that the recent reforms that guarantee 80% of the sale price minus costs gets into the hands of the farmer, and you have a fantastic system to help buyers discover the best qualities and reward farmers as well. We came to see the harvest and take photographs, and that we did.
The last destination on our 3-part journey was focused on visiting cooperatives (Unions) in Yirga Cheffe and Sidamo. This was a harvest trip, not a cupping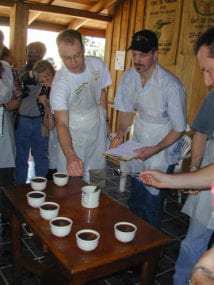 Cupping is a method of tasting coffee by steeping grounds in separate cups for discrete amounts of ground coffee, to reveal good flavors and defects to their fullest. It has formal elements and methodology in trip, a time of the crop cycle to see the picking of cherry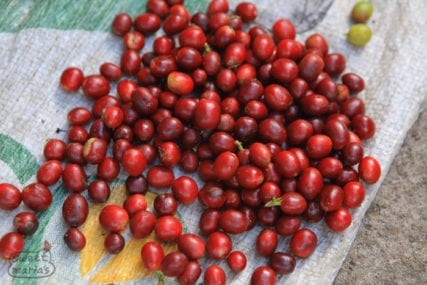 Either a flavor in the coffee, or referring to the fruit of the coffee tree, which somewhat resembles a red cherry.: Either a flavor in the coffee, or referring to the fruit of the coffee and processingThe removal of the cherry and parchment from the coffee seed.: Coffee is either wet-processed (also called washed or wet-milled) or dry-processed (also called wild, natural or natural dry, and we abbreviate it DP sometimes)., whereas if you come in April it's great for cupping stocklots from the warehouse, but there is no coffee production going on. Of course getting stuck in the mud after a downpour on a distant road near Hache was not in the plans, nor was the missing airplane that was supposed to get us to Addis from Kenya in the first place, but it just adds a bit of spice to any coffee sourcing trip.
All the photos can be found in the Travelogues section of the SM Library.