As if one size wasn't enough.
UPDATE July, 13, 2023: Larry sent us the following video of the Wobble Roaster with a wooden handle and aluminum funnel.
Sweet Maria's customer, Larry Cotton, continues to amaze us with his inventive spirit and fabrication skills. Take a look at his 300 gram All-In-One Wobble Disk Roasters. One is portable, one has a lower shroud and the other design in totally integrated These are an addition to his previous 200 gram design. The heating element, motor and agitator are all built into one powerful tower. We are speechless as usual.
FYI, these are homemade projects and not intended for mass production (unless Larry decides otherwise). If you don't know, Larry has many more coffee roasting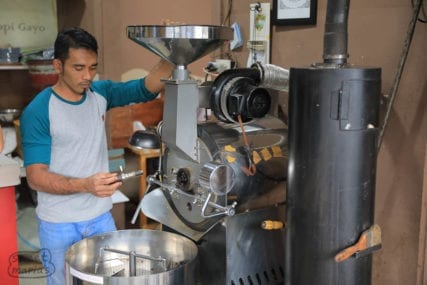 The application of heat to green coffee seeds (beans) to create palatable material for brewing a great cup!: Coffee roasting is a chemical process induced by heat, by... ...more inventions that he has shared with us in the past. Now you know.
Email Larry directly with any technical questions.
Questions? Contact the maker himself at [email protected]
Also see Larry's previous designs below:
Sifter Coffee RoasterA machine for roasting coffee. Or the person operating it! The basic requirements for a coffee roaster are a heating element that gets suitably hot and a mechanism... ...more
https://www.youtube.com/watch?v=dj-TqSPYf2k
Simple-er Sifter Roaster
https://www.youtube.com/watch?v=iQJWc7J15GY
DIY Wobble Disk Coffee Roaster
https://www.youtube.com/watch?v=Wy2MPPGwGSg
All-In-One Wobble Disk Roaster
https://www.youtube.com/watch?v=XYeLyq1d03U
The Improved Wobble Disk Roaster
https://www.youtube.com/watch?v=GhAx8xL7ulA