(07/22/11)
The Manzano process experiments are up on shrub now. We're very happy to be able to offer the experiments all together as a full set to shrubland this year. Some ideas for presentation of these coffees for your employees and/or customers:
– Roast all 3 to the same degree, serve as a set from a single service brew method.
– Set up a cupping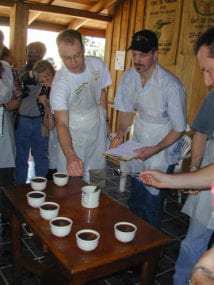 Cupping is a method of tasting coffee by steeping grounds in separate cups for discrete amounts of ground coffee, to reveal good flavors and defects to their fullest. It has formal elements and methodology in to present the roasted explain the different processes and have an open discussion about the differences found in the cup.
– This is a great set for a Farmer's Market presentation as you will have an agricultural context to help drive home the concepts.
– Create a "single originSingle Origin refers to coffee from one location, in contrast to blended coffee. This term is particularly useful in discussing espresso, since most commercial espressos are made from blends. This is what the term "SO" espressoA small coffee beverage, about 20 ml, prepared on an espresso machine where pressurized hot water extracted through compressed coffee.: In its most stripped-down, basic form, this is a working definition for espresso: A small blend from the 3 different processes (use the MW lightly in the blend; in small amounts it can provide brightnessA euphemistic term we use often to describe acidity in coffee. A bright coffee has more high, acidic notes. : A euphemistic term to describe acidity in coffee. A bright coffee has more high, acidic but too much and it can be sourSour is one of four basic sapid (in the mouth) tastes: Sour, Sweet, Salty, Bitter (and possibly a 5th called Umami which indicates savory flavors). In coffee, sourness in moderate amounts of favorable, although the).
– Compare/contrast the DP Manzano to a DP coffee from another region.
– Compare roast profiles, as stated above, note the differences around the first crackFirst crack in one of two distinct heat-induced pyrolytic reactions in coffee. It is distinguished by a cracking or popping sound in the coffee, and occurs between 390 and 410 degrees Fahrenheit in most coffee of the roast. This is an excellent training instrument for yourself or a roaster in training.
– Share your findings on The Manzano page or on Facebook or an online forum, let's have some conversations about these coffees!