(09/22/10)
We are super jazzed to finally release the Finca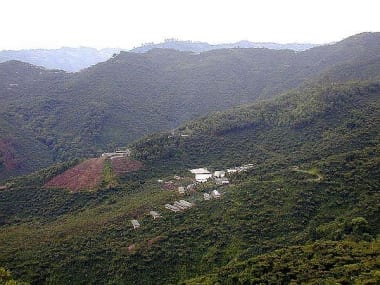 Spanish 101: Finca is the Spanish word for farm. Sometimes the term Hacienda is used to imply an Estate, which would mean the farm has its own wet-mill. A Finca does not necessarily have a El Manzano ProcessingThe removal of the cherry and parchment from the coffee seed.: Coffee is either wet-processed (also called washed or wet-milled) or dry-processed (also called wild, natural or natural dry, and we abbreviate it DP sometimes). Experiment. The Full Natural (Dry ProcessDry process coffee is a method for taking the fruit from the tree to an exportable green bean. The whole intact coffee cherry is dried in the sun with the green bean inside. Later it) is available here on shrub:
and the whole 3 coffee package (1 pound each of the 3 processing styles) is available through Sweet Maria's
This is a unique experiment in coffee processing methods. Wet ProcessWet-processing starts by removing the outer skin of the coffee cherry with a machine called a pulper, then fermenting the remaining fruit (with green bean inside) in water for 8-36 hours. The fermentation breaks down, Pulp NaturalPulp natural is a hybrid method of processing coffee to transform it from the tree fruit to a green bean, ready for export. Specifically, it involves the removal of the skin from the coffee, like, and Natural Dry processing methods are used for a small lot of coffee all of the same varietal, from the same plot of land, and harvested on the same day, 12/29/09. There is a clear progression of flavors and characteristics shown in the cup and it is a great opportunity to see how process affects not just the cup, but roasting as well.
We are excited to offer the Full Natural Dry Process here on shrub:
"Various stone fruits and honeyIn coffee, honey-like sweetness is often found, but we use terms such as refined honey (highly filtered and processed) as opposed to raw honey rustic honey sweetness. This form of sweetness is largely a dynamic in the cup, incredibly juicy, juicy down the wrist after the first bite juicy. The sweetnessSweetness is an important positive quality in fine coffees, and is one of five basic tastes: Sour, Sweet, Salty, Bitter, Savory (Umami). In coffee, sweetness is a highly desirable quality, and the green bean has is intense, but never cloying, and the bodyAssociated with and sensed by mouthfeel, body is sense of weight and thickness of the brew, caused by the percentage of soluble solids in the cup, including all organic compounds that are extracted from brewing just keeps getting more and more syrupy as the cup cools. For all the nectarine and plum and blackberryBlackberry flavor in coffee sometimes relates to slightly more developed roast levels.: Blackberry is found as a fragrance, aroma or flavor in some coffees. I find that it is less obvious at very light roast in this coffee and the rich syrupy body, it's actually not that complexThe co-presence of many aroma and flavor attributes, with multiple layers. A general impression of a coffee, similar to judgments such as "balanced" or "structured". There is a purity and clarity in the flavors presented here."
And we strongly urge you to look at the whole Manzano Experiment package over at SM, we feel like this is an excellent tool for staff and customer training, as well an opportunity to look at processing in an unprecedented way.
here's a video: