"Nicaragua is a country that really becomes more attractive the more times you visit."
Matagalpa, Nicaragua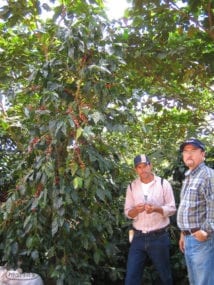 Nicaraguan coffees from the Segovia, Jinotega, Ocotal and Matagalpa regions are nice balanced cups. They often possess interesting cup character along with body and balance, outperforming many other balanced Central American and South American high-grown, May 2004
I was a judge at the Nicaragua Cup of ExcellenceThe Cup of Excellence is a competition held yearly in many coffee-producing countries, designed to highlight the very best coffees from each origin.: The Cup of Excellence (COE) is a competition held more-or-less yearly in competition again this year, and once again it was a great trip. Nicaragua is a country that really becomes more attractive the more times you visit. As far as the competition, holding it in the coffee/agricultural capital of Matagalpa was brilliant. I enjoyed this much more than last year's event held in Managua. The coffee quality was higher overall this year with less samples disqualified for taints and more clean cupClean cup refers to a coffee free of taints and defects. It does not imply sanitary cleanliness, or that coffees that are not clean (which are dirty) are unsanitary. It refers to the flavors, specifically profiles overall.
Narrowing down the lots to the top coffees that would make it into the Cup of Excellence Auction was difficult because of this invigorated competition between the excellent lots. I think my colleagues on the International Jury did a great job working through our differences (when it comes to taste, there are always differences!) to help define the flavor profileFlavor Profile implies a graphical impression of a particular coffee, whether it be an artistic portrait or data graph of the perception of flavor compounds. In the case of our spider graph charts in each truly excellent Nicaragua coffees.
For once, I tried to get a picture of all the folks below , but if I missed anyone, terribly sorry. Another problem is that it took me a month to create this slide show of images from the trip, and my memory fadedA general characterization that cup flavors are diminishing in quality due to age of the green coffee, and loss of organic compounds. Before the use of inner lining barrier bags such as Grainpro or Ecotact, a bit. Next time I will be sure to do my trip report as soon as I return!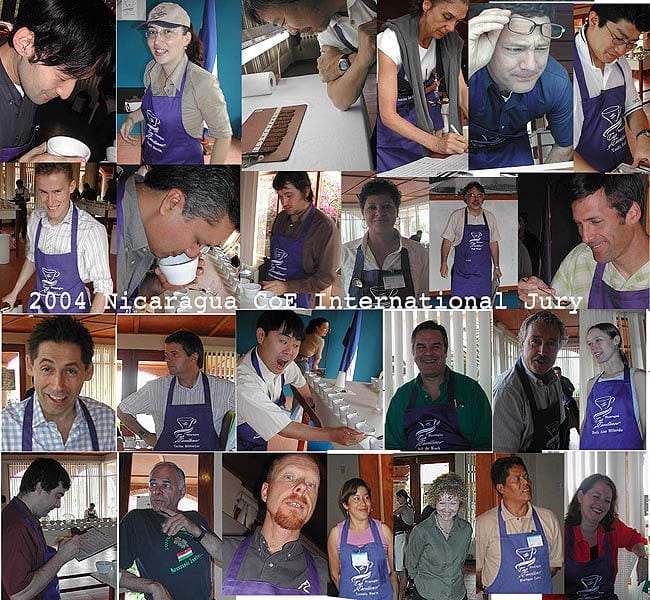 ---
Nicaragua Cup of Excellence photos
A few subjective thoughts as a tourist in Nicaragua in 2004:
Yes, it is one of the poorer countries in Central America. Yes, it has a lot of problems that plague it's neighboring countries. But somehow Nicaragua seems like a "healthy" country, a place that has gone through turmoil and is the better for it. There is a determination in this place for the "Haves" and the "Have-nots" to come to terms with each other, to negotiate, to work out differences in a peaceful way. While PanamaPanama coffee ranges from medium quality lower altitude farms to those at 1600 - 1800 meters centered in the area of Boquete in the Chirqui district near the border with Costa Rica. Some farms feature and Costa RicaCosta Rican coffee is typically very clean, sweet, with lots of floral accents. hey are prized for their high notes: bright citrus or berry-like flavors in the acidity, with distinct nut-to-chocolate roasty flavors.: Can a are very tourist-friendly … maybe too much so … and Honduras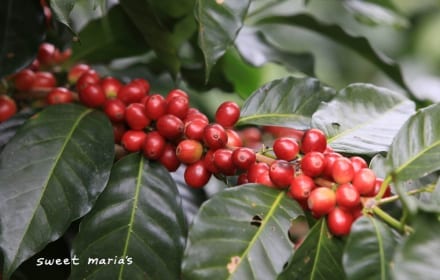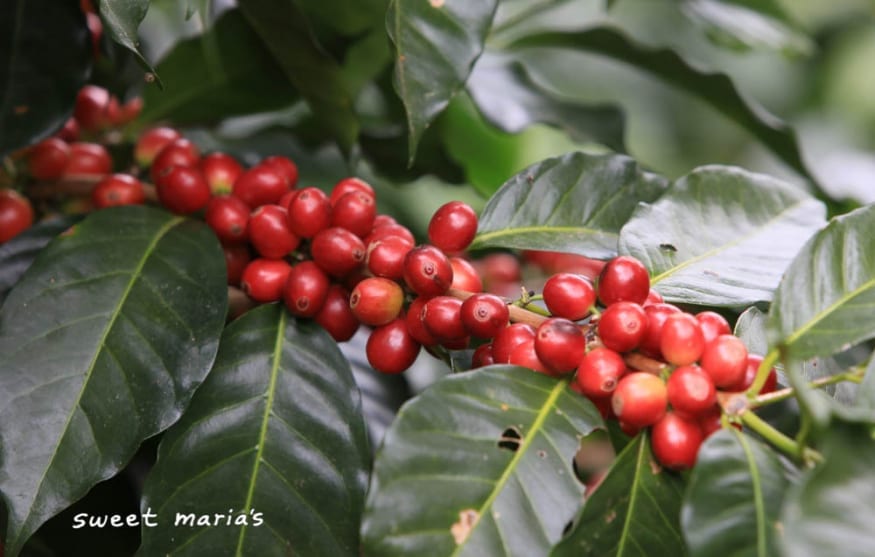 Honduran coffee was absent from the top ranks of the Specialty market, but that has changed. It has all the environmental factors on its side: soil, altitude, climate. All it's neighbors have sophisticated coffee production: can be a little sketchy, and GuatemalaGuatemalan coffee is considered a top quality coffee producer in Central America. Due to our proximity to Guatemala, some of the nicest coffees from this origin come to the United States. : Guatemalan growing regions gives me the creeps, Nicaragua (and specifically Matagalpa) is the best place to go wander, meet the local folks, and feel comfortable in a really nice, not-very-touristy town.