(10/18/12)
OK, so I'm finally back in the Bay after two intense weeks trekking through the Peruvian and Colombian Andes. This particular trip was non-stop from start to finishSimilar to aftertaste, but it refers to the impression as the coffee leaves the palate. Aftertaste is the sensations gathered after the coffee has left the mouth. We combine these to form the "final flavor with many a flight and long car ride filling big chunks of virtually every day. After arriving in Lima late my first night, we woke up the following morning and sped off across the Peruvian Altiplano to Chanchamayo for the coffee and cacao conference where I was to present a lecture to cooperative based farmers from across the country. Most of the conversations I've had with coffee folk lately revolve around ideas of what criteria are most important for the responsibilities of a successful coffee buyer. How do you get great coffee? In my opinion it begins with developing a succinct message to the those participants in your supply chain and then delivering it to as many of them as possible. At this conference, 150+ producers heard our take on what they need to do to access the higher end niche of the specialty coffee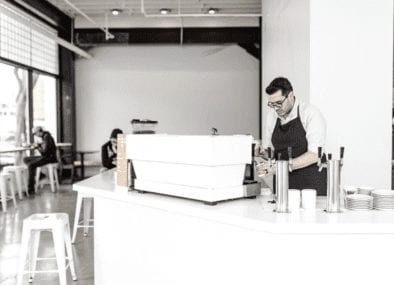 Specialty coffee was a term devised to mean higher levels of green coffee quality than average "industrial coffee" or "commercial coffee". At this point, the term is of limited use, since every multi-national coffee broker industry and it seemed to go over very well.
We hopped in the rig right afterward and drove a bit further into the interior; to higher altitudes and the coffee producing areas. This was my first trip out to this part of the country. First trips are always so exciting even when you've been doing this same kind of thing for the past 10 years like I have. Venturing out into uncharted territory strums on a different emotional cord for me and cycles my thoughts into caverns that aren't easily accessible on the norm. Also, it doesn't hurt the mental stimulus that PeruPeruvian coffees have Central American brightness but in a South American coffee flavor package overall. The good organic lots do have more of a "rustic" coffee character.: Organic Peru ... you can get it anywhere is an aesthetically dynamic country to travel through geographically. All of my systems were "go". Our first stop was at a cooperative mill around 1400 maslMeters Above Sea Level ... altitude that is...: Meters Above Sea Level, altitude that is... which in Peru means plenty of humidity and forest. I didn't expect much from the cuppings. The last sample, however, was an absolute gem. Although still scientifically inexplicable to me at this stage, something occasionally happens to TypicaA coffee cultivar; a cross between Typica and Bourbon, originally grown in Brazil: Mundo Novo is a commercial coffee cultivar; a natural hybrid between "Sumatra" and Red Bourbon, originally grown in Brazil. It was developed varietals grown at high elevation in South America, Peru, and EcuadorEcuador has everything it takes to grow great coffee. Positioned between Colombia and Peru, the interior mountain ranges have plenty of altitude, weather patterns, and ideal soil for quality coffee production.: Coffee has a long in particular, that creates a floral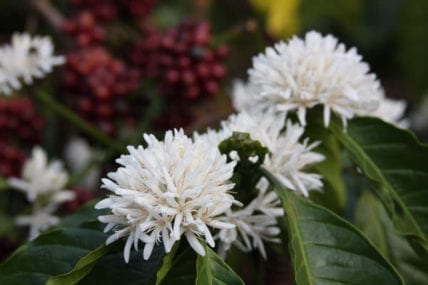 Floral notes in coffee exemplify the connection between taste and smell. Describing the taste of a specific flower is near impossible...we always default to "it tastes like it smells" which, admittedly, isn't the most helpful.  Yirgacheffe-like character in the flavor. Um, who doesn't think that sounds fun? I know. Quite possibly my biggest pet peeve in the coffee industry is an over-speculation, bullshitting really, as to why coffees taste a certain way. I've read one guy write about how he thinks that the fruits grown around coffees trees actually impart flavor on the coffees themselves. Gimme a break. Anyway, what I do know is that as far as Latin America is concerned this only happens in the Central Andes and with Typica varietals. I also know that we'll have several different lots between Peru and Ecuador of what I'm going to call the 'super floral'.
The long story short of the next few days is……Driving. Meeting. Driving. Sleeping in the car. Between setting off from this particular cooperative in Chanchamayo, to getting around the hinterlands of its interior and the that of the neighboring province, and finally back to Lima, we saw one night in a hotel. The one moment I'll likely never forget included a freight truck blocking the one lane highway we were traveling on, and us trying to help get it going. When that was clearly not going to happen we retreated to the car for a nap, considering it was 10:30 pm and we hadn't actually slept the night before. I woke up at 1am to a car of snoring companeros and a perfectly clear highway. We made it to Lima around 9am that same morning. Along the way I gps'd handfuls of coffee plots at 2200 masl and even a few over 2300 masl. Seriously. I'm not kidding. Virtually all of what I saw planted as well was Typica. The trees were still laden with cherry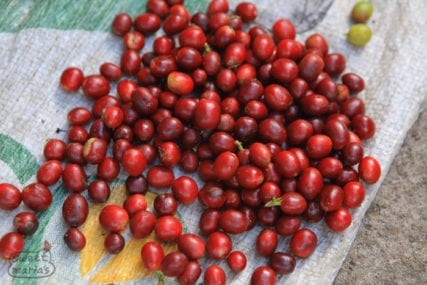 Either a flavor in the coffee, or referring to the fruit of the coffee tree, which somewhat resembles a red cherry.: Either a flavor in the coffee, or referring to the fruit of the coffee, most of it going over ripe on the branch. These farmers told me they had no market for coffee this late in the season so they didn't bother to pick it. Um, what? Needless to say the marketplace is now open.
I flew to Bogota from there knowing exactly how the following week would evolve. I've been on this same trail for 7 years now. After a flight to Popayan and the consequent drive up into the Andes I met with the producer group I've worked with the longest consecutively. Pedregal is a paradise. I've surely written those exact words at some point in the past few months so I won't expound too dramatically. What Pedregal has is exceptional altitude (1700 – 2100 masl), healthy soil, a minimal amount of ColombiaColombian coffee is highly marketed and widely available in the US. They have been largely successful at equating the name Colombian Coffee with "Good" Coffee. This is half-true. Colombian can be very balanced, with good/Castillo varietals due to its isolated location and prior FARC occupation, and most importantly, a truly remarkable producing culture. Picking is done properly and processingThe removal of the cherry and parchment from the coffee seed.: Coffee is either wet-processed (also called washed or wet-milled) or dry-processed (also called wild, natural or natural dry, and we abbreviate it DP sometimes). is clean and detailed. It was like that here from day 1 on my very first visit. That never happens. This visit was the most positive and productive in all of these years I've been coming to see this group, and by a mile. This year has been a breath of fresh air in Colombia and our momentum is growing both here and with our groups in Narino.
After backtracking down the mountainside to Popayan I hopped in yet another car headed south to Pasto. Unfortunately the road to Taminango is infested with bandits enjoying the fruits of summer (a dry, block-able road) and our producers up there deemed it unsafe to pass. We met with them in another mountain town just outside Pasto as well as another group from the area. We toured farms with copious amounts of coffee growing at 2000 masl, 2100 masl and above. Are you catching the theme here? We are finding and working in areas of extreme altitude which will produce dense, tremendously sweet coffees.
5 flights and close to 50 hours of driving later I'm pooped but so stoked on what will be coming through our pipeline later this fall, winter, and for years to come. If you're paying attention you know that we're trying to push the South American ticket here at Shrub. We don't feel like they're very well represented in our marketplace and the intention is to change that. Stay tuned for great things to come.
-Aleco