(05/07/13)
Folks,
Just a quick heads up to let you all know that we have some beautiful, fresh coffees both clearing now in the Bay and afloat just behind them.
First to clear (later this week) will be the Guatemalan coffees and we couldn't be more excited about them. Tom and I have been discussing a very particular project in Huehuetenango for some time now. A project that revolved around the idea of showcasing coffees from the smallholder producers in the region. Historically, these farmers have had two options: 1) process their cherry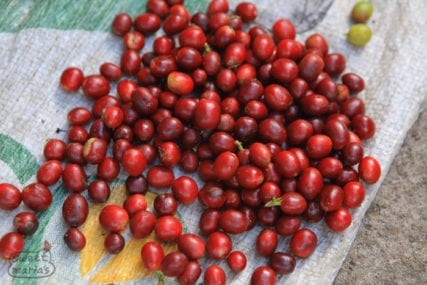 Either a flavor in the coffee, or referring to the fruit of the coffee tree, which somewhat resembles a red cherry.: Either a flavor in the coffee, or referring to the fruit of the coffee manually themselves and sell it off to the local intermediaries who blend it with other coffees from the north. 2) sell their cherry to the larger estates that typically sit below their farms where, again its blended, and sold off as coffee from that estateA "coffee estate" is used to imply a farm that has its own processing facility, a wet-mill. In Spanish this is called an Hacienda. A Finca (farm) does not necessarily have a mill. (And Finca. These smallholders often have the best altitude in these subregions of Huehuetenango. We're talking about farms at 1800 – 2000 maslMeters Above Sea Level ... altitude that is...: Meters Above Sea Level, altitude that is... planted almost entirely in CaturraCatimor is a broad group of cultivars derived from a Hibrido de Timor (HdT) and Caturra cross, highly productive, sometimes with inferior cup flavor. The main issue is the Robusta content in HdT, although this and BourbonA coffee cultivar; a cross between Typica and Bourbon, originally grown in Brazil: Mundo Novo is a commercial coffee cultivar; a natural hybrid between "Sumatra" and Red Bourbon, originally grown in Brazil. It was developed. These farms sit at the peaks of the ridges looking down on the estates and across the valley to MexicoMexican coffee originates from South-central to Southern regions of the country. For that reason, coffees from Coatepec and Veracruz are much different from Oaxacan Plumas, which are in turn much different from the Southernmost region, Quiche and the surrounding regions. There are estates with great altitude i.e. El Injerto but many sit in the lowlands of these valleys from La Libertad to La Democracia at intermediate altitudes of 1300 – 1500 masl. Sure you can grow good coffee at those altitudes but odds are against you and those beans certainly won't have the densityThe density of a coffee bean is often taken as a sign of quality, as a more dense bean will roast more with a better dynamic. The density of a coffee bean is often taken that the higher elevation provides the smallholder farmers with.
The long story short is that Tom's been down a few times in the past 6 months, the three of us (he, Dan and I) went together in March and we've analyzed 400+ samples from these farmers since January. The coffees arriving are good; very good. Some of them are outstanding. This is exactly the type of project Shrub wants to become synonymous with like we have in ColombiaColombian coffee is highly marketed and widely available in the US. They have been largely successful at equating the name Colombian Coffee with "Good" Coffee. This is half-true. Colombian can be very balanced, with good and Ethiopia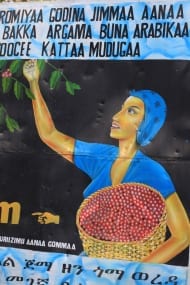 Ethiopia is the birthplace of coffee: it is in the forests of the Kaffa region that coffee arabica grew wild. Coffee is "Bun" or "Buna" in Ethiopia, so Coffee Bean is quite possibly a poor.
Speaking of Ethiopia, we have several containers afloat now that will be landing over the course of the next month. As always Ethiopia was complicated. Loyalty issues, poor communication and the constant politicking played a major part in the season's events. Luckily we've walked away from it all feeling like we have as strong an arsenal from Ethiopia as we've had in quite some time. We put a solid chunk of time this winter into the west as always and the coffees are as great as they always are. Yukro, Camp, Michiti, Sota and Gole are beauts and our new coffee from West Wollega has such a unique profile. I don't ever remember tasting baked rhubarb in an Ethiopian coffee before. Keep an eye out for Shebel Fana. In addition to these coffee we have tremendous diversity from the South. Coffees from new regions to us like Uraga and Borana that compliment the Yirgs, Sidamos and Shakisos very nicely. We're working hard to be the class of Ethiopia to the higher end specialty roasters in the US and you'll taste that in these coming months.
A wide array of lots from KenyaKenya is the East African powerhouse of the coffee world. Both in the cup, and the way they run their trade, everything is topnotch.: Kenya is the East African powerhouse of the coffee world. Both are nipping at the heels of the Ethiopians as we expect them to arrive come June. El Salvadors, Costa Ricas, Panamas and Nicaraguas are right around the corner as well. Keep your inventory lean and mean. You won't want to miss out on these.
-Aleco