(08/19/10)
New Ethiopia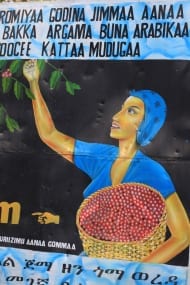 Ethiopia is the birthplace of coffee: it is in the forests of the Kaffa region that coffee arabica grew wild. Coffee is "Bun" or "Buna" in Ethiopia, so Coffee Bean is quite possibly a poor offering today!
Ethiopia Wet ProcessWet-processing starts by removing the outer skin of the coffee cherry with a machine called a pulper, then fermenting the remaining fruit (with green bean inside) in water for 8-36 hours. The fermentation breaks down Guji Oromo
http://www.coffeeshrub.com/shrub/coffee/ethiopia-wet-process-guji-oromo
"an Ethiopia flavor profileFlavor Profile implies a graphical impression of a particular coffee, whether it be an artistic portrait or data graph of the perception of flavor compounds. In the case of our spider graph charts in each with sweet spice notes, paired with tea, flowers and fruit. I kept my roasts to a fairly tight range of City to City+City+ roast is an ideal roast level that occurs roughly between 425 and 435 degrees Fahrenheit in many coffee roasters with a responsive bean probe where First Crack starts in the 395 to 405 degree, since going dark on this coffee seems to obscure it's prime attributes too much. From the dry grounds, jasmine-violet floral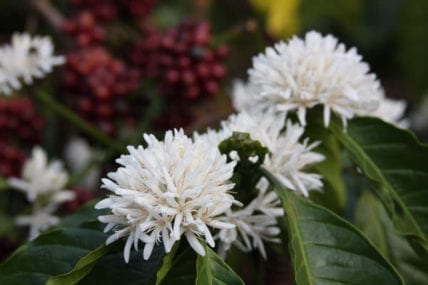 Floral notes in coffee exemplify the connection between taste and smell. Describing the taste of a specific flower is near impossible...we always default to "it tastes like it smells" which, admittedly, isn't the most helpful.  scents are clear, as well as ginger, and dark honeyIn coffee, honey-like sweetness is often found, but we use terms such as refined honey (highly filtered and processed) as opposed to raw honey rustic honey sweetness. This form of sweetness is largely a dynamic. My lightest roasts have a graham cracker wet aroma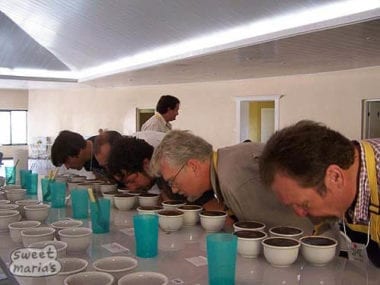 In cupping, wet aroma refers to the smell of wet coffee grinds, after hot water is added. It can involve smelling the "crust" (floating coffee grounds) on the coffee, as well as "breaking the crust", (nice, but perhaps a bit too light on the roast there). City+ level has even more violet blossoms, more honey sweetnessSweetness is an important positive quality in fine coffees, and is one of five basic tastes: Sour, Sweet, Salty, Bitter, Savory (Umami). In coffee, sweetness is a highly desirable quality, and the green bean has, maple syrup on pancakes, and sweet spice notes of ginger, cinnamon and cardamom. Those spice notes are so clear in the cup; fresh ginger, cardamom pods, cinnamon. Along with a lemony acidity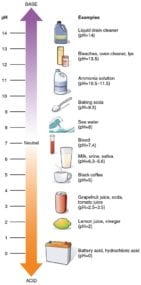 Acidity is a positive flavor attribute in coffee, also referred to as brightness or liveliness. It adds a brilliance to the cup, whereas low acid coffees can seem flat. Acidity can sound unattractive. People may, they are the accent notes."
yep.