UPDATE 11/19/04 : Well, a sample of the latest shipment from St. Helena has come in, and the the news is not good. The broker warned "it's baggy" – but having tasted it, that was putting it nicely. The coffee is just bad – which just goes to show that good trees, soil, and weather, and proven ability to produce great coffee in the past is no guarantee of even passable coffee. It is a real disappointment considering that we were waiting on the coffee all year, since the 60#s we received last year about this time, and had committed to 6 bags of it. Future shipments are very iffy as we have basically written them off, and who knows when they will be able to produce the kind of coffee they are capable of once again. At this point we don't have a lot of faith in their quality control. If they will ship us old baggy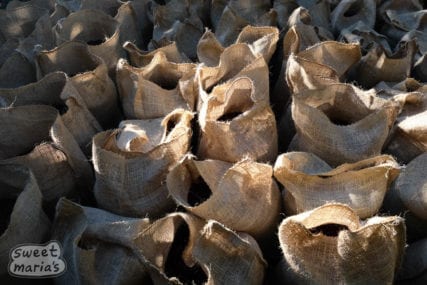 The flavor of coffee that has been stored for too long, it has absorbed the flavor of whatever it has been stored in. : Coffees that are held... ...more coffee and think we would accept it just to stock this limited coffee, they underestimate us. Cup quality comes first – the rest is incidental. I will warn you away from this coffee as, even on a small scale, you are risking similar results. – Tom
---
Our Coffee Shipment Departing the Isle of St. Helen, 2001 crop
Never before have I had the opportunity to see images of my coffee being shipped out from halfway around the globe: that's something pretty neat about the internet. And since most coffee is is produced in rather large quantities, I have never seen such a small shipment of a precious coffee being handled with such personal care! I am so thrilled to buy a coffee produced so meticulously and in such small quantities…
This page contains quite a few images -be patient while it loads…
---
The coffee transport vehicle of choice in St. Helena: the diehard Land Rover!
---
Decending the hill from coffee land to port …hey, that's our coffee boat. Well, since it will only have 260 lbs of coffee on it the name may not be justified. That's the soveregn city of Jamestown.
---
Downtown Jamestown on a bustling busy day. Hey, that's the Red Rover! Get back to work …
---
Loading our '00 shipment of 500 Lbs of coffee into wood shipping crates. The St. Helena Coffee Company overseas all the coffee production, and is carefully managed by David Henry whose name appears on the crate there…
---
Then the coffee was loaded into a steel shipping container and hoisted on a barge to take out to the ship. Mind you, the standard coffee shipment and capacity of such a container is 37,500 lbs. I think we are 37,000 pounds light on this one!
---
No trip to town woul be complete without a trip to the Govenor's mansion. I am not sure if it is hard to find a parking spot on St. Helena, but the Gov. is all set if it becomes that way!
---
Our Coffee Review of St. Helena:
---
This is the view from the Coffee Ground plot on St. Helena, the exact land where our shipment of St. Helena comes from … WOW!

David Henry, the fellow you can thank for reviving coffee production on Saint Helena