… I would write Gal to be fair, but I am referring to myself, because that is what's happening as I travel to originIn coffee talk, it refers to a coffee-producing region or country; such as, "I was just at origin." Of course "Origin" for most product we use is not... countries right now. With the NYBOT coffee market at historic highs, things have become very difficult when sourcing coffee at origin. We are paying at least $1.00 more at origin than last year, in some places as much as $2-$3 more for a pound of export coffee. You may ask yourself, "Wait, if you buy through direct relationships AKA Farm GateFarm Gate Coffee is the name we give to our direct trade coffee buying program. Farm Gate pricing means that we have negotiated a price directly with the..., and prices are not pinned to the market, why is the market driving your prices?" Well, that's because even the smallest producer has the option to sell the coffee to a local cooperative or multi-national mill that is buying at local market prices driven by the global coffee market. If the small grower owns their farm and picks their own coffee cherryOriginally coffee literature referred to the fruit of the tree as a "berry" but in time it became a cherry. It is of course neither. Nor is the..., their real costs haven't really gone up, but still they expect a premium price over what is paid in the local market. If they don't own all their fruit, if they buy some of their coffee cherry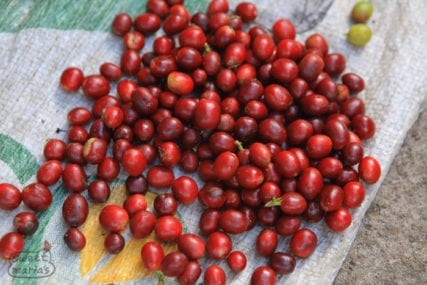 Either a flavor in the coffee, or referring to the fruit of the coffee tree, which somewhat resembles a red cherry.: Either a flavor in the coffee, or... from neighbors, then they are competing directly against the multi-nationals. And in many regions, Tarrazu in Costa RicaCosta Rican coffee is typically very clean, sweet, with lots of floral accents. hey are prized for their high notes: bright citrus or berry-like flavors in the acidity,... where I was last week for example, the prices for coffee cherry are very high. It's a winning situation for the farmers, in a sense, the complete opposite scenario from 8 years ago when coffee prices plummeted to the point that abandoning a farm made more economic sense than actually tending to your harvest. The problem is the market is being driven by forces outside of the coffee trade, by speculation, by those looking to park their capital in a commodity rather than other investments or international currencies that are seen as having to great upside right now. All coffee will be more expensive as a result. But what I think we will see is that there will be a greater distinction made between hum-drum specialty coffee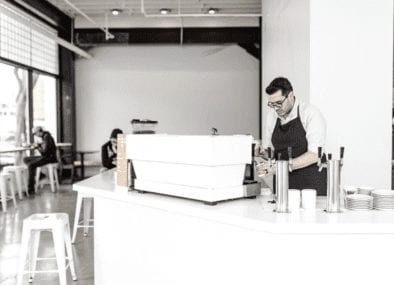 Specialty coffee was a term devised to mean higher levels of green coffee quality than average "industrial coffee" or "commercial coffee". At this point, the term is of..., fairly generic pooled regional lots that once passed as "special coffee" in the 1990s and early '00s, and those that are produced on a small scale, with great care, and much greater costs. It's 90% of what we buy. And until green coffee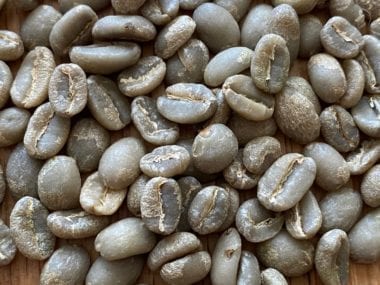 Green coffee refers to the processed seed of the coffee tree fruit. Coffee is a flowering shrub that produces fruit. The seeds of the fruit are processed, roasted,... hits $10 a pound, it's still a very reasonable deal, I think.
When I travel, I often am reminded of one idea that seems brain-numbingly basic. I thought about it a few years ago and I keep repeating it to myself when traveling to farms. It's this: COFFEE is a word used for way, way too many things. The work, the craft, of coffee growing, processingThe removal of the cherry and parchment from the coffee seed.: Coffee is either wet-processed (also called washed or wet-milled) or dry-processed (also called wild, natural or natural... and drying on a really small scale is so fundamentally unlike  how coffee is bulked and processed on a large scale, that using the same word for both seems inane. The differing levels of scale, and the difference in hand-work and care tendered to each, results in 2 completely different beverages as well. One is sweet, clean, aromatic and attractive. The other would be useful as a degreaser or paint stripper, if only it actually DID that, or anything else besides smell pungentRefers to an aggressive, intense aroma or flavor, often related to spices (pepper) or roast tastes. Pungent foods are often called "spicy", meaning a sharp or biting character,... and taste bitter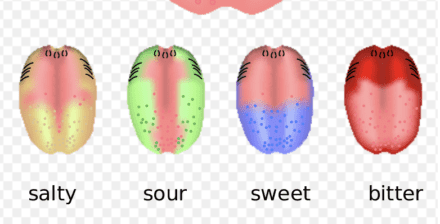 Bitterness is one of 5 basic tastes: Sour, Sweet, Salty, Bitter and Umami (savory flavors). There are many types of bitterness, hence not one avenue to tracking down....
I would like to officially state that I reject all terms to describe "good coffee". Sure I use them. How can you avoid it? But I don't feel good about myself in the morning either, writing things like "Micro Lot" or "Boutique Coffee" or "Small Batch" or "Gourmet" or what have you. Any time you take a word like Coffee and modify it to make a claim of specialness, it's ends up cutting a fart in your face. I am sorry, that was crude. But it's true. I mean for heavan sake's, look at any can of coffee at the supermarket some claim of specialness is made; gourmet, for connoisseurs, special roast, etc.
So given the higher prices coming, and the greater incentive for the marketplace to conflate levels of quality and confuse people about the differences between such and such, and this and that, we'll try to call our coffee "COFFEE", and let all the other descriptors about the cup qualities, and the biography of the farmers, and the description of the process all stand by itself. Expect green prices to be a dollar more. Really good Kenyas are going to be around two dollars more. That's the gist of it.