December 1, 2014
As you know, we sell green, unroasted coffee, but we also roast a few dozen kilos every 2 weeks. Since most of our focus goes towards green coffee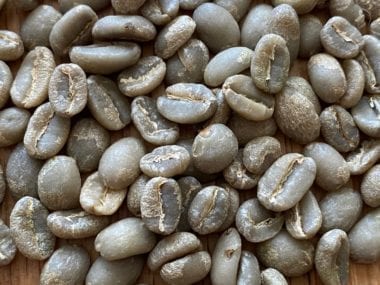 Green coffee refers to the processed seed of the coffee tree fruit. Coffee is a flowering shrub that produces fruit. The seeds of the fruit are processed, roasted, ground and prepared as an infusion.: Coffee, our roasted selection is usually pretty slim…usually two single-origin coffees and two espressoA small coffee beverage, about 20 ml, prepared on an espresso machine where pressurized hot water extracted through compressed coffee.: In its most stripped-down, basic form, this is a working definition for espresso: A small blends.Roasted coffee ships in air-tight valve bags. Hat and soccer ball not included.
Buying roasted coffee from us is a great way to compare your home roasts to those of our very experienced roaster and coffee manager, Danny. He roasts to levels appropriate for each coffee so you can generally expect light to medium roasts. Our espressos are roasted a bit darker but not as dark as the typical, oily stuff you see in the supermarket bulk bins.Danny Goot, roasting on Sweet Maria's Probat L12
Because we roast set amounts on a set schedule, our roasts are always fresh and we usually sell out within a week of the roast date. We understand that this can be annoying when you are running low on your roasted stash, need good coffee shipped to you and you discover it's out of stock on our website. How can one avoid such a let-down?
-Order your roasted coffee right when it goes on sale every other Wednesday. We announce it on our social media outlets (Twitter, Facebook and Google+) and our blog
-Subscribe to our ongoing roasted coffee service. We'll send you two pounds of roasted coffee every two weeks. We choose the pairing and send them to you within a day of being roasted and shipping is free.Here's a link to our roasted coffee page. If we are out of stock when you get there, you'll see the next roast dates listed on the coffees.
How about that price?
We literally move coffee from a space across our warehouse to the roaster and the same crew that packs our green coffee and merch, packages our roasted coffee. Because everything is done right here, we can keep our prices low and quality high.