Some Air Fryer / Convection Toaster Oven models come with a Rotisserie spit, and it's possible to roast coffee in them. Here's why you shouldn't do it!
I bought this particular model of air fryer because it had a rotisserie, and because the spit rod that came with it fit and inexpensive metal mesh wire drum sold online. The air fryer toaster oven I have been using is this: Cosori Brand, 30L, 31.7 Quart, CS130AO Model, $199 online. The drum is sold under various names, mine was called Falytemow (!?!) Stainless Steel 12 x 18 cm Rotisserie Drum, $19.99. The plus side of this pairing is the drum does fit on the Cosori roasting spit rod including with the oven!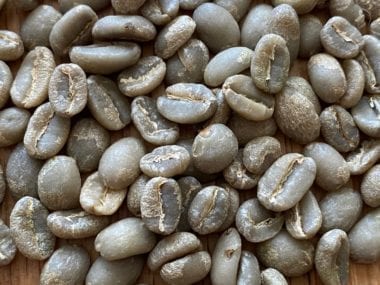 I just want to share my experience, which was a surprise to me, a person with 30+ years of coffee roasting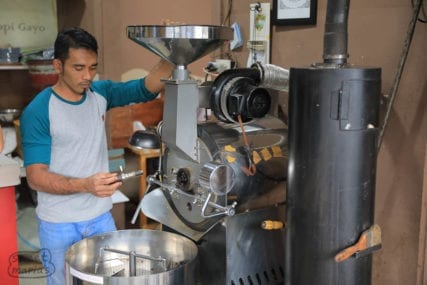 The application of heat to green coffee seeds (beans) to create palatable material for brewing a great cup!: Coffee roasting is a chemical process induced by heat, by... ...more experience. I was really shocked how difficult this was to judge the roast, how slow the roast process was, and how the coffee turned out. At the same time I was more surprised (pleasantly) that roasting on a flat sheet using high convective air flow on the "bake" setting, or on the air fry setting, has great potential!
The drum roast was very even I admit. The coffee looked nice.Why is it so slow? Partly this has to do with the limited heat range I mention below. But you can roast at 400f max temperature in other modes. Why? Because the coffee is not massed together in the limited drum space; it is spread out thin on a sheet.
A solid drum commercial roaster versus a rotisserie: Two different things!
400f is not hot enough as an environmental temperature for drum roasting. Commercial drum roasters are capable of much higher ET. And most important, in a commercial drum roasterA roaster with a rotating drum that provides agitation to the beans, while a heating element (typically either electric or gas) provides heat. The metal drum conducts heat... ...more you aren't heating a huge space around a perforated mesh drum; you are transferring heated air directly through a solid steel or cast iron drum.
The heat transfer is completely different. Even though both are "drum roasting." they couldn't be more different. (This goes for roasting on an outdoor barbeque rotisserie as well but that's a different egg to crackAn audible popping sound heard during roasting. In coffee, one refers to "first crack" and "second crack," which come from two different classes of chemical reactions.: An audible... ...more). That's not saying a mesh drum or perforated drum rotisserie can't be used to good effect. It does after all turn the coffee around … but even that is not at all like the design of the commercial drum roaster. Perhaps some illsutrations help: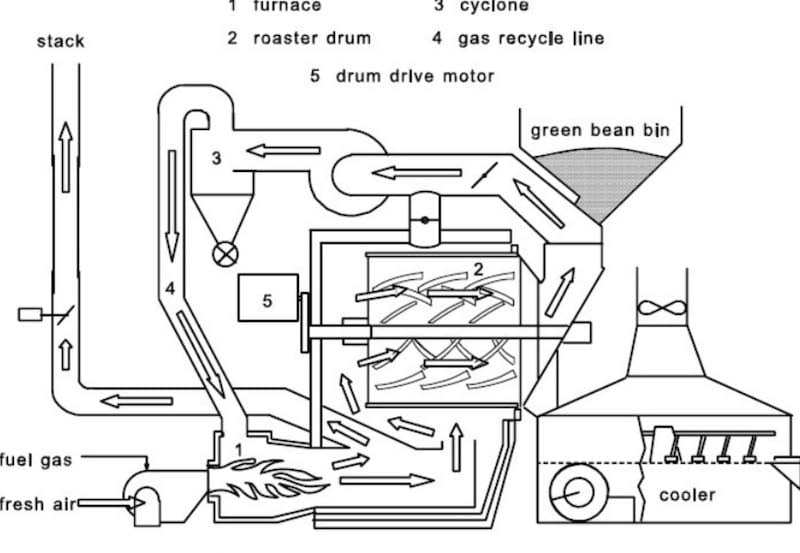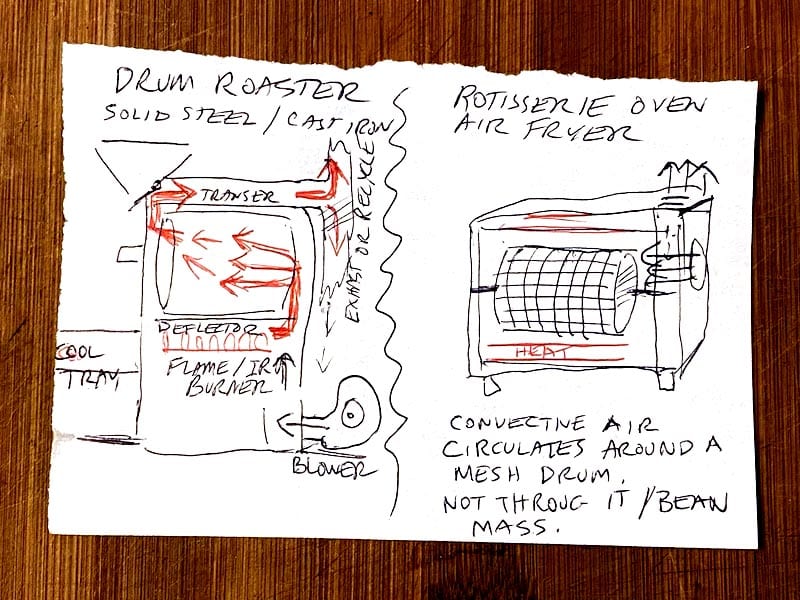 Some of my issues might be with the model I bought, the Cosori, but I did seek out the highest wattage model with a rotisserie spit I could find, so perhaps these are issues with many models with and with drums like this.
The biggest issue: You really can't see the coffee roast level at all. I end up feeling like I'm lost as to where the coffee is at in the roast process … and I've been doing this quite a while on many types of roasters! To stop the drum, check the coffee by opening the door (burn alert), reinstalling it, and starting up the process again is difficult and impractical.
The roast results were indeed even, but the installation and removal of the drum spit made it too hard. Pinpointing the stopping point in the roast, which matters by a measurement of seconds in coffee roasting, was guesswork to some degree. Opening the hot drum to get the coffee out to cool was painful, since I don't have those neat high temperature gloves.
It's not impossible of course. Here's my tips: Set the fan speed to the highest possible. Since my oven restricts rotisserie high temp to 400f, it's important to preheat the oven, then put the loaded drum in to start roasting. Listen carefully as coffee sounds can be confused with first crackFirst crack in one of two distinct heat-induced pyrolytic reactions in coffee. It is distinguished by a cracking or popping sound in the coffee, and occurs between 390... ...more, especially since first crack is faint sounding in a long roast process. Push the heat as much as possible to get the roast done asap. My fastest, despite all my efforts was 25 minutes, which is slow and results in a somewhat flatter roast tasteThe set of flavors that result from the degree-of-roast.: Roast Taste is a term we started to distinguish it from "Origin Flavor". We use the "roast taste" term... ...more in the cup. You can get some improved visibility of the coffee in the drum by shining a strong led light through the front glass of the oven, upward toward the drum.
While I found the rotisserie setting disappointing, I became curious of the potential of the air fry settings and similar ones available by using "bake" function but manually setting the fan on the highest level possible. And I had some good results! (Please read the main article about Air Fryer Coffee Roasting / ConvectionTransfer of heat through the bulk movement of a fluid. In the case of coffee roasting, we discuss convection in the context of heated air moving as a... ...more Oven Coffee Roasting for details).
Related: Toaster Oven Coffee Roasting Method (Air Fryer – Convection Toaster Oven)