Even for an experienced coffee roaster, decaf coffee can prove challenging. Here's why …
Decaffeinated coffeeCoffee from which caffeine has been removed, either chemically or using water filtration. A variety of methods for decaffeination exist, but all operate on the same basic principle:... ...more has been steadily improving in quality, and we think the time has come to let go of the "death before decaf" mentality. All of the decafs we sell at Sweet Maria's are decaffeinated using the Swiss Water Process ("SWP") – this chemical-free method is gentler on the coffee's organicGrown without the use of artificial fertilizers, herbicides, etc.: Organic coffee has been grown according to organic farming techniques, typically without the use of artificial fertilizers. Some farms... ...more structure and leaves much of the volatile compounds that affect aroma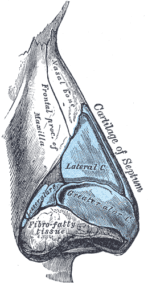 Aroma refers to sensations perceived by the olfactory bulb and conveyed to the brain; whether through the nose or "retro-nasally": The aromatics of a coffee greatly influence its... ...more and flavor intact. For more info on the Swiss Water Process, check out our Swiss Water Process FAQ.
Does the decaffeination process affect flavor? Of course – it would be dishonest to suggest otherwise. Even with improved processingThe removal of the cherry and parchment from the coffee seed.: Coffee is either wet-processed (also called washed or wet-milled) or dry-processed (also called wild, natural or natural... ...more, there will be a difference between the regular and decaf version of a coffee; we recently had the chance to compare the same coffee with regular and decaf side by side.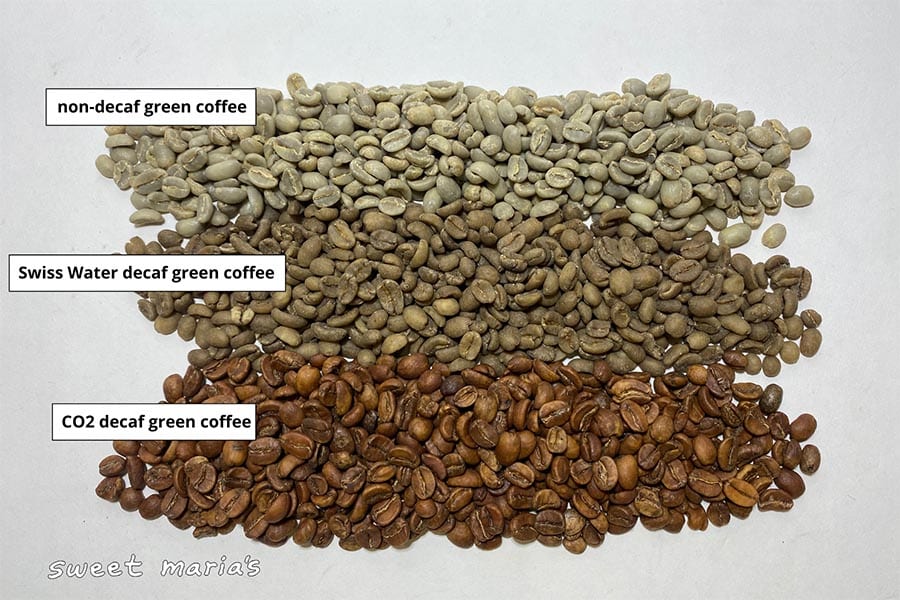 For this reason, roasters will rarely choose their best coffees to be decaffeinated – doing so would be like burning money! Luckily for Sweet Maria's, we don't face the same challenge and, as a result, all of our single originSingle Origin refers to coffee from one location, in contrast to blended coffee. This term is particularly useful in discussing espresso, since most commercial espressos are made from... ...more decafs have a cupping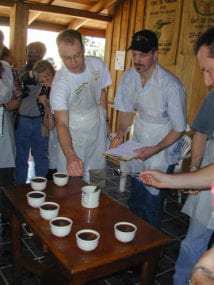 Cupping is a method of tasting coffee by steeping grounds in separate cups for discrete amounts of ground coffee, to reveal good flavors and defects to their fullest.... ...more score of 86 or higher even after decaffeination. For us, decaf is not a second-class citizen in our coffee line-up.
Given our high quality decaf, home roasters who drink decaf might experience an even larger jump in quality from store bought alternatives compared to those home roasters that stick to regular.
Have we convinced you to try your hand at roasting decaf coffee?
Here are a few basic things to keep in mind as you get started:
Why does my decaf coffee look darker while roasting?
Don't trust color change as an indicator of roast level. Decaf coffee can get very dark, very quickly, but that does not reflect the actual roast level. In fact, decaf is already a darker shade than non-decaf coffee before roasting. While the Swiss Water Process does a great job of leaving the volatile compounds in the coffee intact, decaffeination weakens the internal structure of the coffee. Due to these changes, you'll notice a different color progression – the beans will shift color from "green" (unroasted), to brown to dark brown very quickly, well before the coffee approaches first crackFirst crack in one of two distinct heat-induced pyrolytic reactions in coffee. It is distinguished by a cracking or popping sound in the coffee, and occurs between 390... ...more. Similarly, the surface texture of the bean will stay somewhat wrinkled, rather than smoothing out as you roast darker. 
What's a good comparison when roasting decaf coffee?
Roast a similar, regular (caffeinated) coffee. Since judging the roast level of decaf can be difficult, we highly recommend roasting a regular, caffeinated coffee from a similar region and of the same varietal. Decafs tend to roast similarly to regular counterparts, despite differences in roast level indicators (color change, etc), so having a go-to profile for a regular coffee provides a helpful baseline for your reference. The decaf might turn out a tad lighter or darker than the "regular" coffee, but you will be in the ballpark.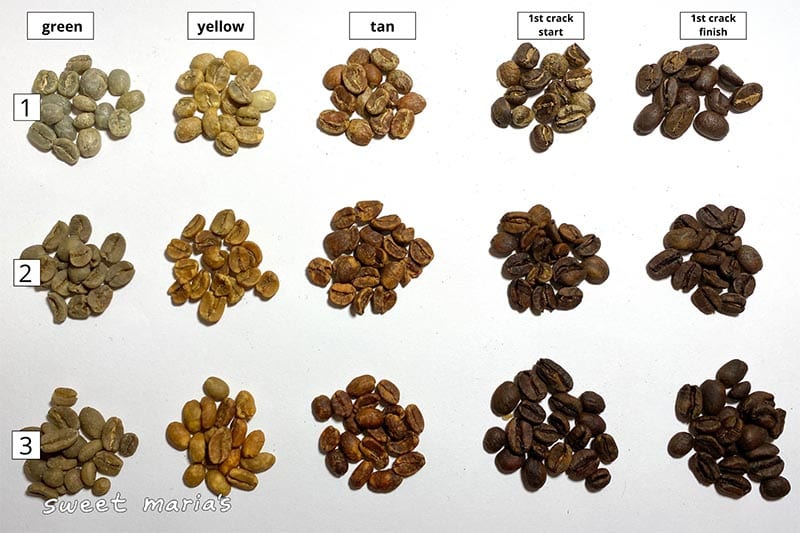 Do decaf coffees have the same audible snaps as regular, non-decafs?
The snaps of first crackAn audible popping sound heard during roasting. In coffee, one refers to "first crack" and "second crack," which come from two different classes of chemical reactions.: An audible... ...more tend to be slightly softer in decafs, so you can miss them if you aren't paying attention. Do your best to note the start of first crack, since timing your roast after this benchmark is one of the easiest ways to determine when the coffee has reached your desired roast level. 
I only roasted to City+, so why is my roast so oily?
It's normal to see oil on the surface of your roasted decaf coffee. Like we mentioned a little earlier, decaffeination breaks down the organic material in coffee, which makes for a more porous cell wall. Because of the this, moisture escapes more easily during the roasting process, and oil will rise to the surface post roast, even when the coffee is roasted light.
What other ways can you monitor roast development?
Pay attention to smell. Once you've entered first crack, you'll notice a sweet, almost vinegar-like aroma. This is a sign that your coffee is sufficiently developed – of course, you can roast darker if you'd like, depending on preference. Be sure to move past the yeasty, bready aromas noticeable in the drying stage or you might under-roast – this is particularly important if you're aiming for a lighter, City/City+ roast with a decaf coffee.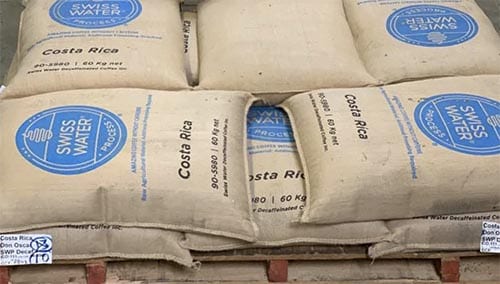 Do decaf coffees benefit from a particular roast profile?
This concept is slightly more advanced, but helpful to keep in mind. If you have manual heat control, be careful with energy input during the drying stage and again at first Crack. Decaffeination weakens the internal structure of coffee and makes it less dense. Decaf coffee can take on heat more quickly as a result and, if you aren't careful, first crack can take off, and quickly get away from you. A good rule of thumb is to pull back energy input (using heat or fan settings, depending on your roaster) just before hitting first crack. 
Can I expect similar weight loss from roasting as a non-decaf coffee?
The short answer is, no. The decaffeination process removes some of the coffee's mass, and so the coffee stands to lose less weight during roasting than a non-decaf. Seeing even a couple % difference is totally normal. I've had decaf City roasts measure at 9-10% loss, whereas that would be 12% loss in a non-decaf. All coffees are different, and expect some variance in numbers.
What else can I do to improve on roasting decafs?
Take notes and learn by trial and error. Roasting theory is always helpful, but the best way to improve is through repetition. This goes for all roasting, but is especially important when roasting decaf. Time your roast and take careful notes of changes in color, aroma, and temperature (depending on your roaster). What changes to your heat, airflow, etc did you make throughout the roast? Always note when first crack starts and ends. Once you've had a chance to brew the coffee, write down your impressions – was this a successful roast? Does it taste underdeveloped, or overdeveloped? The more data you collect, the easier it will be to improve future roasts.