Helping Ethiopian female athletes and scholars.
[Update – Sept.-Oct. 2020] – Girls Gotta Run Athletic Scholar, Burke Girma, was featured in the Malala Fund's series on female athletes around the world who defy convention on and off the field. Read more about Burke's pursuit of education, sport, and family life HERE.
Girls Gotta Run is an organization that invests in girls who use running and education to empower themselves and their communities in Ethiopia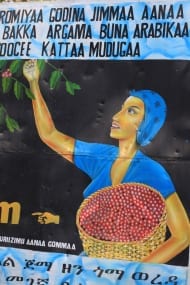 Ethiopia is the birthplace of coffee: it is in the forests of the Kaffa region that coffee arabica grew wild. Coffee is "Bun" or "Buna" in Ethiopia, so Coffee Bean is quite possibly a poor.
Sweet Maria's has donated to Girls Gotta Run on an annual basis since 2014. We are proud to contribute to such a great group that gives back to the communities in a country that the coffee world recognizes as the birthplace of coffee.
"In Ethiopia, 95% of girls begin their education but only 10% complete through 12th grade. We're on a mission to change that.

-Girls Gotta Run
CLICK HERE to learn more and how you can donate directly to Girls Gotta Run.