(10/26/12)
I was just up at the Barista Camp in Santa Barbara this week and was stoked to have so many great conversations about tasting coffee. I took part in the Intro to Cupping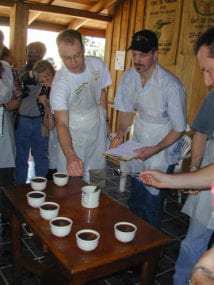 Cupping is a method of tasting coffee by steeping grounds in separate cups for discrete amounts of ground coffee, to reveal good flavors and defects to their fullest.... ...more class as well as helped out in the OrganicGrown without the use of artificial fertilizers, herbicides, etc.: Organic coffee has been grown according to organic farming techniques, typically without the use of artificial fertilizers. Some farms... ...more Acids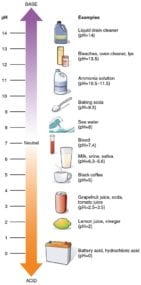 Many acids contribute to coffee flavor: acetic, malic, citric, quinic, tartaric, phosphoric, etc.: Many acids contribute to coffee flavor; malic, citric, quinic, tartaric, phosphoric, etc. See Acidity or... ...more class and with Katie Carguilo's lecture on coffee processingThe removal of the cherry and parchment from the coffee seed.: Coffee is either wet-processed (also called washed or wet-milled) or dry-processed (also called wild, natural or natural... ...more. The thing that's been at the front of my mind for some time, and which really stood out to me again in taking part in all of these cuppings and conversations is the idea of sweetnessSweetness is an important positive quality in fine coffees, and is one of five basic tastes: Sour, Sweet, Salty, Bitter, Savory (Umami). In coffee, sweetness is a highly... ...more in coffee. I've talked about it here and there on this blog and even wrote a bit about a specific kind of sweetness.
What's getting at me about sweetness in coffee these days is that it seems like no one is talking about it. We've been so caught up in trying to convince people that acidity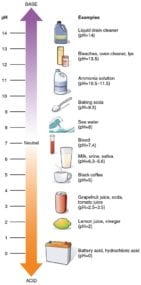 Acidity is a positive flavor attribute in coffee, also referred to as brightness or liveliness. It adds a brilliance to the cup, whereas low acid coffees can seem... ...more can be a positive characteristic in coffee, that it now seems that it's the only characteristic worth talking about. Walk into any craft/specialty coffee spot right now and ask about any particular coffee, I can almost guarantee that the first thing that they would mention about it would be the acidity or brightnessA euphemistic term we use often to describe acidity in coffee. A bright coffee has more high, acidic notes. : A euphemistic term to describe acidity in coffee.... ...more. The fruits they list might be sweet, and they'll probably throw in some cocoa or caramel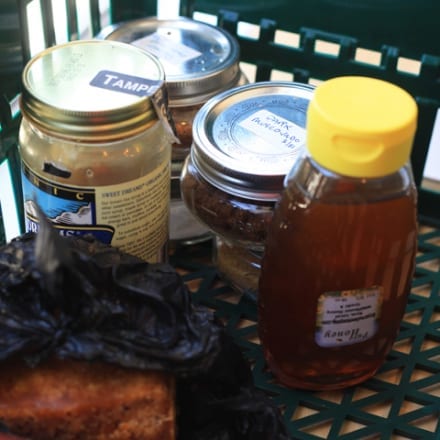 Caramel is a desirable form of sweetness found in the flavor and aroma of coffee, and is an extension of roast taste. Extremely light or dark coffees will... ...more reference, but only after they talk about the brightness of the coffee.
On the SCAA cupping form, sweetness is a box that you check off, indicating whether it's there or not. I think this is okay. You're simply supposed to be using that form to analyze the green coffee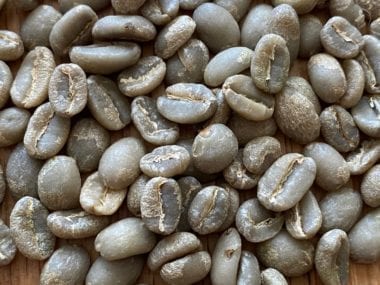 Green coffee refers to the processed seed of the coffee tree fruit. Coffee is a flowering shrub that produces fruit. The seeds of the fruit are processed, roasted,... ...more and it's potential. I think the qualitative measurements for bodyAssociated with and sensed by mouthfeel, body is sense of weight and thickness of the brew, caused by the percentage of soluble solids in the cup, including all... ...more and acidity are more controversial than the sweetness check box. But in looking at the forms for the current iteration of the still in development roasting competition, the form for analyzing the roast doesn't include sweetness at all! I found that to be shocking. What are you doing during roasting (if you're doing it right) if not developing the sweetness of that coffee?
Here's where my train of thought is going; would more people have a positive response to a coffee if the first thing you mentioned to them about it had to do with the sweetness rather than the acidity? I'm not saying that you shouldn't talk about the brightness, but talk about how it interacts with the sweetness, how the acidity highlights the sweetness or defines it otherwise. Generally speaking, people aren't looking for a bright coffee, they're looking for a sweet coffee. Perhaps if we made a point to accentuate the sweetness, then it would be even easier to get them to come around to appreciating the brightness and body in a coffee. Focus on what they're going to find the most pleasing, and build our descriptions around that.
Having this conversation with folks around the cupping tables and in various sessions, I was really uplifted that it seemed to click with so many folks. A big part of it isn't even just changing our language to help us sell coffee better, but it also helps us describe our coffees in a way that makes more sense because it talks more to where the flavors actually come from. It's a whole lot easier to believe that something tastes like something else when you can describe even a little bit why that may be. We do ourselves a big favor when we start with sweetness.