Another awesome wobble disk design
---
Once in a while, we get an email from Sweet Maria's Customer, Larry Cotton, telling us about the completion of another one of his homemade coffee roasting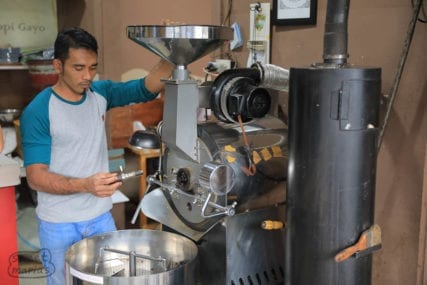 The application of heat to green coffee seeds (beans) to create palatable material for brewing a great cup!: Coffee roasting is a chemical process induced by heat, by... ...more machines. This time around, Larry sent us a video of his new EZ roaster, a "wobble disk" roaster that Larry says has been the easiest to use.
The main components are a heat gun, electric screwdriver, a flour sifter and a few other common items. The capacity is 300g. Notice the lack of metal housings or brackets. Larry created all structural parts from wood. Notice a driver attachment turns the spindle. This is what allows the roasting chamber (sifter) to be removed when the batch is ready to cool. Small magnets keep the sifter in place and a small switch turns the screwdriver off when the sifter is removed from the base. Genius.
Do you like the music? Larry composed it. Like the video? Larry shot and edited it.
If you have questions about the specs or build, you can email Larry directly at [email protected].
In case you were wondering, Larry's roaster projects are one-of-a-kind creations and are not for sale (unless Larry decides otherwise).
Also see Larry's previous designs below:
The Original Wobble Disk Roaster
https://www.youtube.com/watch?v=Wy2MPPGwGSg
All-in-on Wobble Disk Roaster
https://www.youtube.com/watch?v=XYeLyq1d03U
Sifter Wobble Disk Roaster
https://www.youtube.com/watch?v=Mozo3hiGL-o
Simpler Sifter Roaster
https://www.youtube.com/watch?v=iQJWc7J15GY
Original Sifter Roaster
https://www.youtube.com/watch?v=dj-TqSPYf2k