How to roast your own coffee with a hand-crank stove-top popcorn popper.
Since roasting your own coffee can be a "do-it-yourself experience", we have all gotten used to modifications and workarounds when it comes to equipment, especially with manual machines like stove-top poppers. There are a few poppers on the market and they get the job done when it comes to roasting coffee but they all have their quirks.
This popper by Victorio (now named VKP) caught our attention because it offered solutions to all the minor issues users of stovetop roasters have been dealing with. I like it far better than the thin aluminum types, though they do also work fine for coffee roasting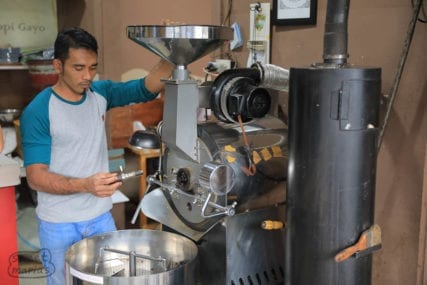 The application of heat to green coffee seeds (beans) to create palatable material for brewing a great cup!: Coffee roasting is a chemical process induced by heat, by which aromatics, acids, and other flavor components. Here is the link to the VKP Stainless Stovetop Popper / Coffee Roaster on our shopping cart site.
Notable features of the Victorio / VKP Stovetop Popper for Roasting Coffee
The handle opposite the crank allows for safe 2-handed handling of your hot popper.
The lid flips up easily and is held open magnetically.
No gears. The agitating arms are turned by a gear-less "Flex-drive" cable.
The "Flex-drive" has a lifetime warranty.
The base works with all stovetops, including induction.
The magnet is such a welcome feature. It's really nice to check on your roast without the lid falling down. Having it out of the way when emptying the roaster eliminates having to shake out the last beans which as you may know can be irritating when your popper is hot, the lid is floppin' and the chaffChaff is paper-like skin that comes off the coffee in the roasting process. Chaff from roasting is part of the innermost skin (the silverskin) of the coffee fruit that still cling to the beans after is flyin'.
The handle on the non-crank side is a big help with the overall maneuverability of the popper on your stovetop and using both hands to pour hot, roasted coffee beans from a hot roaster just feels a lot safer.
Download our printable Stovetop Popcorn Popper Tip Sheet:
Also see our Stovetop Popper Roasting Article for more instructions!