Returning to Sana'a we evaluated the samples we picked up traveling to the various coffee growing regions.
We returned to Sana'a to do some coffee cupperOne who cups, or tastes and evaluates, coffee.: A cupper is a person who performs the somewhat formal analysis of coffee quality, called cupping. See the definition of cupping for more information. It has nothing More training. We had picked up samples on the trip to evaluate, but we also wanted to share our method of quality evaluation, which was not widely used in the country.
Cupping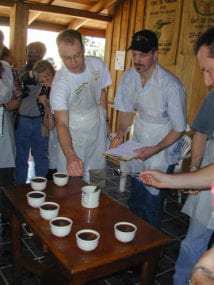 Cupping is a method of tasting coffee by steeping grounds in separate cups for discrete amounts of ground coffee, to reveal good flavors and defects to their fullest. It has formal elements and methodology in More wasn't the way coffee was traded or valued – it was exclusively by looking at the physical aspects of the coffee: green coffee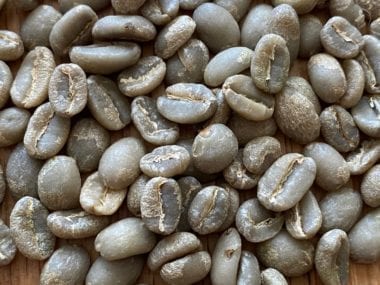 Green coffee refers to the processed seed of the coffee tree fruit. Coffee is a flowering shrub that produces fruit. The seeds of the fruit are processed, roasted, ground and prepared as an infusion.: Coffee More<coffee gradingThe evaluation and scoring of physical coffee defects in green coffee.: Coffee grading is the technical skill of evaluating and scoring of physical coffee defects in green coffee. The sample is 300 grams, and there More of sorts.
We also looked forward to a nighttime stroll around the old city. Basically we needed to buy tchotchkes and such.