(03/15/10)
Two new and incredibly capital S W E E T, sweet coffees are up on the shrub today.
ColombiaColombian coffee is highly marketed and widely available in the US. They have been largely successful at equating the name Colombian Coffee with "Good" Coffee. This is half-true. Colombian can be very balanced, with good Finca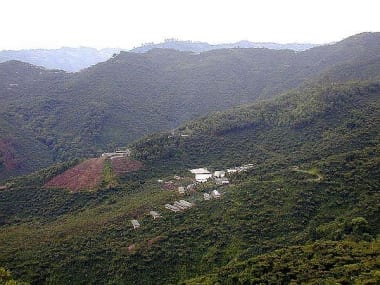 Spanish 101: Finca is the Spanish word for farm. Sometimes the term Hacienda is used to imply an Estate, which would mean the farm has its own wet-mill. A Finca does not necessarily have a La Carolina, Luis F. Rincon
http://www.coffeeshrub.com/shrub/coffee/colombia-finca-la-carolina-luis-…
&
Costa RicaCosta Rican coffee is typically very clean, sweet, with lots of floral accents. hey are prized for their high notes: bright citrus or berry-like flavors in the acidity, with distinct nut-to-chocolate roasty flavors.: Can a Cafetin San Martin
http://www.coffeeshrub.com/shrub/coffee/costa-rica-cafetin-san-martin
The producer of La Carolina is Luis F. Rincon, and it is a small, typical Colombia operation where the farmer picks, depulps, washes, ferments and dries all of his own coffee on the farm. The farm is in the area of Villa Maria, in the Caldas DepartmentA Department is the term used in some Latin American countries for a State or County. For example, Huila Department is the state in the South of Colombia. not far from Manizales. The farm manager is Leonardo Henao, and he used to work as a coffee cupperOne who cups, or tastes and evaluates, coffee.: A cupper is a person who performs the somewhat formal analysis of coffee quality, called cupping. See the definition of cupping for more information. It has nothing which is a rare quality in someone on the agronomyScience and study of crops and soils: A branch of agriculture dealing with field-crop production, soil management and physiology of crop plants as its focus. end of coffee. The cup has compelling yet balanced fruit throughout with stated notes of almond in a candy shell. An intensely aromatic cup!
Cafetin San Martin is a lot that arrived at the tail end of the '09 main harvest and was cellared in GrainProA multi-layer plastic bag with a gas barrier. The bags have been shown to extend the flavor life of the coffee significantly over storage in jute or burlap bags.: A multi-layer plastic bag with a bags. Now that we are breaking into this lot, it is an amazingly fresh coffee, just as it arrived. A testament to good storage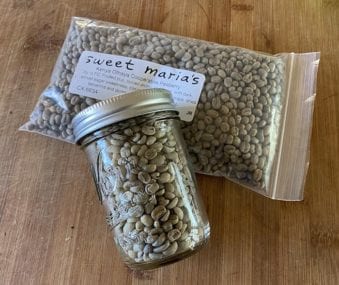 Green coffee can be stored much longer than roasted coffee: Roasted coffee starts to lose its aromatics in 10 days after roasting. Green coffee can be stored months without degrading quality.  Very often the type as well as the fact that Cafetin is well processed and "rested" before export. A well balanced cup with ample floral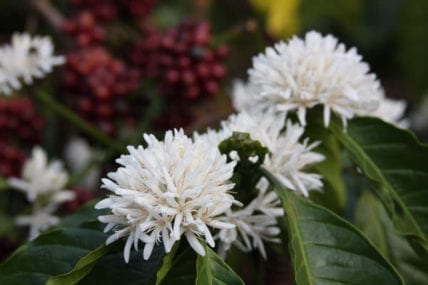 Floral notes in coffee exemplify the connection between taste and smell. Describing the taste of a specific flower is near impossible...we always default to "it tastes like it smells" which, admittedly, isn't the most helpful.  character and a clear bright finishSimilar to aftertaste, but it refers to the impression as the coffee leaves the palate. Aftertaste is the sensations gathered after the coffee has left the mouth. We combine these to form the "final flavor. I know that it sounds a little ridiculous, but the back-end of this cup is so sunny and makes me think of the Golden Hour, the time right before sunset when everything takes on that otherworldly glow.