Travel Brewing
There is no doubt about it, brewing your coffee on the road can be an adventure. Whether you are packing up your Aeropress for the jungle, or busting out a Clever Coffee Dripper and beans to avoid the Mr. Coffee hot plate dreck at a relative's house, it is good to plan ahead. Our various travel setups have been a consistent theme this summer in the Sweet Maria's coffee lab, and I thought it would be nice to share some of our travel brewing tips. They might not always render the same cup as when you are home, but some of them get pretty darn close.
Drip Brewing
If you're really tight on space, you might consider the single cup drippers. We sell two versions: the Kalita Kantan One Cup Dripper and the Single Cup Coffee Filter. They are both thin folded paper filters with paper arms that hang over the sides of your cup and work like any pour over filterconeFiltercones, as the name implies, are simply cones that hold a coffee filter. The cone fits on to the top of a coffee cup, grounds and a filter are put in, water drips straight through setup. The great part about these is that they are so small and compact.
The only drawback is that they require patience when pouring or the water runs right through the grounds. The Kalita has a wide opening, and it is a easier to get the water and grounds into, but because it is shallower it requires more pouring. The Single Cup has a narrow filter which requires fewer pours but it is more difficult to load the grounds and pour the water gracefully. The resulting cups are impressively clean with good bodyAssociated with and sensed by mouthfeel, body is sense of weight and thickness of the brew, caused by the percentage of soluble solids in the cup, including all organic compounds that are extracted from brewing. The Kantan 30 pack is 5-1/8 x 3-1/2x .75" folded flat and weighs a little under 4 oz. The Single Cup pack of 12 weighs in at a little less than an ounce and dimensions are 4x3x 4 mm for all 12.
If space isn't an issue, you might consider a filtercone and some paper filters. We sell a lot of pour over drippers, but our favorite is the Clever Coffee Dripper, which now comes in two sizes. The new version that arrived last month has a slightly modified design and is made of a more durable plastic. The large model still brews 18 oz. and the small version brews 10 oz. The Clever's small version fits on a standard mug but is shorter and more compact than the large and takes a #2 filter rather than a #4. The Clever Dripper is a unique style of brewing: because of its prolonged infusion, it has rich body like a French PressA simple coffee brewer also called a Press Pot: grounds and hot water are added to a carafe, allowed to sit for several minutes, and then a filter is pushed down to hold the grounds, but is sediment-free because of the paper filter. The larger CCD is 5.75″ tall and 6.75″ wide, while the smaller one is 5.25" wide and 4.75" tall.
The Handy Brew, our newest dripper, is similar to the Clever Coffee Dripper, but it comes with a reusable metal filter. If you desire a French Press-style brew with a little more filtration, and don't want to travel with paper filters, this might be a good match as it will leave minimal fines in your cup. It has a convenient built-in flip top lid for cold mornings. It also works for tea. You can brew up to 15 oz. and it is 6.5" tall x 6.25" wide
Filter Drip brewing on the go for a crowd
Byron, our merch guy, is always going camping with friends and trying out new ways to brew for a group. Right now he likes the Filtercone #6 with Thermos Extension and brews into the Zojirushi HandyPot. The flange on this filtercone is just 3 inches, so it is not for wide mouth thermoses. The Zojirushi HandyPot is glass lined which is great for cleaning, but can break. If you are clumsy you might consider a Large Nissan Thermos which is all stainless steel. Filter drip makes 6- 5.5 oz. cups, the HandyPot capacity is 1 liter.
French Press
The French Press becomes a little more travel-friendly with the unbreakable replacement beakers we sell for our Chambord French Presses. If you are in a heat wave you might consider a cold brew overnight in one of these and press or drain in the morning. Use a half-pound of very coarsely ground coffee in five cups of cold water. Let it steep for 12-24 hours and keep it in a cool place, like a refrigerator or cooler.
Espresso
If you are not yet driving the new Fiat with a built-in espressoA small coffee beverage, about 20 ml, prepared on an espresso machine where pressurized hot water extracted through compressed coffee.: In its most stripped-down, basic form, this is a working definition for espresso: A small machine you might consider the Aeropress or even a Moka Pot. While neither of these are true espressos they will result in a rich, concentrated cup. Tom's go-to travel setup is an Aeropress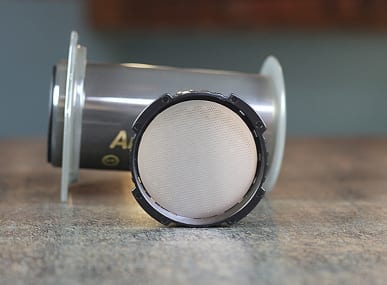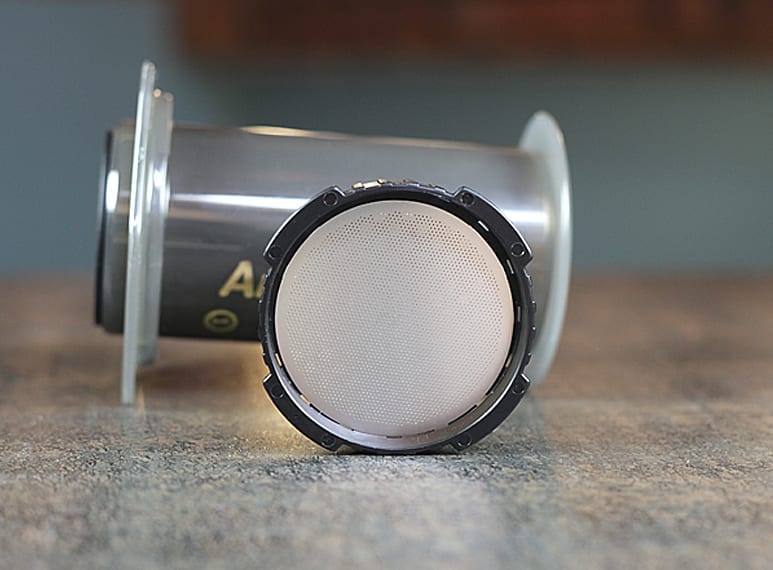 A portable coffee brewer that makes a unique dense brew, somewhat similar to an Americano.: The Aeropress looks like a giant syringe: coffee grounds are in the bottom, and when you depress the syringe it with a Hario Skerton burr set he uses to grind directly into the press. This compacts down and comes close to how he brews at home on the weekends. He has video tips on our YouTube channel. You can drink the concentrated cup straight or water can be added to produce a full cup of coffee. A moka pot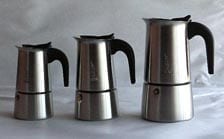 Moka Pot stovetop brewers produce a dense concentrated cup that's something between espresso and Turkish coffee. Coffee is placed into a filter between the lower chamber (that you fill with water) and the upper chamber on a camp stove might also be the way to go if you want to brew small shots for a few people. These taste best straight or with warm milk.
Grinding
If possible, bring a small manual grinderA burr grinder powered by hand-turning a crank. Manual grinders can be cheaper than their electric counterparts, and they produce comparable quality grinds, but since they require a fair amount of effort to operate, they when you travel. Ground coffee starts to stale soon after it's ground and if you're on vacation, why not take the time to do it right? Consider the shape and size of the mill before buying, since getting a good grip on the mill is key to manual grinding. The Zassenhaus Knee Mill might be better for some folks, since it's more comfortable to get a grip on, but it is too bulky for light travel.
For a more compact mill there are a few options that resemble pepper mills and have a closed-hopper design, like the stainless steel Porlex mill with ceramic burrs. The Porlex Tall stands 7″ and is 1 7/8″ in diameter with a 17.19 oz. (44 gram) capacity and weigh 9.25 oz. The Mini Porlex is 5 inches tall, 1.7/8" diameter, and has a 26 g whole bean capacity. The Mini also has a removable handle with a rubber strap to keep everything together without taking up too much space. They are both very light-weight, compact and durable.
The Zassenhaus Turkish Mill stands 7″ without the handle, diameter is 1.75″ and weighs about 18 oz. It is a little heavy, but is also probably the most heavy-duty of the bunch, with a traditional Turkish design and brass finishSimilar to aftertaste, but it refers to the impression as the coffee leaves the palate. Aftertaste is the sensations gathered after the coffee has left the mouth. We combine these to form the "final flavor. Finally, the Hario Slim has a subtle hourglass shape, which is nice to hold. It's about as light as the Mini Porlex with a larger capacity. Dimensions are 6"x3" and the capacity is 8.72oz. (50 grams).
Hot Water
Of course we want water that is the correct brewing temp of 195-200. There are various water kettles that we offer in the Cupping Supplies section of our site. We haven't had a lot of luck with our tests of electric water heaters for campers. The version we tested sold by REI is nice and compact, but it's a little scary to use and takes forever to get water up to a good temperature. The folks on our forum have a good tip when road tripping: Pull over to a gas station and fill up your themos with hot water from their coffee set up (provided it is not super funky).
Watch First Crack in Action
Ever wonder exactly what the roast process looks like from a bean's perspective? So did we, so we fired up the toaster oven, made some custom bean harnesses and let the camera roll. See them go through a dramatic first crackFirst crack in one of two distinct heat-induced pyrolytic reactions in coffee. It is distinguished by a cracking or popping sound in the coffee, and occurs between 390 and 410 degrees Fahrenheit in most coffee and progress to the point of oils seeping out. If you only watch one video of coffee roasting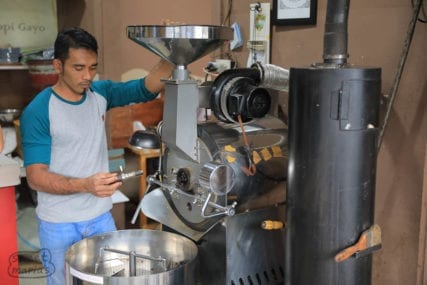 The application of heat to green coffee seeds (beans) to create palatable material for brewing a great cup!: Coffee roasting is a chemical process induced by heat, by which aromatics, acids, and other flavor components this summer, make it "Four Beans and a Toaster Oven!" Watch the video in the Photo & Video section of our library.