Coffee Cultivars: Here is a collection of images from my travels of many different types of varietals. I thought it would be interesting to pull all these together into one page … well, 3 pages since there are so many of them.
Central America Travelogues and pictures …Ben and Maria met me in Costa RicaCosta Rican coffee is typically very clean, sweet, with lots of floral accents. hey are prized for their high notes: bright citrus or berry-like flavors in the acidity, with distinct nut-to-chocolate roasty flavors.: Can a for a Central America Family Coffee get-together, and then we all went to the Best of PanamaPanama coffee ranges from medium quality lower altitude farms to those at 1600 - 1800 meters centered in the area of Boquete in the Chirqui district near the border with Costa Rica. Some farms feature competition in Boquete. During and after the 2009 El SalvadorEl Salvador coffee had an undeservingly poor reputation for years, marred mostly by the inability to deliver coffee of high quality in an unstable political climate. Unfortunately, agriculture is the first to suffer in revolution, Cup of ExcellenceThe Cup of Excellence is a competition held yearly in many coffee-producing countries, designed to highlight the very best coffees from each origin.: The Cup of Excellence (COE) is a competition held more-or-less yearly in, I visited some of our important coffee sources, such as Aida Batlle's Kilimanjaro farm, and Vickie Dalton's Finca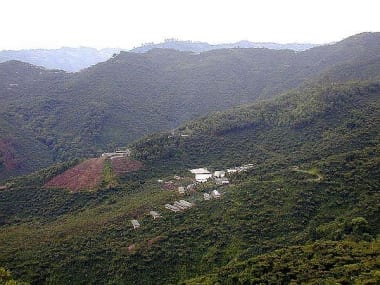 Spanish 101: Finca is the Spanish word for farm. Sometimes the term Hacienda is used to imply an Estate, which would mean the farm has its own wet-mill. A Finca does not necessarily have a Matalapa. Here's some photos of my El Salvador Travels . And here are the El Salvador Cup of Excellence 2009 photos. Woo!