(11/18/11)
I had a really great time last night at Two Rivers Coffee in Arvada, CO where they hosted this month's Colorado Thursday night latteAn espresso-based beverage with steamed silky milk on top, averaging 190-220 ml with 20 ml espresso, served in a ceramic cup or bowl, or a giant giant paper cup. ...more art rodeo. This is the second one that's been held attracting a pretty large group of folks from all over the state (mostly Denver and north so far). I was happy to see a number of local shrubbers and it was especially cool of Huckleberry Roasters to provide the espressoA small coffee beverage, about 20 ml, prepared on an espresso machine where pressurized hot water extracted through compressed coffee.: In its most stripped-down, basic form, this is... ...more made up of a blend of EthiopiaEthiopia, formerly known as Abyssinia, or a coffee cultivar: Ethiopia, or more specifically the Empire under Haile Selassie,  was known as Abyssinia. The name is Latin, derived from... ...more Jimma Wakito Madallu and GuatemalaGuatemalan coffee is considered a top quality coffee producer in Central America. Due to our proximity to Guatemala, some of the nicest coffees from this origin come to... ...more San Diego Buena Vista which came out really nicely. Last month, Corvus Coffee provided the espresso for the shenanigans made up of a blend of the 3 processes from El Manzano (just sold out of the shrub packs as I'm writing this, a very little bit still available at Sweet Maria's) that turned out really swell.
One issue that's come up in these types of events is that after the latte is judged by sight, it's dumped down the drain! That's totally insane, especially in regards to folks putting together special coffees for the events. We've decided that not only will we make a point of presenting the coffee being used and talking about it and the roast a bit, we also transfer the poured lattes into go cups and pass them around the crowd of folks participating and spectating. Then after the rounds we'll go around the room and ask some people about their impressions. This doesn't ensure that all of the coffee is being consumed, but it does raise the issue as well as promotes discussion about the coffees.
As much fun as the events are and also as exciting as it is that there's some real momentum around getting people all across Colorado's coffee scene together, I feel like it's really important to find some kind of venue to do a more public oriented coffee event. Perhaps just setting up a few small scale group tastings that are paired with presentations on various subjects. It's been really rewarding the last month or so with trips to Portland and CHicago, as well as just getting around this state here and visiting, cupping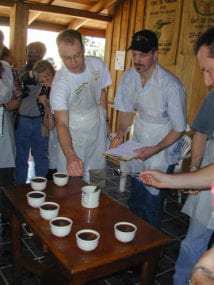 Cupping is a method of tasting coffee by steeping grounds in separate cups for discrete amounts of ground coffee, to reveal good flavors and defects to their fullest.... ...more, and discussing roasting with a lot of different shrub folks. We've said this before but it's really important to us that you all know that this project isn't meant to just simply be a transaction, but it's meant to start some conversations and discussions about really interesting coffees and roasting.