If the new cupping protocols have you stressed out, the Cupping Brewer by Rattleware is a great solution.
Good news: SCASCA is the newly formed global coffee association for Specialty Coffee. The former organization called SCAA was incorporated into the new group. The main commercial coffee group is... ...more has released new cupping protocols in light of COVID-19. Bad news: these protocols are really difficult to execute without cross contamination – one absent-minded moment where your spoon hits the wrong surface and everything is kaput.
This is the perfect method for cupping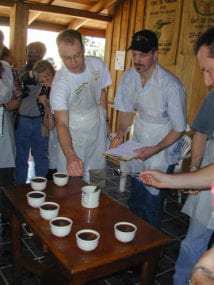 Cupping is a method of tasting coffee by steeping grounds in separate cups for discrete amounts of ground coffee, to reveal good flavors and defects to their fullest.... ...more and limiting cross-contamination at the same time.
We thought this brewer was a neat idea, and are pleased with the cup of coffee it makes! In addition to emulating a traditional cupping method without the possibility of sharing germs, the Rattleware doubles as a handy a home brewer that requires no filter. Either way, the end result is free of any possible flavor contamination by paper or metal filters and the unique design does a great job of separating the grounds from your cup.
Check out Tom's demo video of the Cupping Brewer by Rattleware
: