We've been very excited about the reception to the coffee from RwandaRwandan coffee was, at one time, rarely seen in the United States as either a Specialty grade or low-end commercial coffee. There simply was not that much coffee produced in Rwanda that went anywhere besides that we've brought in this year. Any time that we have a collection of coffees like this we think it's a great idea to put them all together and look at them ourselves in a couple different ways as well as share them as a group with others and see what the reaction to them is.
We're always thrilled to have conversations with roasters about the coffees we offer, it's always been about more than just a simple transaction with us, so we were incredibly happy to see some roasters all over hosting cuppings in order to look at these Rwandas. Roast House in Spokane, WA hosted one of these cuppings and so I reached out to him to see what the reaction to the coffees were.
Coffee Shrub: What spurred you to look at the Rwanda sampler?
Aaron Jordan: At Roast House, we have started a program of limited release coffees that are exceptional and uncommon to go along side our staple blends. These have included coffees from CongoKivu is the general name for East Congo (Kinshasa), covering a very broad geographical area, and the lake of the same name that divides them. It borders on Uganda, Rwanda, Burundi, and Lake Tanganyika on, Ninety Plus, Malawi and when I heard that Rwanda's were coming in, my interest was perked. Then I read the descriptions and the high esteem that was placed on this years coffees by the Shrub team, so I had to get samples and taste for myself.
CS: How many folks turned up for your tasting?
AJ: There was about 8 people at the cupping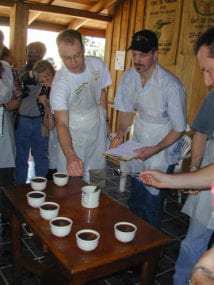 Cupping is a method of tasting coffee by steeping grounds in separate cups for discrete amounts of ground coffee, to reveal good flavors and defects to their fullest. It has formal elements and methodology in, 2 of them were experienced cuppers and the rest were a mix of baristas and coffee geeks.
CS: How did you set up the cupping?
AJ: I set it up blind. I was leaning towards one of the coffees in particular just by looking at the descriptions online so I cupped blind as well. I had cupping sheets which a good majority of the people used. I set-up 3 cups per coffee and prefaced the cupping by telling everyone that the coffees were all from the same originIn coffee talk, it refers to a coffee-producing region or country; such as, "I was just at origin." Of course "Origin" for most product we use is not a beautiful farm in a temperate climate, but differing areas. I did not tell them what origin so there were no expectations.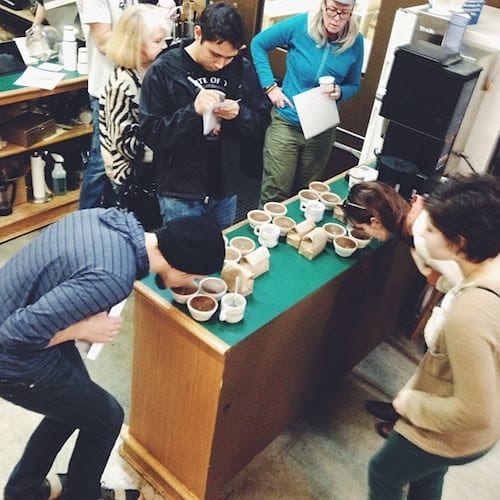 CS: What were the general responses to each of the coffees? Was there a favorite?
AJ: Response to #1 (and these are in the same order as you sent them): Lively citrus in the dry and wet aroma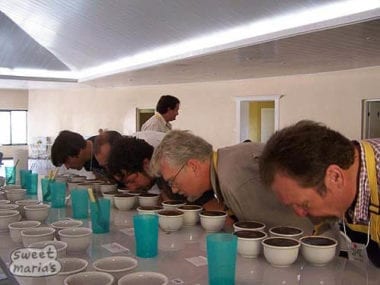 In cupping, wet aroma refers to the smell of wet coffee grinds, after hot water is added. It can involve smelling the "crust" (floating coffee grounds) on the coffee, as well as "breaking the crust",, meyer lemon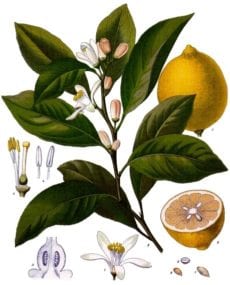 Lemon notes, as well as other related citrusy flavors or acidities, are prized in coffee. These usually express themselves as a bright accent in the cup, or aromatic citrus aspects, but not as blunt sourness./candied orange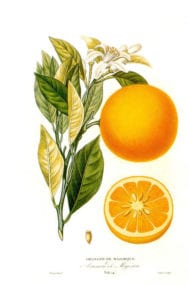 Orange aromatics and flavors are prized in coffee, whether they take the form of sweet orange flesh and pulp, or orange peel. Orange flavors or aromatics can range in degrees of ripeness, which also involves peel in the cup, vibrant yet a pleasant resinous mouthfeelHow a coffee feels in the mouth or its apparent texture, a tactile sensation : A major component in the flavor profile of a coffee, it is a tactile sensation in the mouth used in that added to the sweet effervescence of the acidity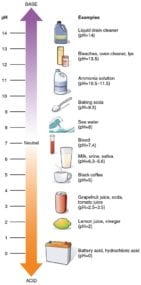 Acidity is a positive flavor attribute in coffee, also referred to as brightness or liveliness. It adds a brilliance to the cup, whereas low acid coffees can seem flat. Acidity can sound unattractive. People may.
Response to #2: Fresh vegetable garden in the dry aroma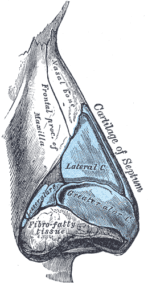 Aroma refers to sensations perceived by the olfactory bulb and conveyed to the brain; whether through the nose or "retro-nasally": The aromatics of a coffee greatly influence its flavor profile and come from the perception (beets, grape tomatoes), the wet aroma turned a little sweeter and more fruit-like but there remained that natural, on-the-tree type fruit characteristics. In the cup that fresh, natural fruit came forward even more with a slight tartness to the berry that was prominent in the cup.
Response to #3: Orange rind in the aroma (almost like the rind of citrus more than the sweetnessSweetness is an important positive quality in fine coffees, and is one of five basic tastes: Sour, Sweet, Salty, Bitter, Savory (Umami). In coffee, sweetness is a highly desirable quality, and the green bean has of the peel). In the cup it was pleasantly full-bodied and one of the more balanced cups in regards to dynamic. The cup morphed into a rusticA general characterization of pleasantly "natural" flavors, less sophisticated and less refined, but appealing. : What is Rustic? This is a general term we came up with... Dried Apricots from Sun Maid at the supermarket, sweetness, not like Indonesia-rustic but if African coffees could have a more rustic edge this coffee would characterize that well. Honey and raw sugar would be how I would describe that "rustic sweetness" which made it stand out from among the pack even more so. The finishSimilar to aftertaste, but it refers to the impression as the coffee leaves the palate. Aftertaste is the sensations gathered after the coffee has left the mouth. We combine these to form the "final flavor was like a spice-shop with a hint of green raspberry on the back end.
Response to #4: Fruit cocktail in the aroma, sweet and vibrant with a sugared aspect to it that had my vote as a favorite by the first sniff. The cup did not disappoint, juicy, orange, bergamotBergamot Orange is the size of an orange, with a yellow color similar to a lemon, and has a pleasant fragrance. The juice tastes less sour than lemon, but more bitter than grapefruit.: Bergamot orange, nectarine, so clean and delightful. As it cooled the bodyAssociated with and sensed by mouthfeel, body is sense of weight and thickness of the brew, caused by the percentage of soluble solids in the cup, including all organic compounds that are extracted from brewing turned tea-likeA term used to describe coffees with light, tannic, slighly astringent mouthfeel and tea aromatics. We find it in some Rwandan flavor profiles, among others., like the bitterness in Russian Caravan yet that fruit-forward sweetness offered a balanceSuggests a harmony and proportion of qualities, and implies mildness since no one quality dominates.: Balance is both an obvious and slippery taste term. It implies a harmony and proportion of qualities, and perhaps a that played an incredible dynamic in the cup. Towards the finish, vanilla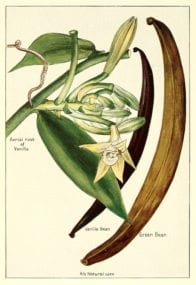 Vanilla notes in coffee are often related to caramelization notes, as butter and vanilla can be found in flavors and aromatics of roast reactions from reducing of sugars. bean with the ever-persistent vibrancy of sweet citrus.
After the cupping, we debriefed and discussed each coffee. It was a unanimous vote, which rarely happens, everyone enjoyed #4 the most (which happened to be the one that I was leaning towards prior to even receiving the samples anyhow). I revealed which coffee was which as well as the cupping notes you had attached. All the coffees were fantastic, but the Gitesi took it hands down for everyone at the table.
CS: Thanks so much Aaron and Roast House!
for more about coffees from Rwanda check out this Fundamentals article:
http://www.coffeeshrub.com/shrub/content/rwanda-burundi-fundamentals