This past October we hosted a cupping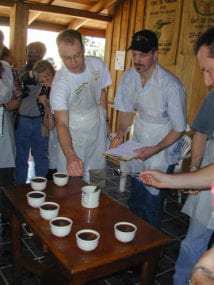 Cupping is a method of tasting coffee by steeping grounds in separate cups for discrete amounts of ground coffee, to reveal good flavors and defects to their fullest. It has formal elements and methodology in at the Sweet Maria's compound in West Oakland that was attended by roasters from all over the Bay area. Participants brought some of their own coffees to cup and discuss, but we started the festivities with a cupping and discussion of some roasts that we had produced for the event demonstrating stretching out the roast and some different examples of roast development.
The coffee we used was the GuatemalaGuatemalan coffee is considered a top quality coffee producer in Central America. Due to our proximity to Guatemala, some of the nicest coffees from this origin come to the United States. : Guatemalan growing regions Alotenango
This was the perfect coffee for this experiment since it was clean, balanced and sweet and would show the roast differences really clearly. I wanted to thank all the attendees who participated as well as the Sweet Maria's crew that helped make it all happen, especially Byron and Erica for doing all the filming and editing so that you too could share in this experience.
And now for your viewing pleasure, here is the discussion that followed the cupping