Our Weekly Series on Homeroasters Turning Pro
Part 2: Go For The Green
Coffee is wonderfully appealing for a number of reasons; that is, there is no one thing that makes a coffee great. There are several characteristics by which specialty coffee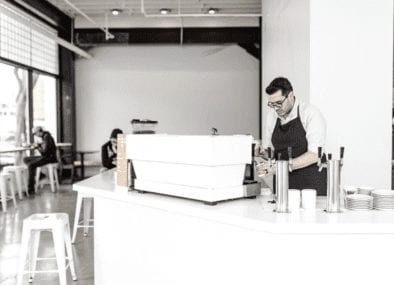 Specialty coffee was a term devised to mean higher levels of green coffee quality than average "industrial coffee" or "commercial coffee". At this point, the term is of... ...more is judged: fragrance, flavor, sweetnessSweetness is an important positive quality in fine coffees, and is one of five basic tastes: Sour, Sweet, Salty, Bitter, Savory (Umami). In coffee, sweetness is a highly... ...more, bodyAssociated with and sensed by mouthfeel, body is sense of weight and thickness of the brew, caused by the percentage of soluble solids in the cup, including all... ...more, acidity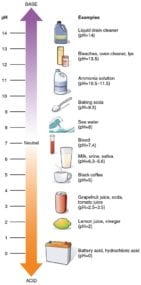 Acidity is a positive flavor attribute in coffee, also referred to as brightness or liveliness. It adds a brilliance to the cup, whereas low acid coffees can seem... ...more, etc. Even commercial-grade coffee, which is a step below specialty-grade, is evaluated for sweetness and cleanliness, as well as taints and defects which are noted as either present or not.
While I don't agree that evaluating those characteristics should simply be pass or fail, it does speak to an important point; good coffee has sweetness, is a relatively clean cupClean cup refers to a coffee free of taints and defects. It does not imply sanitary cleanliness, or that coffees that are not clean (which are dirty) are... ...more, and is free of defects. In fact, learning to identify defects could be the number one best thing you do in starting a roasting operation. There are obvious defects such as mold, and off- or over-fermentation, but then there are also the more subtle defects such as age.
Age, or past-crop, is one of the most important defects to identify. This is actually the loss of organicGrown without the use of artificial fertilizers, herbicides, etc.: Organic coffee has been grown according to organic farming techniques, typically without the use of artificial fertilizers. Some farms... ...more material; it is tired and sad coffee. Its predominant characteristic is a woodyGenerally a taste defect from age; old green coffee, perhaps yellowing in color. This is due to the drying out of the coffee over time, and as the... ...more or papery taste. This happens when many of the compounds that impart a coffee's flavor and other characteristics have broken down, either with age or improper storage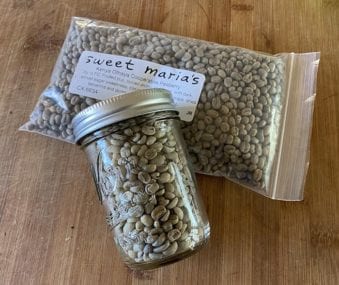 Green coffee can be stored much longer than roasted coffee: Roasted coffee starts to lose its aromatics in 10 days after roasting. Green coffee can be stored months... ...more, and all that's left to dissolve in the brew is the celluloseCellulose is the principle fiber of the cell wall of coffee. It is partially ordered (crystalline) and partially disordered (amorphous). The amorphous regions are highly accessible and react... ...more of the seed itself.
Don't cut corners and costs on your green coffee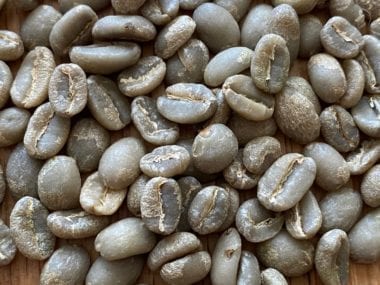 Green coffee refers to the processed seed of the coffee tree fruit. Coffee is a flowering shrub that produces fruit. The seeds of the fruit are processed, roasted,... ...more. That doesn't mean to go out and buy the most expensive coffee out there, but put the effort into finding coffees that are fresh, clean, sweet, and free of defects. You've been buying coffee for some time and you know what you like, but now you need to start buying on a production scale and taking things like price and usage into deeper consideration. Usage and inventory management is crucial.
Don't buy too many coffees. Have some varietyA botanical variety is a rank in the taxonomic hierarchy below the rank of species and subspecies and above the rank of form (form / variety / subspecies... ...more but keep it manageable, a couple coffees that you feel confident in and that you can also use together in blends if you choose. Blending seems like a lost art lately; there is so much potential in it and it can be a great way to create coffees that are unique. Great coffee is readily available to everyone, so it's important for you to do something special with it. Your whole business shouldn't just be centered around the idea that you buy really nice coffees. You also add value to the coffee. Stay tuned for next Friday's installment about roasting- "The Heat is On."
-Christopher Schooley
Christopher Schooley is a coffee roasterA machine for roasting coffee. Or the person operating it! The basic requirements for a coffee roaster are a heating element that gets suitably hot and a mechanism... ...more who works for Sweet Maria's and our CoffeeShrub project, and has served as the chair of the Roasters Guild Executive Council and has worked for the SCAA.
 CLICK HERE for more Day After Day Job