A perennial question: What do you do when your favorite coffee is unavailable? Our customers learn to identify favorite farms and look for those offerings from one year to the next. With mills or farms that have a very solid coffee program – and by that I mean they have a good system of cultivation and rules about how the cherries are picked, handled, and then processed – we can see the coffee year after year. There are coffees that will not be available again: maybe it is a special lot, or it just doesn't make the cut the next season. In any case, coffee is seasonal. So what do you do when your favorites are unavailable? You try something completely new and expand your flavor horizons. You might change brewing techniques or roasting styles on the new bean as this can be fun and educational. But if you want to find another coffee close to an old favorite, start by looking at the review of the out of stock coffee and pay attention to these fields:
1. OriginIn coffee talk, it refers to a coffee-producing region or country; such as, "I was just at origin." Of course "Origin" for most product we use is not a beautiful farm in a temperate climate,
2. Varietal
3. ProcessingThe removal of the cherry and parchment from the coffee seed.: Coffee is either wet-processed (also called washed or wet-milled) or dry-processed (also called wild, natural or natural dry, and we abbreviate it DP sometimes).
4. Region
5. Prime Attributes/Spider Graph
If you have problems articulating what you like about a coffee it can be useful to compare reviews. All the coffee reviews are archived so you can compare the out-of-stock coffee with coffees we currently have in stock. One thing that has a huge impact on flavor is processing method, specifically wet versus dry processing. There are two broad categories of coffee flavors. On the one hand are coffees that are clean and sweet and these are wet processed coffees. On the other hand are earthyEarthy is a flavor term with some ambivalence, used positively in some cases, negatively in others.: Sumatra coffees can have a positive earthy flavor, sometimes described as "wet earth" or "humus" or "forest" flavors. But, rusticA general characterization of pleasantly "natural" flavors, less sophisticated and less refined, but appealing. : What is Rustic? This is a general term we came up with... Dried Apricots from Sun Maid at the supermarket, coffees that are dry processed.
Both terms refer to how the coffee is processed from the whole coffee cherryOriginally coffee literature referred to the fruit of the tree as a "berry" but in time it became a cherry. It is of course neither. Nor is the seed of the coffee a bean. All. Wet-process coffee uses water at the wet mill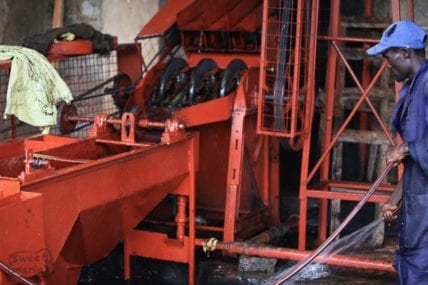 In Kenya, a "Factory" is actually a coffee wet mill (called a washing station in other parts of Africa) where the fresh cherry is brought for wet-processing. It is called a wet mill usually, and to transport the seed, allowing for the removal of defects that float to the surface. In traditional wet-processing, the wet millThe wet mill is a processing center where coffee cherry from the tree is brought for initial processing.: The wet mill goes by many names (Beneficio, Factory, Washing Station, Receiving Station) and can serve several is where the coffee is pulped (the outer fruit skin removed), floated in water (to remove defective beans), fermentedAs a defect flavor, a fruit quality in a coffee that is excessively ripe, toward rotten. Fermented flavor can be the result of poor wet-processing, over-ripe cherry, or some other contamination in the processing. As (to break down the fruit mucilage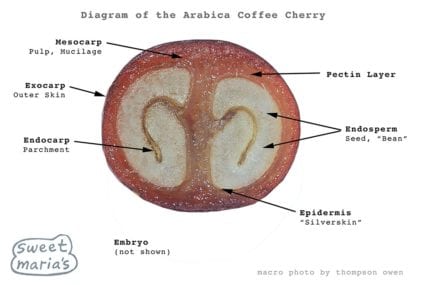 Mucilage indicates the fruity layer of the coffee cherry, between the outer skin and the parchment layer that surrounds the seed. It readily clings to the inner parchment holding the green bean. Think of the layer), washed (to remove the fruit) and dried on a patio, a screen (raised bed), or a mechanical dryer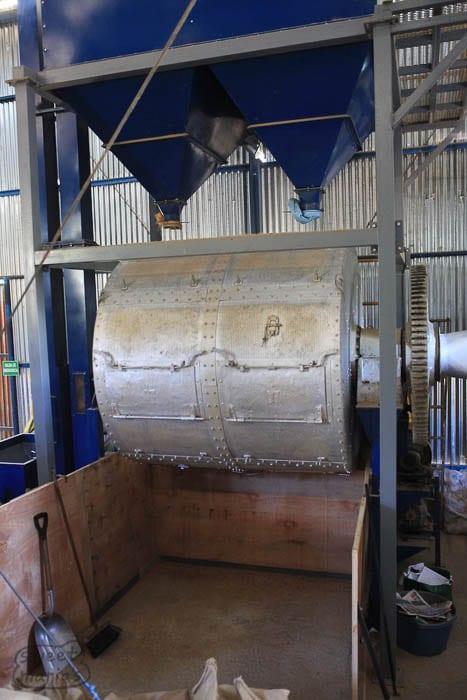 Mechanical dryers are used as an alternative to sun-drying coffee on a patio, either due to poor weather, or when the patio does not have enough capacity. It is not considered as good as sun-drying. At this point the green coffee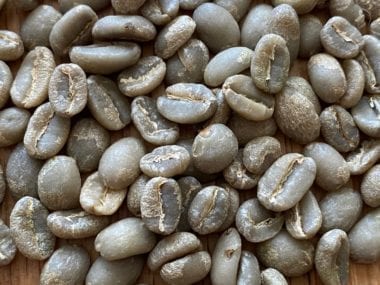 Green coffee refers to the processed seed of the coffee tree fruit. Coffee is a flowering shrub that produces fruit. The seeds of the fruit are processed, roasted, ground and prepared as an infusion.: Coffee seed is inside an outer parchmentGreen coffee still in its outer shell, before dry-milling, is called Parchment coffee (pergamino). In the wet process, coffee is peeled, fermented, washed and then ready for drying on the patio, bed, or a mechanical shell. The parchment coffee is rested for a period of time (called reposoEither the resting of parchment coffee after drying, or for the home roaster, post-roast resting.: Resting might refer to "reposo", the time after drying the parchment coffee, when it is held for 30-60 days to) then milled at a dry millA facility that accepts dried coffee cherry and mechanically separates the coffee bean from the dried fruit and parchment layer. The facility can be highly mechanized, as in Ethiopia, or very simple, as in Yemen., sorted and graded. Wet processing often produces a brighter, cleaner flavor profileFlavor Profile implies a graphical impression of a particular coffee, whether it be an artistic portrait or data graph of the perception of flavor compounds. In the case of our spider graph charts in each, with lighter bodyAssociated with and sensed by mouthfeel, body is sense of weight and thickness of the brew, caused by the percentage of soluble solids in the cup, including all organic compounds that are extracted from brewing than dry processDry process coffee is a method for taking the fruit from the tree to an exportable green bean. The whole intact coffee cherry is dried in the sun with the green bean inside. Later it coffees. Wet processWet-processing starts by removing the outer skin of the coffee cherry with a machine called a pulper, then fermenting the remaining fruit (with green bean inside) in water for 8-36 hours. The fermentation breaks down coffees are referred to also as washed coffees, or fully washed. Note that the coffee seed is not fermented in this process, just the other fruit layer between the skin and the parchment shell. This is a natural action of peptic enzymes in the coffee. In different countries they might use a submerged wet fermentationA key part of the wet process of coffee fruit is overnight fermentation, to break down the fruit (mucilage) layer that tenaciously clings to the coffee seed, so it can be washed off. Fermentation must, or a water-less dry fermentation, which is a faster method.
Dry processing is a very simple method, using less machinery and more hand labor, and has been a tradition in some growing origins for centuries. It risks tainting the coffee with defectIn coffee, a defect refers to specific preparation problems with the green coffee, or a flavor problem found in the cupping process. Bad seeds in the green coffee sample are termed defects, and scored against flavors due to poor handling, drying, or ineffective hand-sorting. In dry processing the fruit is picked from the tree and dried directly in the sun or on raised screens, without peeling the skin, or any water-based sortingCoffee is sorted by size, density, and color in its preparation for export.: Sorting refers to several steps performed in the preparation of coffee for export. Coffee is sorted by size on a grader or or fermenting. The dried coffee turns to a hard, dark brown pod, and the green seed is torn out from the skin and parchment layers in one step, or pounded out by hand. Because there is no chance to skim off floating defects, or remove under-ripes as with the wet process, most defects must be removed by hand. Dry process coffees generally have big body and low acidity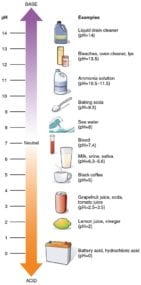 Acidity is a positive flavor attribute in coffee, also referred to as brightness or liveliness. It adds a brilliance to the cup, whereas low acid coffees can seem flat. Acidity can sound unattractive. People may, with more rustic flavors due to the long contact between the drying fruit and the seed. They also can have more defects, taints, and lack of uniformity both in the roast and in cupping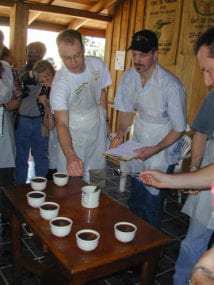 Cupping is a method of tasting coffee by steeping grounds in separate cups for discrete amounts of ground coffee, to reveal good flavors and defects to their fullest. It has formal elements and methodology in. A dry process coffee is sometimes referred to as natural coffee, full natural, or traditional dry process, or abbreviated DP.
Knowing how coffee processing impacts flavor will help guide your selection. So whether you are looking to replace a favorite or try something new, focusing on the processing method can help you get an idea of what the cup may be.
Tom made a video about this very topic.