(10/21/10)
Hey Shrub-a-dubs, it has been an exciting couple of weeks for us. We've been caught in the whirlwind of the launching of the Quest roaster and the Manzano Project and have been super jazzed by the reaction from folks.
We have sold our full stock of the Full Natural Finca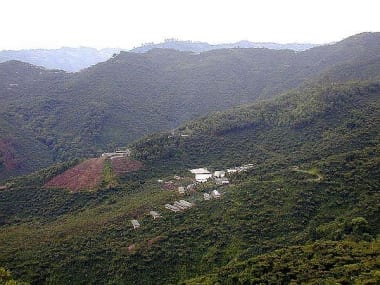 Spanish 101: Finca is the Spanish word for farm. Sometimes the term Hacienda is used to imply an Estate, which would mean the farm has its own wet-mill.... ...more El Manzano that we had for sale on Shrub, but the 3-pack set of all three processes is still available at Sweet Maria's. We strongly encourage you to check out the whole set if you haven't yet:
also, the discussion about this project on the Sweet Maria's Forum is still going (comments from the Manzano pg on Shrub will be pasted over there as well):
As for the Quest, the next batch is being built right now, and we have already sold half of our current stock. There is some good discussion happening in the comments section, and I must say that the more I work with this roaster, the more impressed I am by the possibilities and potential of it. Here's a new overview video on the Quest M-3 roaster by Tom.

Heads up on the Montañita PacamaraAs the name implies, Pacamara is a large bean cultivar, a cross between Pacas and Maragogype with unique flavor properties. This variant originated in El Salvador in 1958,... ...more, only 2 bags left. This coffee is one of my all time favorites:
There are some new coffees right around the corner, but there is still a limited supply of the PanamaPanama coffee ranges from medium quality lower altitude farms to those at 1600 - 1800 meters centered in the area of Boquete in the Chirqui district near the... ...more Esmeralda GeshaGesha is a long-bean Ethiopia selection with unique cup character.: Gesha (often wishfully misspelled as Geisha) is a long-bean Ethiopia cultivar selection with unique cup character. It is... ...more – Mario Enero Lot. If you are planning on picking any up for the holidays as a special offering or gift or whatever, I would suggest grabbing some soon:
Coming soon: The run-down and highlights from this year's CuptoberFest. In the meantime, here's a pretty silly video I did of a cupping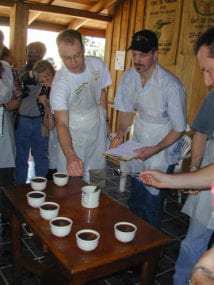 Cupping is a method of tasting coffee by steeping grounds in separate cups for discrete amounts of ground coffee, to reveal good flavors and defects to their fullest.... ...more presentation for the Manzano Project, remember, 3-packs are still available and it's a pretty amazing opportunity to get a real clear look at the effects of different processingThe removal of the cherry and parchment from the coffee seed.: Coffee is either wet-processed (also called washed or wet-milled) or dry-processed (also called wild, natural or natural... ...more types.