Demucilage refers to a method to remove the fruityIn some coffee taster's lexicon, "fruity" means the coffee is tainted with fruit, and "fruited" means a coffee is graced by positive fruit notes. We don't exactly see the difference in terms of these two More layer of coffee cherry… the called mucilage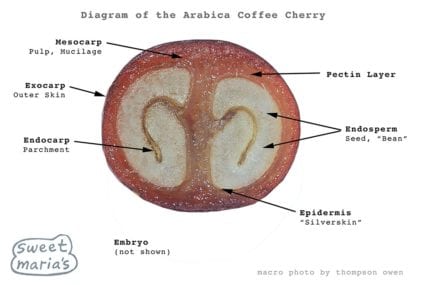 Mucilage indicates the fruity layer of the coffee cherry, between the outer skin and the parchment layer that surrounds the seed. It readily clings to the inner parchment holding the green bean. Think of the More. Mucilage is the layer between the outer skin and the parchmentGreen coffee still in its outer shell, before dry-milling, is called Parchment coffee (pergamino). In the wet process, coffee is peeled, fermented, washed and then ready for drying on the patio, bed, or a mechanical More layer, fruit that surrounds the seed. It clings to the parchment and is not easy to remove. (Think of the way the fruit pulp clings to some plum seeds after you eat them).
In the traditional wet-process method, the mucilage is broken down by fermentationA key part of the wet process of coffee fruit is overnight fermentation, to break down the fruit (mucilage) layer that tenaciously clings to the coffee seed, so it can be washed off. Fermentation must More and then washed off.
A forced-demucilage machine does this with water and friction, such as a Penagos
Penagos Hermanos is a Colombian company that produces demucilage coffee processors. This is a forced demucilage machine that uses little water, and removes the coffee fruit layer from the parchment seed using friction and a More or Pinhalense
A Brazilian coffee equipment manufacturer, that produces a wide range of equipment for wet-mills and dry-mills, coffee hullers, density sorters, graders, screening machines, roasters, dryers etc. They also make some coffee lab equipment including a More Demucilager.
The early machines were called "Aquapulpers" but they damaged the coffee, resulting in fruity or fermentyA defect flavor, a fruit quality in a coffee that is excessively ripe, toward rotten. This often takes the form of vinegar-like aroma and flavor. Fermenty or vinegar flavors can result from high levels of More flavors.