In Panama

Panama coffee ranges from medium quality lower altitude farms to those at 1600 - 1800 meters centered in the area of Boquete in the Chirqui district near the border with Costa Rica. Some farms feature

, Sipping Coffee at Its Source
This article from NYTimes.com http://www.nytimes.com . Imagine reading The New York Times any time & anywhere you like! Leisurely catch up on events & expand your horizons. Enjoy now for 50% off Home Delivery! Click here: http://www.nytimes.com/ads/nytcirc/index.html
from February 25, 2001
By DAISANN McLANE, The FRUGAL TRAVELER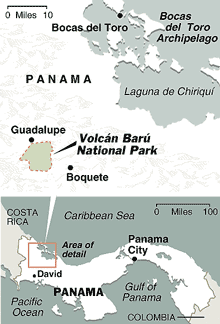 Sweet Maria's note: This article is particularily interesting to us because we buy many of our Panamanican coffees from the Casa Ruiz mill in Boquete, conisdered by all the finest coffee growing region in Panama. Our Hartmann EstateA "coffee estate" is used to imply a farm that has its own processing facility, a wet-mill. In Spanish this is called an Hacienda. A Finca (farm) does not necessarily have a mill. (And Finca Panama is milled at Casa Ruiz too. And 3 years ago we stocked the Boutet Estate coffee mentioned below…
This year (2002) I attended the Coffee and Flower festival as a judge.

I eagerly await the day that guidebooks begin including highlighted information on this crucial travel concern. ("The island of X abounds with breathtaking scenery, friendly people and unacceptable coffee.")EVERY morning, whether I wake up in New York or New Zealand, I follow the same routine: wash, dress, and go look for coffee. Flight delays, bumpy bus rides, lizards on the bathroom floor ó these are mere annoyances, easily shrugged off. But a bad cup of brew in the morning (or even worse, no coffee at all), can throw a hotel, a restaurant, even an entire destination onto my blacklist.
My travels, oddly enough, had never taken me to coffee-growing country. And when I started researching a trip to Panama in December, beaches, not mountains, were on my mind ó specifically the archipelago of Bocas del Toro on the Caribbean coast. But I noticed on a map of western Panama that the mountains there rose steeply and swiftly up from the flat, humid coastal lowlands ó it is possible to go from sea level to nearly a mile high in an hour's car ride. Near Barú, Panama's only volcano, coffee plantations spread over fertile black soil.
My travel plans jelled when I came upon various descriptions of the town of Boquete. According to guidebooks, Boquete, in the shadow of Barú, was filled with gardens and flowers, surrounded by lush coffee plantations and vegetable farms. There was a national park nearby (Volc·n Barú National Park), with enticing hiking trails. From Boquete I could hike around the side of the volcano to another mountain town about eight miles away, Guadalupe.
I got a pretty good deal from American Airlines, round trip to Panama City from Miami for $422, leaving in mid-January and returning 10 days later. (I bought a discount round-trip ticket to Miami on www.cheap tickets.com for about $200, and planned to make Miami my base for two other trips.)
Panama has a good domestic air network, and the prices are low. I could fly from Panama City to David, a provincial capital only about 20 miles from Boquete, for about $50. From David I'd hop a bus or taxi to Boquete, then hike, with my belongings, around the volcano to the even smaller town of Guadalupe. I'd spend three nights in one and two in the other before hopping the bus back down to David, where I'd catch a flight to the beaches of Bocas del Toro for only $20.
Despite my planning, getting to Boquete was a small adventure. My flight from Miami sat on the runway for two and a half hours, and we were late arriving at Tocumen International Airport in Panama City. Chatting with my seatmate, a retired Army officer who used to work at the canal, I discovered an important piece of information that had somehow escaped my attention. Panama City's domestic airport was moved last year, and was now in a former American military airport at Albrook, about 25 miles away from Tocumen, and if traffic was bad, it might take an hour to get there.
We landed at 3:30; my Aeroperlas flight to David left at 5. Luckily my hiking backpack was the first thing that rolled off the luggage ramp. I charged through immigration and customs, and found a taxi. We made it to Albrook in 35 minutes, leaving me about 20 minutes before my flight.
The 30-seater Shorts propeller planes in the Aeroperlas fleet look like relics from the early days of air travel: the wings sit on the top of the bodyAssociated with and sensed by mouthfeel, body is sense of weight and thickness of the brew, caused by the percentage of soluble solids in the cup, including all organic compounds that are extracted from brewing, secured by angled struts. But the flight over Panama ó I got a great view of the canal, the Pacific Ocean and the mountainous spine of the interior ó was smooth and quick. An hour later I was looking for another taxi, at David (the ride up costs $20).
The city is notorious in Panama for its hot, sticky, unvarying climate. We set off with the windows up and the air-conditioning at full blast. But after about 15 minutes of straight, steady climbing up a well-paved road, the driver turned off the A.C. and opened the windows. "Up here the air is fresca, muy fresca," he said. "And when we get to Boquete, it will even be cold."
Sure enough, the breeze, at first slightly humid, became drier and thinner in the next mile as we proceeded steadily upward past small houses, tiny neat farms, and fields filled with sleeping cows that had big floppy ears. Soon night fell, and I couldn't see much scenery. After about an hour, though, it had turned chilly enough ó perhaps around the 50's ó that I'd pulled a shawl out of my bag. And then we passed a large sign that proclaimed "Bienvenidos a Boquete."
Having ascended 5,000 feet, from tropical torpor to mountain cool in an hour, I felt exhilarated. At a moment like this it's important to land at a good hotel, so as not to spoil the mood. Again, I was lucky to have picked the Panamonte from an assortment online. A homey, somewhat fadedA general characterization that cup flavors are diminishing in quality due to age of the green coffee, and loss of organic compounds. Before the use of inner lining barrier bags such as Grainpro or Ecotact, wooden lodge on a dirt road a few yards off Boquete's main street, it had been in the hands of a Panamanian-American family for more than 30 years. In the entry lobby, antique statues of madonnas and saints perched on little tables; another madonna peered down from a large painting on one wall. My room ó it cost $53.50, tax included ó wasn't as elaborate or charming as the entryway, but it was clean and pleasant, with a big private shower and a bright window that faced a large, grassyGreenish flavor in the cup, usually indicating early crop, unrested coffee.: Greenish flavor in the cup, usually indicating early crop, unrested coffee. This is a fresh cut grass flavor, chlorophyll-like, not a dried grass or courtyard-cum-garden.
The next morning I ate breakfast in the Panamonte dining room, a marvel of chintz and swag-draped windows, where every place was set with a cloth napkin folded into a cone. Some of my fellow guests appeared to be vacationers from Panama City (Boquete is a popular weekend getaway), but one long table was filled with about 15 Americans. I later learned that the hotel is a regular stop for group tours from Panama City.
The tours come with their own guides and, perhaps as a result, Boquete doesn't have a great many resources for the independent traveler. (The tourist office was closed whenever I went by, and I could not, for instance, find any locally produced maps of the town.) However, with but one main street and only 3,000 inhabitants, it doesn't take long to get oriented. A short stroll, following the crowd, led me to a surprise, Boquete's main yearly event, the Feria de las FloresFlores is an Indonesian island, and as a coffee bears more resemblance to the coffees of Timor-Leste, New Guinea and Java than to the wet-hulled coffees of Sumatra and Sulawesi. It is sweet, with good y del CafÈ, an outdoor festival with live musicians, and booths selling food, candy, handicrafts ó and coffee, of course, by the bag and by the cup. It was centered on a huge public park in a spectacular setting alongside a rushing, boulder-strewn mountain river. The park's garden was a stunning display of yellow, orange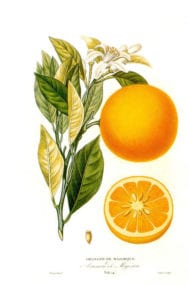 Orange aromatics and flavors are prized in coffee, whether they take the form of sweet orange flesh and pulp, or orange peel. Orange flavors or aromatics can range in degrees of ripeness, which also involves and purple zinnias, petunias, and marigolds; by chance I'd arrived just as the blooms were peaking.
The Feria's gardens, decorated with little wooden figurines and a large red windmill, had a curiously European feel to them; I had read that this Panamanian valley was home to quite a few foreign settlers from Germany, Switzerland and Croatia. The Continental feel of the setting contrasted with the crowd, which ranged from elderly women of Spanish descent to young GuaymÌ indigenous women in long, colorful muumuu type dresses banded with multicolored appliquÈs.
Having explored as far as the bottom end of Boquete's main street, I turned around and headed uphill. The center didn't offer much in the way of charm ó like a lot of small Latin American towns, Boquete has succumbed to the functionalism of cheap poured-concrete buildings of one and two stories. I passed the bank, some general stores selling brightly printed bolts of polyester cloth, a pool hall and the bus stop, where old American Blue Bird schoolbuses repainted in tropical colors waited to take passengers down the mountain to David. But then the hill got steeper, the stores thinned out, and I was winding my way through a valley of well-tended gardens drooping with cerise and purple bougainvillea. After about 15 minutes I found myself at the factory of CafÈ Ruiz, one of Panama's main coffee manufacturers.
It had a cafe and outdoor tables. I ordered a cup of coffee, and the waitress asked me if I wanted a free tour of the plant. And soon I had a handful of hard red berries in my hand, and was listening to a Ruiz worker explain how the seeds were extracted from what he called the "cherry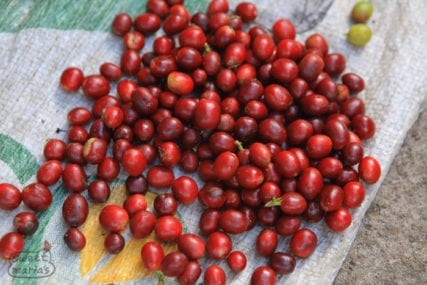 Either a flavor in the coffee, or referring to the fruit of the coffee tree, which somewhat resembles a red cherry.: Either a flavor in the coffee, or referring to the fruit of the coffee," then dried and roasted. Inside the factory, gleaming steel machines made in BrazilBrazil is a coffee giant . As Frank Sinatra sang, "they grow an awful lot of coffee in Brazil".: Brazil is a coffee giant . As Frank Sinatra sang, "they grow an awful lot of roasted, ground and vacuum-packed cellophane bags bearing the Ruiz trademark at the rate of 30 a minute.
Finally I got back to the cafe and had my first cup of straight-off-the- plantation java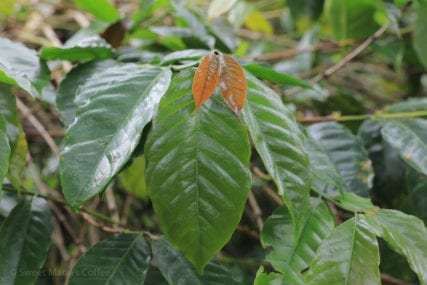 There are several types of Abyssinia, but they are not from Ethiopia but rather Indonesia. Abyssinia 3 = AB3. PJS Cramer, a Dutch plant researcher, introduced this variety in 1928, supposedly from Ethiopia seed stock. It was. Startlingly smooth, it had an almost fruityIn some coffee taster's lexicon, "fruity" means the coffee is tainted with fruit, and "fruited" means a coffee is graced by positive fruit notes. We don't exactly see the difference in terms of these two flavor, and tasted slightly sweet although I hadn't put any sugar in it.
Buzzing from the exquisite coffee, I strolled back down toward town, and noticed a sign that said, in Spanish, Expeditions and Guides. I followed it to a house marked with the same sign, and knocked on the door.
That is how I met Brando Boutet, a tall, dark-eyed serious-looking man in his early 30's. Brando explained that he helped run his family's coffee fincas, or plantations; the guide service is a business that his brother runs with a friend. I told him that I was interested in hiring a guide to take me along the Sendero de los Quetzales, the path that leads around Volc·n Barú, through a mountain cloud forest and into Guadalupe. (I had made reservations to stay at Guadalupe's sole hotel, the Hotel los Quetzales.) "I am sure my brother's friend can do that for you the day after tomorrow," he said. The price ó $20 ó seemed more than reasonable for a six-hour hike, so I asked him to arrange it.
The morning of my journey arrived. I had my pack with all my belongings loaded and strapped on and was waiting on the Panamonte's porch for Brando's brother's friend. To my surprise, it was Brando himself who pulled up to pick me up in his old Ford truck, along with his American fiancÈe, Nathania.
His brother's friend had had a family emergency, and Brando, a Latin gentleman to the core, would not think of letting me down.
And so the three of us set out on a hike that ended up being much longer and harder than I expected. Although the Sendero de los Quetzales is officially 3.7 miles long, you have to walk a steep, rocky, dirt road uphill from Boquete for about two miles before you reach it, and then descend for another mile and a half before reaching Guadalupe. I had not counted on the extra mileage, nor had I thought about the effect that hiking at altitude (the path goes up from about 5,000 feet, and ends at an elevation of over 6,000) would have on my sea-level system. The path is marked, and easy to follow, but if Brando hadn't taken over my 30- pound pack when I was struggling up the killer hill that climbs into the damp cloud forest, I never would have made it.
Brando barely broke a sweat, striding gracefully up the slippery, steep slopes, while telling stories to pass the time ó everything from country fables to the present state of the coffee business in Boquete, which he said was being hurt badly by low prices on the world market. Every time we passed farmers, he stopped to ask how their crops were doing, how they were selling. They eagerly launched into stories of their farming woes, while he listened attentively. I expect to return to Boquete one day and find that Brando is the mayor.
The reward, for five hours of nonstop, sweatyUsually a taste defect, reminiscent of the smell of flavor of sweat, sometimes considered mildly positive.: Usually a taste defect, reminiscent of the smell of flavor of sweat, sometimes considered mildly positive. It can be effort, was an amazing vista of the dark, looming Volc·n Barú and the surrounding valleys, a carpet of multihued, steep green slopes. Descending into Guadalupe, we passed fields thick with purple wildflowers and belladonna vines loaded with upside-down trumpet flowers. The village itself was an anticlimax to this idyllic hourlong stroll past dairy farms, vegetable plots and flower nurseries. Guadalupe is little more than a crossroads, marked by a few roadside sandwich and soup stands, a bus shelter, and the Hotel los Quetzales, a two-story wooden Alpine-style chalet.
At 7 o'clock ó just in time for Brando and Nathania to have missed the last bus out of the village ó we staggered into the Hotel los Quetzales.
Another lucky stroke ó my room, at $50, had two beds, a twin and a double. I invited them to bunk down with me for the night.
The next morning, over breakfast, Brando raised a cup of coffee to his lips, sipped, and held it in his mouth for a dramatic moment, the way that Juan Valdez, "el Exigente," used to do in the old commercial. Then he winced. "The coffee in this valley is terrible," Brando proclaimed. He explained that, in his opinion, coffee plants grew best up to 6,000 feet. Guadalupe is 7,500 feet high.
I took a sip ó Brando was right. This brew was bitter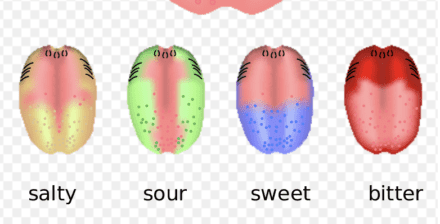 Bitterness is one of 5 basic tastes: Sour, Sweet, Salty, Bitter and Umami (savory flavors). There are many types of bitterness, hence not one avenue to tracking down its source. Bitterness as a positive quality, with a bad aftertasteAftertaste refers to lingering residual sensations in the mouth after coffee has swallowed. It might be distinguished from "finish" which is the final sensations of the coffee while it leaves the mouth. Also see Afternose.. The perfect cup of coffee, alas, was a rough 10-mile hike away, on the other side of the volcano. I wasn't about to walk back to Boquete for it now, but I didn't want to spoil its memory. When Brando put his cup down, I did, too.
---
Get Home Delivery of The New York Times Newspaper.
Imagine reading The New York Times any time & anywhere you like! Leisurely catch up on events & expand your horizons. Enjoy now for 50% off Home Delivery! Click here: http://www.nytimes.com/ads/nytcirc/index.html
Visit NYTimes.com for complete access to the most authoritative new
coverage on the Web, updated throughout the day.
Become a member today! It's free! http://www.nytimes.com?eta
For general information about NYTimes.com, write to [email protected]
Copyright 2001 The New York Times Company