Macro Anomalies: A close-up look at parchment coffee, monsooned coffee and robusta from Cuba.
Here are a couple of new videos I made exploring some unusual coffee types, and in some cases defects. You can tell a lot by looking at coffee … before coffee cupping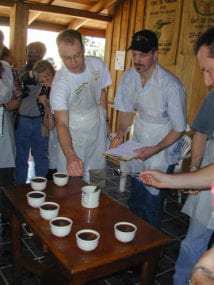 Cupping is a method of tasting coffee by steeping grounds in separate cups for discrete amounts of ground coffee, to reveal good flavors and defects to their fullest.... ...more that's what a coffee buyer did! It was all about looking at raw coffee and inferring the quality and value. (I think cupping is better in this regard but…)
---
ParchmentGreen coffee still in its outer shell, before dry-milling, is called Parchment coffee (pergamino). In the wet process, coffee is peeled, fermented, washed and then ready for drying... ...more coffee is a middle stage in the wet-process. The green bean is still coated in a thin layer we call parchment, which comes off in the dry millA facility that accepts dried coffee cherry and mechanically separates the coffee bean from the dried fruit and parchment layer. The facility can be highly mechanized, as in... ...more just before final grading and export.
---
Kenya Coffee Grades: Learn what AA, AB, C, T grades are all about.
Ever hear of "grinders"? Nope, not referring to the machine to grind coffee. And why are good dogs not-so-good coffee assistants?
Also See: