(05/10/10)
I heard you got the fever for the flavor of another,
Two new offerings today!
Costa RicaCosta Rican coffee is typically very clean, sweet, with lots of floral accents. hey are prized for their high notes: bright citrus or berry-like flavors in the acidity, with distinct nut-to-chocolate roasty flavors.: Can a Lourdes de Naranjo -Finca Genesis
http://www.coffeeshrub.com/shrub/coffee/costa-rica-lourdes-de-naranjo-fi…
The cup is vividly bright, with strong honey-lemonade flavors, red berry, toasted nut, and praline. It's quite sweet, but not in the typical wet-process Costa Rica way. The bodyAssociated with and sensed by mouthfeel, body is sense of weight and thickness of the brew, caused by the percentage of soluble solids in the cup, including all organic compounds that are extracted from brewing is dense, thick. It definitely reveals itself as a true "honeyIn coffee, honey-like sweetness is often found, but we use terms such as refined honey (highly filtered and processed) as opposed to raw honey rustic honey sweetness. This form of sweetness is largely a dynamic coffee," a "miel" or pulp naturalPulp natural is a hybrid method of processing coffee to transform it from the tree fruit to a green bean, ready for export. Specifically, it involves the removal of the skin from the coffee, like process.
&
SumatraIndonesians are available as a unique wet-hulled or dry-hulled (washed) coffees. Giling Basah is the name for the wet-hulling process in Bahasa language, and will have more body and often more of the "character" that Lintong Dolok Sanggul
http://www.coffeeshrub.com/shrub/coffee/sumatra-lintong-dolok-sanggul
Surprising fruits come forward in the wet aroma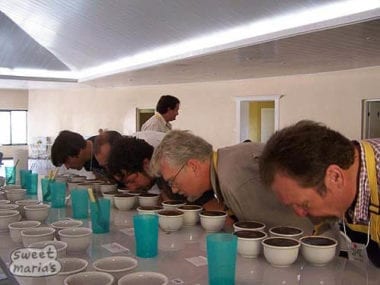 In cupping, wet aroma refers to the smell of wet coffee grinds, after hot water is added. It can involve smelling the "crust" (floating coffee grounds) on the coffee, as well as "breaking the crust",, even a momentary whiff of citrus, pineapple, dried plum, fig. It's got great rusticA general characterization of pleasantly "natural" flavors, less sophisticated and less refined, but appealing. : What is Rustic? This is a general term we came up with... Dried Apricots from Sun Maid at the supermarket, sweetnessSweetness is an important positive quality in fine coffees, and is one of five basic tastes: Sour, Sweet, Salty, Bitter, Savory (Umami). In coffee, sweetness is a highly desirable quality, and the green bean has, aromatic tree bark, cinnamon stick, black tea, and mulling spiceA spice mix for adding flavor and aroma to a warm beverage, apple cider or wine. This mix might include all or an assortment of the following; allspice, nutmeg, cloves, cinnamon, star anise and various in the finishSimilar to aftertaste, but it refers to the impression as the coffee leaves the palate. Aftertaste is the sensations gathered after the coffee has left the mouth. We combine these to form the "final flavor.
Black Sheep rolling hard.