Origin. It's the place where coffee comes from. A 2009 Trip to Peru Coffee Regions
… It's more than a place, it's a narrative, it adds value, it's … you know .. marketing. Don't be sad, you know it's true.
It's a place with "Suelos Ricos" and "Suenos de Amor." Everything tastes better at originIn coffee talk, it refers to a coffee-producing region or country; such as, "I was just at origin." Of course "Origin" for most product we use is not... ...more. Or so it seems. But take heart, there's slick and crappy marketing and there's actual information that might even complicate one's understanding of a place, of a a source, of the people…
I traveled with K.C. O' Keefe and Aleco Chigounis for something around a week, cupping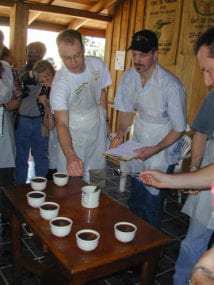 Cupping is a method of tasting coffee by steeping grounds in separate cups for discrete amounts of ground coffee, to reveal good flavors and defects to their fullest.... ...more, meeting some "productores de cafés especiales" and learning all about Peruvian Java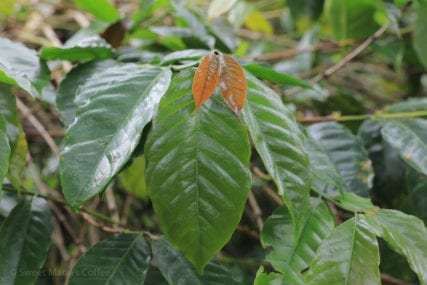 There are several types of Abyssinia, but they are not from Ethiopia but rather Indonesia. Abyssinia 3 = AB3. PJS Cramer, a Dutch plant researcher, introduced this variety in 1928,... ...more from the PeruPeruvian coffees have Central American brightness but in a South American coffee flavor package overall. The good organic lots do have more of a "rustic" coffee character.: Organic... ...more coffee regions of Cusco and Quillabamba.
Actually, the pictures were better than the coffee, and the coffee was better than all the little biting gnats. The trip yielded some great images, but as far as the coffee side of things, it wasn't that successful.
Here we have coffee sources that I have already worked with, old Typica trees, farms at 1900 meters … in other words, everything sounds fantastic. But actually realizing the potential of a coffee like this is another matter. We needed a certain quantity of coffee that rates at good quality; 86 or higher.
What they delivered was parchment coffee totalling less that what our 2 companies (Stumptown and Sweet Maria's) needed, and of that we only approved roughly 1/10th of the samples.
The producers at the coop have an option: sell their parchmentGreen coffee still in its outer shell, before dry-milling, is called Parchment coffee (pergamino). In the wet process, coffee is peeled, fermented, washed and then ready for drying... ...more coffee at a lower price locally to some outfit like COCLA (a large Union), and get the standard Fair Trade Organic price, or sell it at a premium to our project, get a great price, but the catch is they need to pick only ripe cherry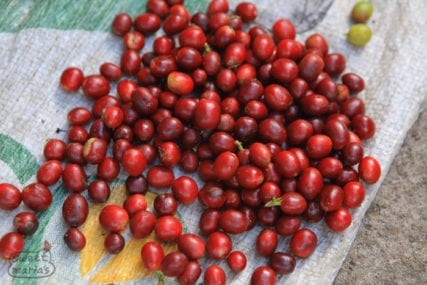 Either a flavor in the coffee, or referring to the fruit of the coffee tree, which somewhat resembles a red cherry.: Either a flavor in the coffee, or... ...more, and they need to dry it well.
Certainly, if they do those things, they can get an 86 score on the cupping table. But they seem to prefer the first option. They delivered the bulk of their coffee to the local FTOFTO is shorthand for a coffee that is certified as both Fair Trade and Organic. ...more market, and saved only a small amount to offer to us. If what I see in living conditions is any clue, the FTO price keeps them and theirs fed, but leaves little for actual improvement.
The premium we offer would make a big difference. Why wouldn't they pursue it? A lot has to do with organization. They can get paid rapidly for selling to the bulk local FTO market. To sell to us means a delayed payment contingent on the cupping and approval the sample.
There is an easy solution. Micro-loan programs are broadly available to coops, and are used often. Once they have a contract with us (which they have way in advance of the harvest) they take that to the micro-loan program and can receive 70% advance in low interest loan. They can pay the coop members immediately for any parchment coffee received, then award them full payment plus the premium once they are approved with an 86+ score. The loan is repaid in full each season once we pay for the shipment.
It's very simple, but it takes filling out some forms for the loan application. The coop leadership seems to lack the foresight and competence to do this on behalf of the members. So what producer would choose NO payment, and then possible rejection of their coffee, when they can get an assured yet measly payment for local FTO delivery. KC has offered to advise and assist them with the loan forms, but at some point, how much hand-holding can you do for producer groups? Is that good for them in the long term?
Once they have received training in quality programs, been show the steps to separate quality coffees and gain premium prices for them, and a way to pay producer-members up front and nearly no cost to the coop, shouldn't they be able to do these things themselves? That's the real problem we face in Peru.
And let's not even talk about training in good coffee practices. Because despite altitude, cultivarCultivar is a term used interchangeably with Varietal in the coffee trade to indicate plant material, although there are distinctions.: The naming of a cultivar should conform to... ...more and every other advantage here, the coffee is so often ruined by bad picking and bad drying. That's first grade stuff. If we could get past those issues, we would delve into the mismanagement of the farms, the lack of pruning, trees too close together, lack of air and resulting Ojo de Pollo fungus, depletion of soils, and on and on.
When you get to those things, you really start to reach the potential of what a coffee can be. In Peru, we still find, buy and offer great lots, which represent only these fleeting moments of brilliance, hinting at what this coffee could be. Sadly we might not ever get there. -Tom
Clicking on little images should get you a big image and the title/caption.