Nov. 17, 2016
EspressoA small coffee beverage, about 20 ml, prepared on an espresso machine where pressurized hot water extracted through compressed coffee.: In its most stripped-down, basic form, this is... ...more machines are like a lot of things in life: you get what you pay for. You can get an "espresso" machine from Wal-Mart or Costco for about $100, and it will probably make a coffee concentrate, but we here at Sweet Maria's would be hard-pressed to call that espresso. Pun intended.
If you want to make espresso at home, you need a decent machine that can supply the pump pressure that is necessary to push hot water through a compressed puck of very finely ground coffee. Without adequate pressure, water is not able to extract the necessary solubles from the puck to make real espresso: with oils, substantial bodyAssociated with and sensed by mouthfeel, body is sense of weight and thickness of the brew, caused by the percentage of soluble solids in the cup, including all... ...more, and of course, cremaCrema is a dense foam that floats on top of a shot of espresso. It ranges in color from blond to reddish-brown to black. Blond crema may be... ...more. In our experience, you need to spend upwards of $400 for a machine with the correct components that will actually be able to make espresso. That is a lot of money! And it does not include a decent grinder, which is absolutely a must if you are trying to make espresso at home. We have always advised folks that if you need to skimp, you're better off spending more to get a really good grinder, and maybe less on the espresso machine; the other way around you're just shooting yourself in the foot (or cup maybe?)
We offer three different semi-automatic machines. Here they are listed in order of price. Please note that we think these are all great machines, the higher priced machines do not necessarily equate to better quality. Take into account what features you need, you might not have to pay as much as you think.
The Silvia is the most popular home espresso machine for purists. It is as simple and straightforward as it's elegant, sparse design suggests. It has no crema-enhancing filters, no presets, no siphon milk frothing system and no automated functions. The Silvia is a solid chunk of metal, with an 18-8 Stainless Steel chassis, a heavy brass brew head for good heat distribution, and a full commercial-sized 58 mm portafilterThe part of an espresso machine which holds the filter basket, into which coffee grounds are placed.: The part of an espresso machine which holds the filter basket,... ...more. It is truly a little tank.
Andreja Premium Espresso Machine by Quick Mill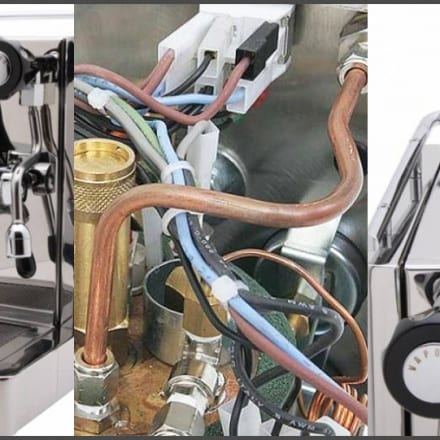 The Andreja has all the earmarks of quality… the essential components needed to make great espresso, effortlessly. It has tons of power with an Ulka 52 watt vibratory pump. It has the E-61 brew head. It has separate gauges for boiler pressure and group head pressure (so you can really see the force pushing through your coffee). It's a compact commercial-quality espresso machine perfect for use in the home. Made in Italy by Quick Mill who has been doing this since 1945. A quick tour of their web site will give you an idea of what they do and take a good look at their image of the Andreja there too. Why? Because it's different. What we offer here is an upgraded version, technically this is the Andreja Premium with commercial steam wands, commercial shut-off knobs, and most importantly those dual gauges for both boiler and brew head pressure. It's a nice solid chunk of #304 Stainless Steel.
Rocket Giotto Evoluzione v2 Espresso Machine
The Giotto Evoluzione V2 is a serious home espresso machine with proven design features and a very stylish appearance. In many ways it has a standard build for machines in its class…"standard" meaning great quality internal components and quality stainless steel housing. There's little here that is new or experimental; these are proven components. It gives you a choice of two water sources: you can switch from the tank in the back of the machine or plumb in a direct line with an easily accessed toggle in the back of the machine. The 1.8 liter boiler is made of copper with a lead-free brass end plate and is plated with nickel to protect against copper oxidation. The water reservoir holds 2.9 liters of fresh water and has a low level indication system to warn you when the water is scarce.