Dec. 9, 2015
Immersion brewing is a great way to make coffee. It's easy and quick since you steep your coffee instead of pouring water through it. Steeping not only gives it a little extra bodyAssociated with and sensed by mouthfeel, body is sense of weight and thickness of the brew, caused by the percentage of soluble solids in the cup, including all... ...more, it eliminates having to babysit your coffee as you attempt a proper pour-over technique with a drip cone.
People are always impressed with the simple operation of the Clever Coffee Dripper. After steeping your coffee for a few minutes, you place the dripper on top of your cup and the coffee drains into your cup. That's it. No mechanical parts, switches, springs, screens, etc. There's just a plate and a gasket that plug the opening that the brewed coffeeBrewed Coffee refers to all coffee preparations produced by adding non-pressurized water to coffee grounds. Contrasted with espresso coffee, which is produced under pressure, brewed coffee is primarily... ...more drains from. You will need #4 sized filters. The gasket should last for years but if it start to wear out, just email us and we'll send you a new one.
Bonavita Porcelain Immersion Brewer
If you like the functionality of the Clever dripper but want something a little more durable, this Bonavita dripper might be your next favorite brewer. It's simple to use…just drop in a filter, add ground coffee and pour hot water. Allow it to steep, put the dripper on top of your cup, flip the switch and your coffee will drain into your cup.
These are made by the same folks that make the Clever Dripper. They brew a great cups of coffee with excellent body and no muddy sludge in your cup. The dual filter does a great job of trapping the finer grounds. Just to be transparent, we haven't had any problems with it but some customers using the large HandyBrew have had issues with clogging. The manufacturer recommends using a coarse grind and adding your coffee after the water to avoid this. Yes, it's a very unconventional way of brewing, but it works and the coffee comes out great. Interested, here's a video we made about it.
French PressA simple coffee brewer also called a Press Pot: grounds and hot water are added to a carafe, allowed to sit for several minutes, and then a filter... ...more
The French press is the original consumer immersion brewer. It simple…add coffee, add hot water, wait, press and pour. Oh yeah, you don't need paper filters. Coffee sitting in a press will continue to extract so once your coffee is done brewing, we suggest pouring it all out into everyone's cups or a decanter of some sort.  French presses have lost a lot of popularity over the past few years due to everyone riding the pour-over bandwagon but we still think they are an excellent way to brew coffee. There are a lot of companies that make these but we carry Bodum because of their attention to quality and availability of replacement parts. French presses are good for making small batches of cold brew too.
This is the latest addition to our selection of travel vessels. In the past, we have been opposed to travel presses because after the coffee grounds are pressed to the bottom, they continue to extract, leaving you with an intense, muddy mug of coffee. The Espro solves this problem with their unique filter system. We tested it numerous times and found that there is little to no extractionRefers to the process of infusing coffee with hot water. Hot water releases or "extracts" the flavor from the roasted, ground coffee. The term is used mostly with... ...more happening after the grounds are pressed to the bottom. The double-wall construction keeps your coffee hot for a long time too. If you are trying to shave a few minutes off your coffee prep time without sacrificing quality, the Espro travel mug should be on your list of coffee gadgets to purchase.
Aeropress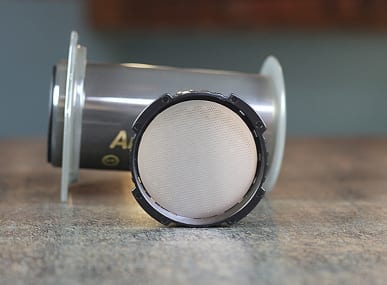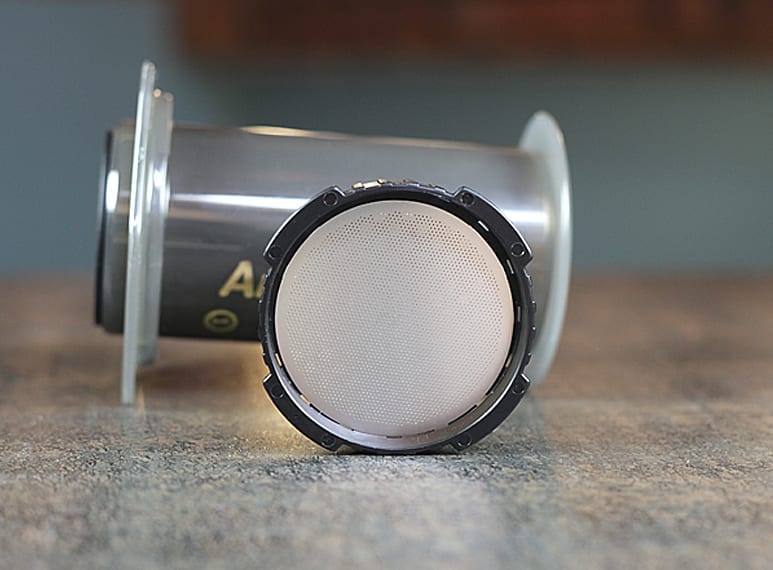 A portable coffee brewer that makes a unique dense brew, somewhat similar to an Americano.: The Aeropress looks like a giant syringe: coffee grounds are in the bottom,... ...more
OK, so technically, the Aeropress is neither a pour-over brewer or an immersion brewer, but we had to include it since one popular brewing method is to place the it upside down with the plunger partially inserted into the top of the brewer. Coffee and hot water are added and allowed to steep. After a few minutes, the filter and filter plate are screwed into place and the Aeropress is flipped right-side-up onto your cup and the plunger is pressed.
We put together some general guidelines for brew times, ratios, etc. Use them as a starting point and adjust to your taste.