Our recommendation for roasting coffee light in the Behmor coffee roaster is easy to follow and with great results
(jump to our light roast instructions and video)
It's easy to achieve a nice light roast in your Behmor 1600 and 2000 models with a little preparation, planning ahead, and of course, the proper roast setting. Below, we answer some basic questions about light roasts in general and outline our method for getting a nice, vibrant light roast from the Behmor coffee roaster.
What do we mean by "light roast"?
When we talk about "light roasts", we're generally referring to coffee that's nearly through the 1st crack stage, and has loss roughly 12% of the green coffee's moisture content (this is not exact)
Can I stop my roast before 1st crack is through?
Yes, and in the Behmor, we recommend you do. When you hit the "Cool" button, the Behmor's cooling. cycle engages, but the roast continues to develop. Because of this, I like to stop the roast about 1 full minute into the 1st Crack stage.
Is the first audible snap I hear the beginning of 1st Crack?
That depends on the coffee. Some coffee, where density or bean size varies (a blend, for example), and sometimes for no obvious reason, will have a couple 'pops' before and after the body of the 1st Crack roast stage. I usually wait to tag the beginning of 1st Crack until I hear a succession of snaps start up.
What if I don't start the cooling stage until the end of 1st Crack?
That's fine, but you'll be looking at more of a City+ roast level. This is still technically "light" by most roasting standards, but something to consider when trying to match up with cupping notes based that are based on a particular roast level.
Can I get a nice light roast coffee using the Behmor's preset functions?
You can, but the roasts tend to run longer due to more frequent oscillation of the quartz heating elements, and longer roasts are going to be less dynamic in the cup. I prefer to roast at full power (P5) in manual mode. If you choose to use a preset, go with P1 since it's the hottest preset profile.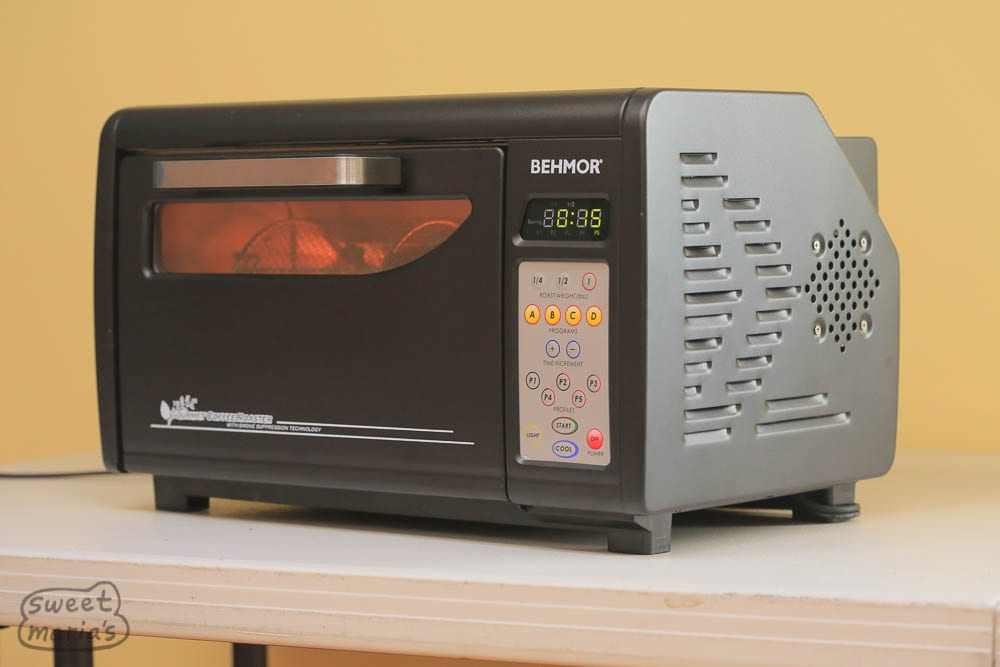 The Behmor coffee roaster, a race against time:
No matter what your target roast level is, the length of your roast time is one of the more important factors to consider. Two coffees roasted to City roast level over vastly different lengths of time are going to taste quite different despite their similar appearance. Roast too long and you bake out sweetness and flatten acidity, too quickly and you risk scorching the exterior or a raw center of the bean.
In general, you don't have to worry about roasting too fast on the Behmor coffee roaster and are much more likely to find yourself working to speed things up. That is why we recommend using the hottest setting for light roasting (and dark, for that matter), and trimming your batch size to a half pound or less (I usually settle on 150-250 grams).
Yes, you can physically roast more coffee. But not without sacrificing precious minutes, and potentially, cup complexity.
Here is our preferred method of roasting coffee light in the behmor coffee roaster:
Roast batch size should be around 200-250 grams in order to reach 1st Crack in a relatively short amount of time
Select the 1 LB setting to capitalize on the longer roast time and hit <Start>.
Enter manual mode by selecting <P5> after starting your roast and remain on <P5>, the hottest power setting (100%).
On the Behmor 1600 Plus, I have to watch my roaster temp sensor <B> in order to avoid triggering the high temp error and inevitable shutdown. 325F is where this occurs on my Behmor coffee roaster, but the range seems to be 325F to 331F for other roasters. When the <B> temp reaches 310F, reduce power to <P3>/50%, or <P4>/75% until the temperature starts to drop, then bump back up to <P5>. I toggle between these settings in order to keep the temperature high and the roast progressing steadily. So far, we haven't experienced this issue on the Behmor 2000AB, AB Plus or 1600 with the upgraded panel.
To achieve a City roast level, take the roast a full minute into 1st Crack and then hit the cool button.
After one full minute I open the door to cool my batch more quickly. Chaff will fly around the room, so this is entirely up to you! – you can also use an auxiliary cooling method like this one if you feel adventurous.
If you're more of a visual learner, check out our video on roasting light in the Behmor coffee roaster.
If you prefer dark roasts from your Behmor coffee roaster, check out this blog post instead.