We were in Seattle attending the Specialty Coffee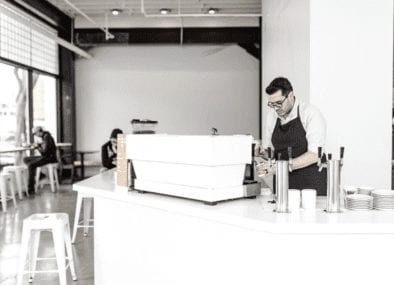 Specialty coffee was a term devised to mean higher levels of green coffee quality than average "industrial coffee" or "commercial coffee". At this point, the term is of... ...more Association of America (SCAA) show this past weekend. Aside from attending meetings, classes, etc., we got to zig-zag across the trade show floor looking at coffee products. Normally there's a handfull of ridiculous devices produced by companies that know little about coffee but this year's show featured some smart products and good improvements. Here's a few things that caught our eye.
Gene Cafe's CBR-1200 1kg roaster. Keep your fingers crossed for a 110v US model.
Lido2 manual grinderA burr grinder powered by hand-turning a crank. Manual grinders can be cheaper than their electric counterparts, and they produce comparable quality grinds, but since they require a... ...more. It's built like Robocop and produces a very consistent grind.
Handy Brew 2L (yes, two liter) brewer. It's designed to make large batches of cold brew coffee.
New control panel for the BehmorA popular electric drum roaster designed for home use, with variable batch sizes (from 1/4 pound to 1 pound) and a smoke-reduction system. It has been modified and... ...more 1600. Expect this new Behmor brain implant to measure temperature and give the user more control. You will be able to install it into your current Behmor roaster and they will ship pre-installed with machines later this year.
Bonavita 1.7L goosneck kettle. The capacity is probably overkill for home use but would be right at home in a cupping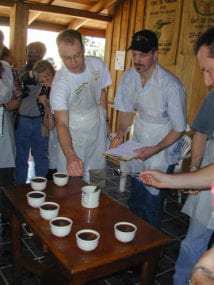 Cupping is a method of tasting coffee by steeping grounds in separate cups for discrete amounts of ground coffee, to reveal good flavors and defects to their fullest.... ...more lab or small cafe.
Nomad portable espressoA small coffee beverage, about 20 ml, prepared on an espresso machine where pressurized hot water extracted through compressed coffee.: In its most stripped-down, basic form, this is... ...more maker. No electricity or motorized pumps needed.
Sure, it's fun attending these SCAA shows each year but the real reason we take a look at every booth and display is so we can touch the products and meet the people that are putting them on the market. We mentioned in the past that we do our best to be your personal green coffee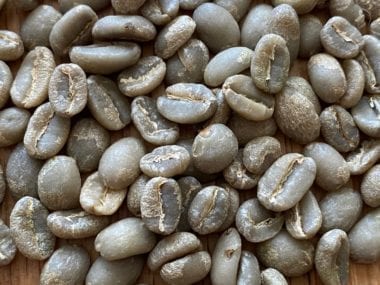 Green coffee refers to the processed seed of the coffee tree fruit. Coffee is a flowering shrub that produces fruit. The seeds of the fruit are processed, roasted,... ...more shopper so you can focus on flavor notes without questioning the quality of the coffee you are buying. We apply the same philosophy to the products we offer…critiquing and testing each product before deciding to sell them to our customers. Cruising the floor at SCAA is the first step in that process.