03/15/13)
Justin Carabello from Carabello Coffee in the Cincinnati area answered the call to talk about roasting, sending me a number of different shrub coffees roasted on his Primo 5K, including the Corazon Del Robot blend and a blend of his own using some shrub coffees which I was stoked to see. I love single originSingle Origin refers to coffee from one location, in contrast to blended coffee. This term is particularly useful in discussing espresso, since most commercial espressos are made from blends. This is what the term "SO coffees, but as you may have read in my Make Friends with Blends post – http://coffeeshrub.com/shrub/blog/make-friends-blends – I feel like the art of blending is something that has really been overlooked lately.
Justin was also kind enough to share his full profiles for his coffees. One thing we talked about in relation to his profiles was trying to trim just a bit of the total roast time down in order to get some of the characteristics of the coffees to pop out more particularly in the dry processed Ethiopia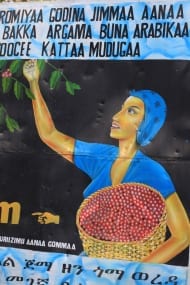 Ethiopia is the birthplace of coffee: it is in the forests of the Kaffa region that coffee arabica grew wild. Coffee is "Bun" or "Buna" in Ethiopia, so Coffee Bean is quite possibly a poor Kochere, without estranging his clientele in the area with going too light on the roasts. I was really into his roast of the SumatraIndonesians are available as a unique wet-hulled or dry-hulled (washed) coffees. Giling Basah is the name for the wet-hulling process in Bahasa language, and will have more body and often more of the "character" that Toba Batak PB, with the longer roast time taking some of the edge off of the more herbaceous aspects of the cup and really pushing the green grape tartaric character in this coffee in a really nice way.
The Roaster Walk, in Justin's words:
I am roasting on a Primo 5 kilo. At present, I have no way to adjust airflow, so it is always the same. I have two burners, one high (HB) and one low (LB). The lower burner is the larger of the two. When I roast I am able to control when these burners go on or off, but when they are on they are on at 100% their BTU output. You probably already know all this, but I am telling you just in case you don't. You will also noticed that I list a coast time. This is how long I wait from the time when the coffee is dropped into the drum before I turn on the burners. The temperatures I list for the burners are the temperatures that my bean probe reads when they are set to turn off.
All that said, the man who trained me on this roaster had a roasting business and used it for 8 years. He had developed a 15 minutes roast profileRoast Profile refers to the relationship between time and temperature in coffee roasting, with the endpoint being the "degree of roast". Roast profiling is the active manipulation of the "roast curve" or graphed plot of that he modified from coffee to coffee. He trained me to aim to bring coffees to the point of first crackFirst crack in one of two distinct heat-induced pyrolytic reactions in coffee. It is distinguished by a cracking or popping sound in the coffee, and occurs between 390 and 410 degrees Fahrenheit in most coffee between 10:30 and 11:00 and to aim to finishSimilar to aftertaste, but it refers to the impression as the coffee leaves the palate. Aftertaste is the sensations gathered after the coffee has left the mouth. We combine these to form the "final flavor the roast at 15:00. Since he roasted all of his coffees into (and many times beyond) second crackAfter First Crack, a roast reaction around 440 to 450 degrees that is distinguished by a snapping sound. Second Crack is the second audible clue the roaster-operator receives about the degree-of-roast, following First Crack. Whereas (Vienna and Roasted Coffee Pictorial Guide. ">Light French), his profile did a good job of getting some nice post first crackAn audible popping sound heard during roasting. In coffee, one refers to "first crack" and "second crack," which come from two different classes of chemical reactions.: An audible popping sound heard during roasting. In coffee, development before gradually entering into second crack.
I have been using this machine now for nearly two years and have gradually lightened up all of our coffees. Presently I am roasting most of our coffees in what I perceive to be the CIty+City+ roast is an ideal roast level that occurs roughly between 425 and 435 degrees Fahrenheit in many coffee roasters with a responsive bean probe where First Crack starts in the 395 to 405 degree to Full City range with the exception of one dark roasted coffee we offer (the SM French RoastSugars are heavily caramelized (read as burned) and are degraded; the woody bean structure is carbonizing, the seed continues to expand and loose mass, the body of the resulting cup will be thinner/lighter as the). I really like the flavor profiles of most of what I get in this range, and I am getting really good feedback from our growing customer base as well.
That said, our customer base is mostly what I would call Midwest people who want to enjoy a really good cup of coffee, but they are not yet ready to weigh out their beans on a scale before grinding them – albeit I do have some of those. For many, the fact that we offer them fresh roasted coffee and that we are local and also a philanthropic roaster that is taking our profits and putting them ito some projects in Nicaragua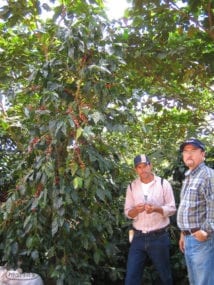 Nicaraguan coffees from the Segovia, Jinotega, Ocotal and Matagalpa regions are nice balanced cups. They often possess interesting cup character along with body and balance, outperforming many other balanced Central American and South American high-grown and KenyaKenya is the East African powerhouse of the coffee world. Both in the cup, and the way they run their trade, everything is topnotch.: Kenya is the East African powerhouse of the coffee world. Both, makes us a good choice since we give them some really nice coffee as well as an opportunity for them to shop their conscience and be a part of a bigger story.
So… with these coffees, I think that I am still not getting the most I can get out of them as far as flavors I can. I am going to guess that, once you taste them, you may tell me that I am overdeveloping them. My goal is to get them to a point where they have the best balanceSuggests a harmony and proportion of qualities, and implies mildness since no one quality dominates.: Balance is both an obvious and slippery taste term. It implies a harmony and proportion of qualities, and perhaps a of sweetnessSweetness is an important positive quality in fine coffees, and is one of five basic tastes: Sour, Sweet, Salty, Bitter, Savory (Umami). In coffee, sweetness is a highly desirable quality, and the green bean has and bodyAssociated with and sensed by mouthfeel, body is sense of weight and thickness of the brew, caused by the percentage of soluble solids in the cup, including all organic compounds that are extracted from brewing. I don't mind a little roast influence, and I guess I may be a little scared of going too light and having people find the coffee tart or too bright for their palettes.
I am largely self taught, so, I am very open to any and all criticisms and suggestions. I am looking for the best way to grow in my understanding so that I can improve what I am doing. Our business is growing at a very solid pace and we are beginning to take on some nice wholesale clients in the Cincinnati area. we have a fiercy loyal and growing customer base. I believe we are in a great position, and that anything I can do to help improve my roasting and ability to connect people more meaningfully to the coffee will be well worth my time and energy.
Here we go on the coffees:
1. La Corazon del Robot EspressoA small coffee beverage, about 20 ml, prepared on an espresso machine where pressurized hot water extracted through compressed coffee.: In its most stripped-down, basic form, this is a working definition for espresso: A small
Weight – 10.5lbs
Drum Temp at Charge – 360
Coast Time – 1.5 minutes
HB Temp – 320
LB Temp – 370
First Crack occured at 368 degrees at 10:30 into roast and lasted until 13:00
At 12:30 I turned the LB back on for 10 seconds (398 Degrees), and again for 10 more seconds at 13:00 (400 degrees)
Dropped roast at 410 degrees at 15:00
2. Sumatra Toba Batak Peaberry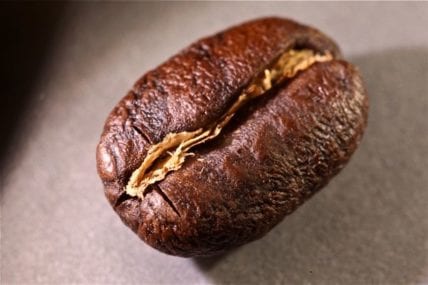 The Spanish-language term for Peaberry is the same for "snail". See Peaberry for more information on the single bean fruit of the coffee tree. A peaberry is the rounded singular seed found in the coffee
Weight – 5.0lbs
Drum Temp at Charge – 330
Coast Time – 3.25 minutes
HB Temp – 160
LB Temp – 363
First Crack occured at 370 degrees at 10:25 into roast and lasted until 12:00
Dropped roast at 417 degrees at 15:00
3. Ethiopia Grade One Kochere Dry ProcessDry process coffee is a method for taking the fruit from the tree to an exportable green bean. The whole intact coffee cherry is dried in the sun with the green bean inside. Later it
Weight – 7.0lbs
Drum Temp at Charge – 350
Coast Time – 3.5 minutes
HB Temp – 190
LB Temp – 363
First Crack occured at 375 degrees at 11:00 into roast and there was still a few cracks when the roast was dropped.
At 13:30 I turned the LB back on for 15 seconds (405 Degrees).
Dropped roast at 412 degrees at 14:45
4. Winter Blend
This is a post roast 50-50 blend of the Sumatra and the Ethiopia.
5. ColombiaColombian coffee is highly marketed and widely available in the US. They have been largely successful at equating the name Colombian Coffee with "Good" Coffee. This is half-true. Colombian can be very balanced, with good Pedregal Lot 172
As I do not have a sample roaster, this was the second of two one pound roasts that I did of this new coffee. During the first I was really surprised at how FC seemed to stall nearly right away. So, you will notice that I added some heat at FC on this roast to help guard against that.
Weight – 1.0lbs
Drum Temp at Charge – 307
Coast Time – 5.5 minutes
HB Temp – 160
LB Temp – 352
First Crack occured at 385 degrees at 11:00 into roast. I did not note when it stopped.
At 11:00 I turned the LB back on for 10 seconds (385 Degrees), and then again for 5 seconds at 12:00 (396 Degrees) and for 10 seconds at 12:30 (399 Degrees).
Dropped roast at 413 degrees at 14:30
As you can see, when I am roasting I am trying to cut the LB off at a point that gets the coffee moving well into first crack, but also early enough in the roast so that the coffee does not rush through first crack. I am trying to get a good 2+ minute first crack time. This is really a challenge as it then also causes me to need to manually turn the burner back on to help keep the roast moving along at times.
– and here is Justin's follow up after he was able to reduce the roast times a little bit
Since your last feedback I have gone ahead with shortening my roast times to 14 minutes and have been very pleased. I am going to be sending you a sample of the change to the Ethiopia Kochere so that you can taste it. Generally speaking, it really has resulted in a cleaner, more complexThe co-presence of many aroma and flavor attributes, with multiple layers. A general impression of a coffee, similar to judgments such as "balanced" or "structured" experience on all of the coffees. And the Kochere was one of the coffees where those changes were most notable, not only to me but also to others.
It has been good to work through some of the nuts and bolts of how to arrive at the same finished degree of roastDegree of Roast simply means the roast level of a coffee, how dark it has been roasted.: Degree of Roast simply means the roast level of a coffee, how dark it has been roasted. The, but with starting at a slightly higher temperature and ending one minute earlier. I have been slowly training a young man to roast and this has been a really good experience for us to work through. Especially since many of our roasts vary in weight, which only adds to the fun!
Thanks again so much for sharing Justin, both your roasted coffees and your experiences with them. So excited to get get to share these experiences with others in hopes that it might help someone else get their heads around any problems they might be having.