(02/08/10)
Lucio Huaman's micro-lotA term that designates not only a small volume of coffee, but a lot produced separately, discreetly picked or processed to have special character. Read the full definition!: Micro-Lot is a term ripe and ready from Las Delicias in PeruPeruvian coffees have Central American brightness but in a South American coffee flavor package overall. The good organic lots do have more of a "rustic" coffee character.: Organic Peru ... you can get it anywhere is up and available on shrub. You may remember this coffee from some recent cupping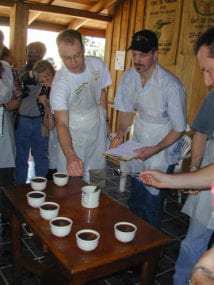 Cupping is a method of tasting coffee by steeping grounds in separate cups for discrete amounts of ground coffee, to reveal good flavors and defects to their fullest. It has formal elements and methodology in videos; but if not, this is a very fine Peru with a bodyAssociated with and sensed by mouthfeel, body is sense of weight and thickness of the brew, caused by the percentage of soluble solids in the cup, including all organic compounds that are extracted from brewing like clarified butter and delicate citrus notes with sweet creme in the finishSimilar to aftertaste, but it refers to the impression as the coffee leaves the palate. Aftertaste is the sensations gathered after the coffee has left the mouth. We combine these to form the "final flavor.
I also want to highlight two coffees that have been on the offering list for a while now.
BrazilBrazil is a coffee giant . As Frank Sinatra sang, "they grow an awful lot of coffee in Brazil".: Brazil is a coffee giant . As Frank Sinatra sang, "they grow an awful lot of FazendaFazenda is the Portuguese word for farm, hence it is the term used in Brazil. Fazenda is not a coffee-specific term. Campos Altos PB has a lot of "classic" Brazil characteristics, savory nuttiness with honeyIn coffee, honey-like sweetness is often found, but we use terms such as refined honey (highly filtered and processed) as opposed to raw honey rustic honey sweetness. This form of sweetness is largely a dynamic and lots of cocoa, but without any strong tobacco or leather notes. Even at City+City+ roast is an ideal roast level that occurs roughly between 425 and 435 degrees Fahrenheit in many coffee roasters with a responsive bean probe where First Crack starts in the 395 to 405 degree there was a confident vanilla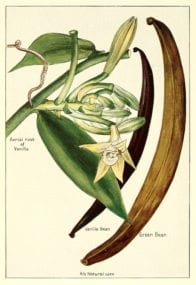 Vanilla notes in coffee are often related to caramelization notes, as butter and vanilla can be found in flavors and aromatics of roast reactions from reducing of sugars. bean sweetnessSweetness is an important positive quality in fine coffees, and is one of five basic tastes: Sour, Sweet, Salty, Bitter, Savory (Umami). In coffee, sweetness is a highly desirable quality, and the green bean has and complexThe co-presence of many aroma and flavor attributes, with multiple layers. A general impression of a coffee, similar to judgments such as "balanced" or "structured" yet soft body with a slightly oily mouthfeelHow a coffee feels in the mouth or its apparent texture, a tactile sensation : A major component in the flavor profile of a coffee, it is a tactile sensation in the mouth used in and a maple sap like brightnessA euphemistic term we use often to describe acidity in coffee. A bright coffee has more high, acidic notes. : A euphemistic term to describe acidity in coffee. A bright coffee has more high, acidic in the finish. I think that this could be really nice in an espressoA small coffee beverage, about 20 ml, prepared on an espresso machine where pressurized hot water extracted through compressed coffee.: In its most stripped-down, basic form, this is a working definition for espresso: A small blend with something rich and syrupy (Guji Sidamo Maduro), or as an SO shot if roasted just into FC.
KenyaKenya is the East African powerhouse of the coffee world. Both in the cup, and the way they run their trade, everything is topnotch.: Kenya is the East African powerhouse of the coffee world. Both Kiambu Peaberry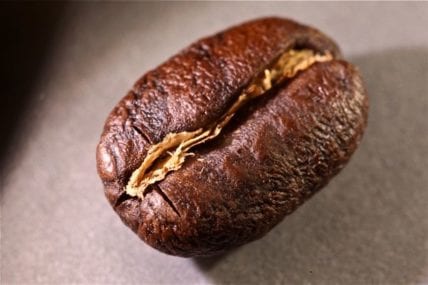 The Spanish-language term for Peaberry is the same for "snail". See Peaberry for more information on the single bean fruit of the coffee tree. A peaberry is the rounded singular seed found in the coffee – Riuki has matured really nicely. The body is juicier up front with more and more fresh blackberryBlackberry flavor in coffee sometimes relates to slightly more developed roast levels.: Blackberry is found as a fragrance, aroma or flavor in some coffees. I find that it is less obvious at very light roast and apricot. As it cools the body thickens and becomes more syrupy and the finish is all sweet-tart, clean and crispUsually used as a modifying flavor term, such as "crisp acidity" : Crisp can have several meanings, since it modifies other flavor terms. Crisp acidity might mean bracing, fresh fruit acids. Crisp chocolate notes might. I don't get so much of the spiciness that I tasted when I first saw this coffee, and the body has become as much of a star to this coffee as the "electric" fruit notes. I roasted this coffee pretty quickly up to 1st, but then drew the crackAn audible popping sound heard during roasting. In coffee, one refers to "first crack" and "second crack," which come from two different classes of chemical reactions.: An audible popping sound heard during roasting. In coffee, out (maintaining its exuberance) and then dropped just on the edge of City+.
One other note, we are going to start listing the lot sizes on the coffees' pages. We think that this can help in a couple of different ways, such as letting you know that a coffee is from a smaller lot and might go quickly or that the lot could be up to 100 bags and could possibly be around for a longer period of time or purchased in a larger quantity if interested.