Short Video Clips from Ethiopia Coffee Travels, Starting with Traditional Ethiopian Coffee Roasting in a Metaj (pan)
Here are some scenes from an Ethiopia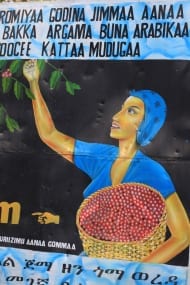 Ethiopia is the birthplace of coffee: it is in the forests of the Kaffa region that coffee arabica grew wild. Coffee is "Bun" or "Buna" in Ethiopia, so... coffee trip Tom took in December 2016. Traditional coffee roasting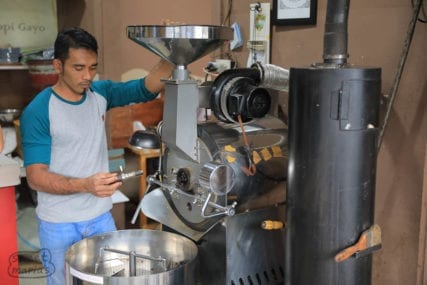 The application of heat to green coffee seeds (beans) to create palatable material for brewing a great cup!: Coffee roasting is a chemical process induced by heat, by..., thoughts on chat (qat) and an organicGrown without the use of artificial fertilizers, herbicides, etc.: Organic coffee has been grown according to organic farming techniques, typically without the use of artificial fertilizers. Some farms... coffee farm in Limmu Kossa.
The video starts with traditional Ethiopian coffee roasting, which is basically roasting in a pan over charcoal. It is amazing how delicious this coffee can be, given that it is pure conductionThe transfer of heat between matter. In coffee, conduction heating is contrasted with convection heating, which occurs in a moving fluid. roasting.
Maybe it's the beauty of the place … but the coffee can be amazing. Of course it's brewed STRONG so it may also be the much needed caffeineAn alkaloidal compound that has a physiological effect on humans, and a bittering taste. It is found throughout the coffee plant but is more concentrated in the seed... after hours on the backroads!
A rough translation of the items (spellings below are just phonetic!) for coffee preparationPreparation refers to the dry-milling steps of preparing coffee for export: hulling, grading, classifying, sorting.: Preparation refers to the dry-milling steps of preparing coffee for export: hulling, grading,... in Ethiopia are:
Metaj – the pan used to roast coffee in Ethiopia. It has a gentle bowled curve to it.
Makwa – the metal stir stick to turn the coffee as it roasts. There is a specific curve to this implement to allow pushing and pulling the coffee in the slightly dished pan.
Mandeja – the charcoal fire pot to roast coffee upon
Girgirta – the small pot burning incense or herbs to scent the space
Rakabut – the small table/ tray to hold the cups
Mukecha – the mortar part of the coffee grinder

Coffee Grinder is the name used for a mill to convert the bean into a powder. In fact the grinder "tears" coffee more than it grinds it, when...

– coffee is ground into a very fine powder in the Mukecha using the pestle, called the Zenezena
Jebena – the clay brewing pot. Coffee is ground to a find powder and brewed without filtration in the Jebena. There is an art to sink the grinds into the rounded bottom and pour slowly to ensure the cup is clean and not gritty.
Cini – the small tulip-shaped cup. Similar cups are used throughout Arabia as well, as coffee is social, and repeatedly filling the small cups while engaged in conversation is all part of the coffee experience. The Ethiopian cups often have this classic pattern, pictured below … and I finally have them available in Sweet Maria's shop after much work to source them!
Ethiopian Cini Coffee Cup at Sweet Maria's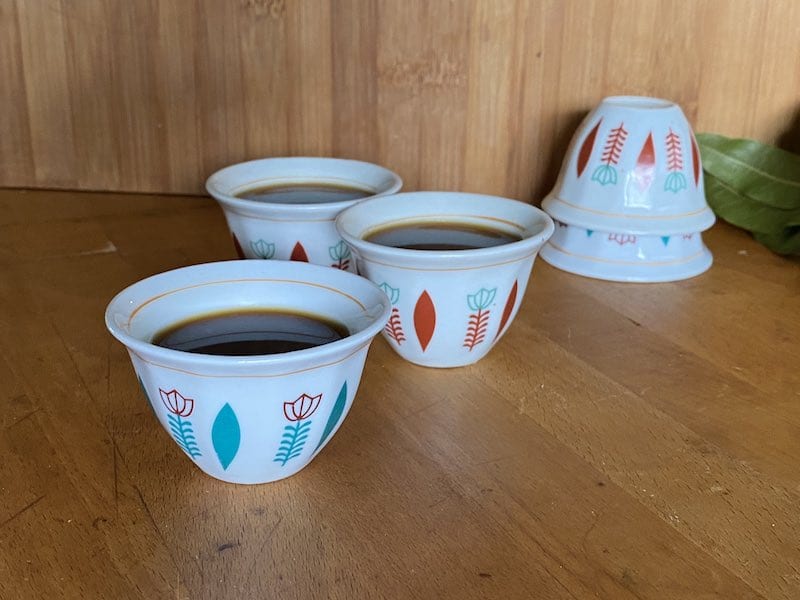 Tiny Little Ethiopian Cini Lapel Pin! at Sweet Maria's