Our guide to pre-heating vs. not pre-heating the Behmor coffee roaster and what to expect.
A topic that comes up a lot with BehmorA popular electric drum roaster designed for home use, with variable batch sizes (from 1/4 pound to 1 pound) and a smoke-reduction system. It has been modified and... ...more owners is whether or not to pre-heat the machine before roasting. Some say it improves cup flavors, others call it a waste of time. One thing's for certain is that it shortens the overall roast times, which will have some impact on the cup.
After spending some time testing the thresholds on an upgraded 1600 Plus (same features as a 2000 AB Plus), and speaking to Joe Behmor himself on this topic, we've compiled a list of answers to some commonly asked questions below that we hope will help you decide whether or not to add the extra step of pre-heating your Behmor your coffee roasting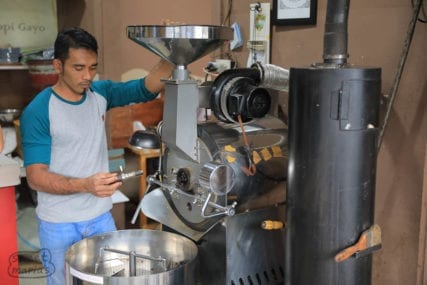 The application of heat to green coffee seeds (beans) to create palatable material for brewing a great cup!: Coffee roasting is a chemical process induced by heat, by... ...more regimen.
Pre-heating basics – things to know:
What does "pre-heating the Behmor" mean?
Pre-heating any roaster simply means warming up the machine by starting a roast cycle without coffee. Most production roasters require a pre-heating period for warming internal parts, which often includes a steel roasting drum that takes a while to come up to temp. For the Behmor, it's a way of "waking up" the roaster, affording you a bit of a running start.
Do I have to pre-heat the Behmor to get a good roast?
Absolutely not! All of the Behmor roaster models are more than capable of producing great tasting roasts without pre-heating the machine. Pre-heating the Behmor is one way of shortening your overall roast time. Whether or not you do so should be based on personal preference.
What's the safest way to pre-heat the Behmor?
Before starting the pre-heat cycle, I remove the drum from the roast chamber and pre-load my roast batchOne of the most important variables in roasting coffee, the weight or volume of the coffee being put in to the roaster will dramatically affect the outcome of... ...more. I warm up the Behmor with the chaffChaff is paper-like skin that comes off the coffee in the roasting process. Chaff from roasting is part of the innermost skin (the silverskin) of the coffee fruit... ...more tray only, starting the roaster in manual mode on the highest heat setting of <P5>. When the Behmor reaches the desired pre-heat temperature (monitor the roast chamber thermistor by pressing the <B> button), I stop the roaster, remove the chaff tray, insert the pre-loaded drum and re-start my roast as normal.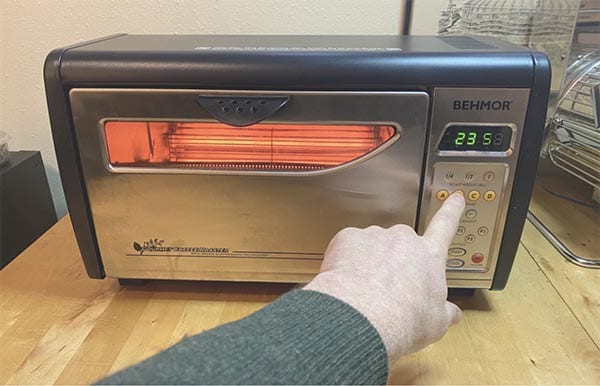 Is this pre-heat cycle dangerous?
No, not really. The inside of the roaster will be hot, so take care pulling the chaff tray and loading your wire grid drum so as to not burn yourself. I use gloves or a towel to manage the hot chaff tray. You can also remove the chaff tray before warming up the machine, but the cold metal will cool down the roasting chamber some when loading into the hot machine.
How does the pre-heat cycle affect roast dynamics in a Behmor?
Depending on how long you warm up your roaster, you can shave a minute+ off your roast time. It may not sound like much, but it can certainly improve cup dynamics if that's the sort of flavor profileFlavor Profile implies a graphical impression of a particular coffee, whether it be an artistic portrait or data graph of the perception of flavor compounds. In the case... ...more you're after.
How hot can I safely warm up the roaster?
Most Behmor coffee roasters can be pre-heated to 250 F, or somewhere around 3 – 4 minutes. (On my upgraded Behmor 1600 Plus, 3 minutes on the highest heat settings gets me to 200 F).
What happens if I try to pre-heat the roaster beyond 250 F?
Pe-heating your Behmor past 250 F forces you to run the cooling cycle before starting another roast. Obviously, this defeats the purpose of warming up the machine! One thing to keep in mind is that electrical heat continues to ascend after switching it off. This means you need to stop the pre-heat cycle before your Behmor hits 250 F so that you don't pass the safety set point threshold.
Will pre-heating the Behmor harm the roaster?
No, pre-heating the Behmor shouldn't have any negative affects on the roaster's internals as long as you re-start your roast. If you decide not to start your roast, make sure to run the cool cycle in order to cool the roaster down completely.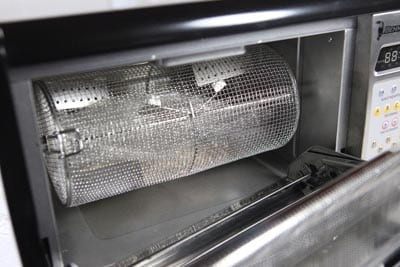 How will pre-heating affect the cup flavors?
In general, a faster roast leads to a more dynamic cup profile. There is such a thing as roasting too fast, but you won't have that problem with the Behmor. Setting out to roast faster should coincide with roasting light. Coffees that can benefit from this roast style are those with potential for acidity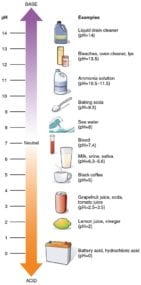 Acidity is a positive flavor attribute in coffee, also referred to as brightness or liveliness. It adds a brilliance to the cup, whereas low acid coffees can seem... ...more and top notes, like African coffees and Geshas for example. Roasting these coffees too dark will mute much of what's special and interesting, as will roasting them too long.
Are there coffees that benefit from not warming up the Behmor?
I would not pre-heat my Behmor for softer, low densityThe density of a coffee bean is often taken as a sign of quality, as a more dense bean will roast more with a better dynamic. The density... ...more coffees. They will benefit from less aggressive heat application, the slower roast progression helping to develop sweetnessSweetness is an important positive quality in fine coffees, and is one of five basic tastes: Sour, Sweet, Salty, Bitter, Savory (Umami). In coffee, sweetness is a highly... ...more without risking the roast getting away from you. These tend to be lower altitude coffees grown below 1500 meters, like BrazilBrazil is a coffee giant . As Frank Sinatra sang, "they grow an awful lot of coffee in Brazil".: Brazil is a coffee giant . As Frank Sinatra... ...more and many of the coffees in El SalvadorEl Salvador coffee had an undeservingly poor reputation for years, marred mostly by the inability to deliver coffee of high quality in an unstable political climate. Unfortunately, agriculture... ...more and Honduras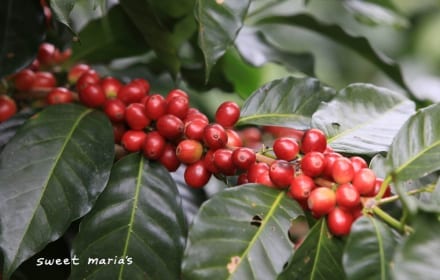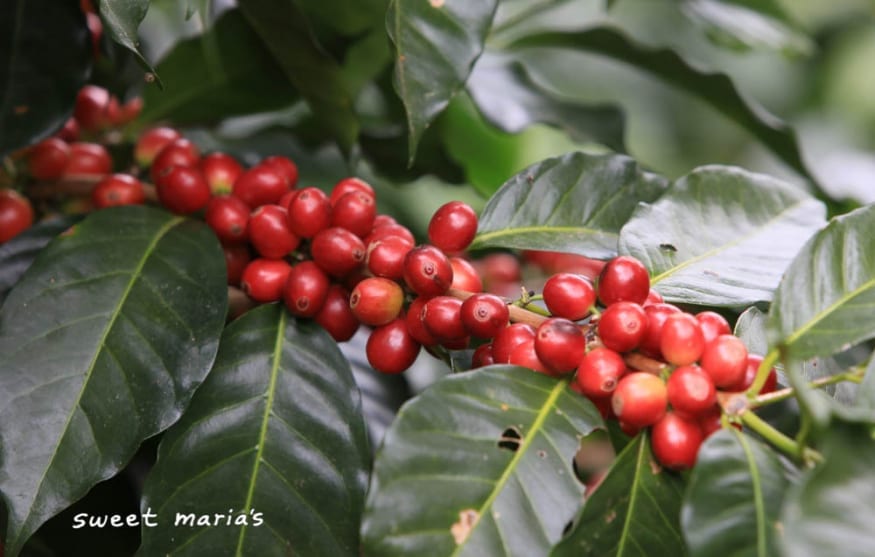 Honduran coffee was absent from the top ranks of the Specialty market, but that has changed. It has all the environmental factors on its side: soil, altitude, climate.... ...more. Also, if you're roasting blends, or roast dark in general, I would also skip the pre-heat step.
In short, whether or not you pre-heat your Behmor is really up to you and will depend on what you're hoping to taste in the cup. If you want to highlight top notes and acidity in a light roast, I say give it a shot and see if you can taste the difference. Especially if you're not getting the dimension that you'd hoped for. But if it's the deeper bass notes of a dark roast that you're after, pre-heating the Behmor is unlikely to produce any discernible difference.
Pre-heating is only one way of shortening your roast times. If you'd like to learn more about our approach to light roasting in the Behmor coffee roasterA machine for roasting coffee. Or the person operating it! The basic requirements for a coffee roaster are a heating element that gets suitably hot and a mechanism... ...more, check out this blog post.
If you're interested in getting a nice dark roast in your Behmor, here's a list of our recommendations.